Features: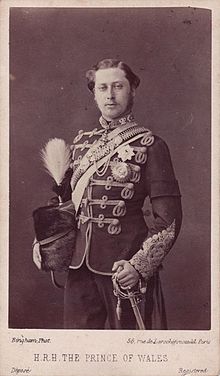 HRH The Prince of Wales in the uniform of Colonel of 10th Hussars

AN INGENIOUS POSTAL INVENTION

ABERDEEN JOURNAL, 26th August 1896
"... A letter cradle for the carrying of postal matter over the Deveron has been erected between Avochie Mansion House, tenanted by Major Smith, and the road passing along the west side of the water.
Hitherto a messenger had to cross the river in a boat below Rothiemay Station in order to meet the mounted postman, Mr Paul, on his journey between Huntly and Rothiemay.  It can easily be seen that this means of communication in times of frost or flood
was often dangerous or impossible.

Leave was got from the Duke of Fife's Factor and from the tenant of Tillytarmint, Mr Christie, to sink a pillar and erect a platform, and Mr Sandison, forester and gardener at Avochie, set to work, with results that were most successful.
The box or cradle is about 30in. long and 20 deep; one wire is stationary, and on it the cradle hangs by two pulleys. Another endless wire is  fixed to the bottom, having a big wheel with a crank on the Avochie side and two pulleys on the other side of the river, around which the endless wire runs. The cradle is despatched, securely locked, on its airy journey by turning the crank, and on arrival at the other side awaits the Postman who unlocks, empties, and fills the silent messenger, when if anyone be at hand, it is immediately drawn back."
© Aberdeen Journal
How the invention might have looked
© W. Reid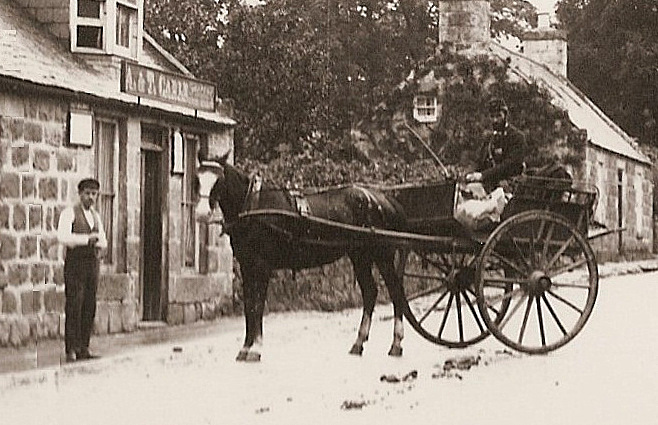 The Rothiemay Postman in his trap delivering post to Alex Carle's shop in the village
Photograph:  Moray Heritage Centre and Miss Pirie
This is how the newspaper described an invention, by Major Richard Playne Smith and Mr Robert Sandison, forester and gardener, to carry letters and postal packages back and forth across the River Deveron.
Major Playne Smith used his logistics experience, with the Army, in devising a solution to problems in getting regular post in and out of Avochie House over the water. Mr Sandison, widowed just a few weeks before, set his skills to the implementation of the idea. And the two men came up with this cradle and pulley arrangement that must have made postman Alexander Paul's life rather easier. He could walk from his pony and trap along the River path, put the letters in the cradle & pull the wires, then return to his trap for the rest of his round in Rothiemay.
Major Richard Playne Smith was born in 1820 at Downfield, Rodborough near Stroud in Gloucestershire and baptised on 6th December 1820 in Rodborough Parish Church. His parents, Richard Smith, Gentleman and Henriette Moens, of Rotterdam lived in Downfield with their two boys and three girls and we can see them there in the 1841 census.
Later that year (26th October) young Richard was gazetted to the 74th Highland Regiment of Foot and was despatched to St Lucia and other West Indies islands and then on to Canada. In 1846 Richard moved to the Prince of Wales 10th Hussars (later 10th Royal Hussars) and saw action in the Crimea at the Siege of Sevastapol. The weather was dreadful and the conditions awful. As casualties were sustained they were moved to hospital camps. Many, many more died from typhoid, cholera, typhus and dysentery than died on the battlefields. Into this appalling situation stepped Florence Nightingale bringing order, management, hygiene and better food. Whether Major Smith met the lady we cannot tell, but he was invalided home to the UK in July 1859 and formally retired from his regiment on 30th March 1860.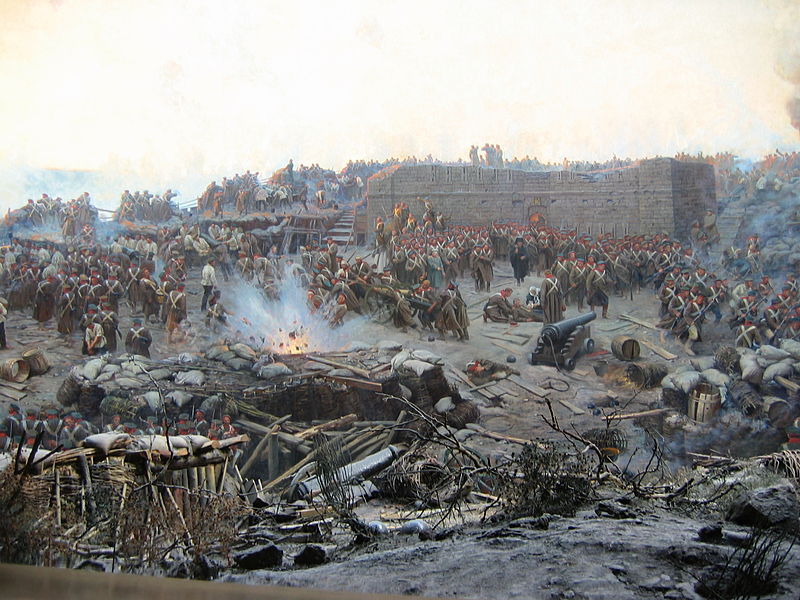 Part of the painting of the Siege of Sevastapol by Franz Roubaud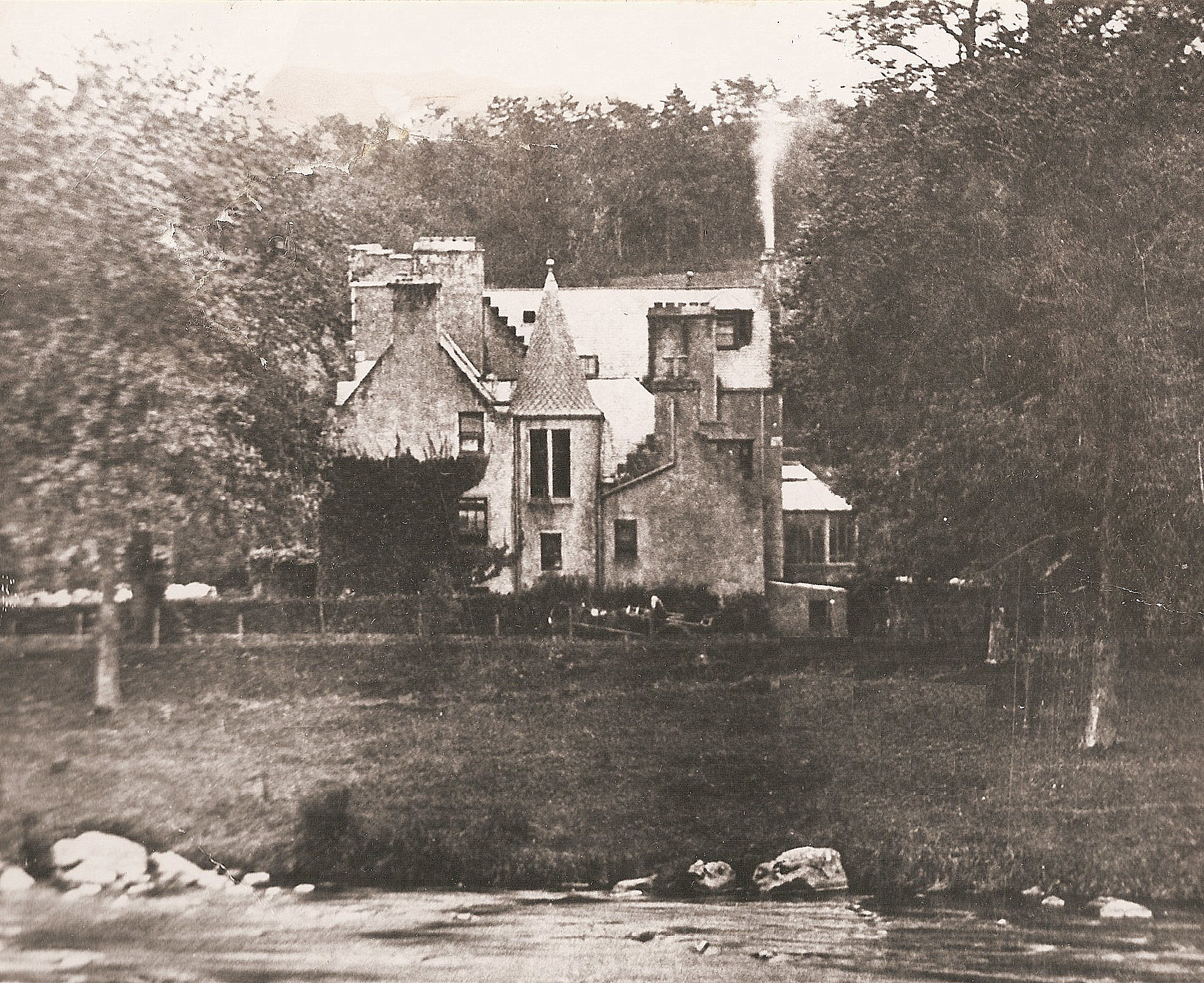 Side of Avochie House seen from across the River Deveron about 1919


Photograph

:Moray Heritage Centre
Richard married Albreda De Wivelestie Beatrice Abney in 1859 at St Batholemew's Parish Church in Sydenham, Kent.  Albreda was the daughter of Captain Edward Abney and Ellen Holden both of Shropshire. Richard and Albreda had one child, a son named Richard Playne Abney Smith.  Major Smith was invited to join the Shropshire Yeomanry and in 1864 became Adjutant and the couple made their home in Shropshire.
Young Richard, after boarding school, followed his father into the Army as a Lieutenant in the 2nd Battalion Royal Enniskillen Fusiliers and was stationed in Ireland. Unfortunately Major Smith's marriage broke apart and he divorced Albreda in 1881. Then in February 1882 young Richard was drowned in a sailing accident on Lough Erne. The memorial here was commissioned by the Major's Yeomanry colleagues.
Life must have been very miserable for Major Smith. However, in 1883 he married another Moens family descendant – Henrietta Lovegrove, whose Grandmother was a Moens from Rotterdam, living in England.
Whether his family miseries drew him away from England, or whether his earlier associations with a Scottish Regiment made him think of making a new home in Scotland we don't know but between 1885 and 1891 he decided to move to Banffshire and rented Avochie Mansion House, the fishing on the Deveron and shooting rights. Here he and Henrietta lived and enjoyed the pleasure the area provided. They had three members of house staff: Catherine Thomson from Kintore who was their cook, Agnes Donald from Huntly as table maid and Christina Watt from Cluny who handled the laundry.
In 1901 Major & Mrs Smith took a trip to Inverness and stayed at the Station Hotel in Academy Street. (Now The Royal Highland). They must have found Inverness especially pleasing because they decided to settle there and purchased a house and grounds, plus additional property Drummond Park, Drummond Road North Side, Inverness. By now the Major was an elderly gentleman and, after his Crimean experiences, not in the best of health. On 11th November 1906 he died while staying at The Caledonian Hotel after contracting pneumonia. Major Smith was accorded a military funeral with the pipers from 1st VB Cameron Highlanders and the funeral service at the Cathedral conducted by Bishop MacLean.

Major Richard Playne Smith was laid to rest at Tomnahurich. His wife, Henrietta survived him until 1932,  never re-married and was laid to rest alongside him at Tomnahurich.
© Copyright Diana C-S
reconstructingthepast@gmail.com
---
Source:
The National Archives
Scotlands People
Inverness Courier
Aberdeen Journal
10th Royal Hussars Museum
Credits:
Own family members for local research and photograph.