Local Heroes (and Villains)
Banffshire/Aberdeenshire
George MacDonald
Frank Troup
William Cramond

A ROTHIEMAY MAN - WELL AHEAD OF HIS TIME

In 2011, the 79th General Session of the United Nations World Organisation for Animal Health held a ceremony at which it was declared that, finally, Rinderpest had been wiped out across the globe. The photograph below shows a group of distinguished people heading work responsible for the eradication of the virus; work which has been described as 'the greatest achievement in veterinary medicine':  the eradication of only the second animal disease from the face of the earth.

In Britain, in the nineteenth century, the disease was known as cattle plague and was of considerable concern to the government of the day because of its impact on the supply of meat for the national dinner tables.




Photo © Courtesy of ILRI
A young Vet, a mid-nineteenth century Rothiemay man, was among a relatively small number of people who understood that the only way to stop the spread of the cattle plague infection was not to speculate, procrastinate or to try harsh, foolish and useless treatments, but to enforce slaughter and immediate burial of affected cattle in their skins. Removal of skins for hides for leather, which farmers sometimes undertook themselves and certainly, slaughterers did as part of their job, only served to ensure the likelihood of increased contagion. The Vet concerned was George Stewart MRCVS of Milltown of Rothiemay. He was one of the very first few members of The Royal College of Veterinary Surgeons and was an extraordinary example of a young man aiming to make a difference to animals and their owners in a period of time when the profession was striving hard for recognition of its professional status. In terms of the Rinderpest virus, George was almost a century and a half ahead of his time in understanding disease control.
George was the son of George Stewart and Mary Lauder of Huntly who, after their marriage, moved to Rothiemay to live next to the Deveron River. He was their first child and he trained as a Vet in both London and in Edinburgh, unusual at a time when very many who treated animals had no training professional or qualifications at all. In London, his studies would have covered anatomy, physiology and pathology, primarily of the horse, under Professors William Sewell and Charles Spooner. After studying there at the Veterinary College, he went on to further academic study in Edinburgh at William Dick's School (now popularly known as the Dick Vet, University of Edinburgh) under the man himself as well as other tutors such as Professor Thomas Strangeways, and Mr William Worthington. As a result, George became a proud Member of The Royal College of Veterinary Surgeons, something he emphasised on his Census return in 1851.
His father had died in 1840 so did not see his son qualify, but his mother, Mary, who lived with him must have been very proud indeed of the young man who attained such professional standing when there were a good number of 'horse doctors' and 'cow leeches' operating businesses in Britain. It is interesting to note that his younger brother, Alexander, (1838-1900) saw what George had achieved, and what the future of the veterinary profession could be for those willing to study and observe ethical practises, and he went on to qualify himself, graduating from Dick Vet in 1866, to become MRCVS also.

Today, we are used to veterinary surgeons employing all that medical and veterinary science has to offer alongside a considerable array of diagnostic tools, advanced drugs and surgical interventions undreamed of - even fifty years ago. Imagine, then, a world where the antibiotic had yet to be invented, its precursor - the sulphonamide - was unknown, where x-raying an animal such as a horse was un-thought of and where the understanding of foot and mouth disease was in its infancy. All hampered by a government wedded to the idea of 'free trade' without an understanding that free trade in animals 'also included free trade in their diseases' (Pattison). Both live animals and the bones, hooves and hides of dead ones were imported into Britain and thus carried infections by bacteria and by virus – something that no-one, at that time, understood.

Photo

© Denhams Auctioneers

Photograph shows a set of 19th century
veterinary instruments, in their case, comprising
6 scalpels, hammer and 3 Lister-style knives
made by S Maw & Sons Ltd
George and his brother Alexander would have been familiar with various livestock and equine diseases. These included  'gleet' (sinus inflammation),  'mallenders and sallenders' (scaly skin down the front of the hind cannons), 'staggers' (hypomagnesaemia), 'grease heel', 'hoof rot', 'bony heel', 'split heel', 'chapped hock', (foot and hoof problems associated with poor conditions), 'lung stagnation', 'scratches, 'sore tongue', 'founder' and a host of other ills affecting  horses, cattle and sheep. All these ailments, which sound odd, but affect animals today too, George treated by the methods of the time – many of which involved hazardous compounds, dangerous methods and not a little courage on the part of the Vet.
The week's work for a country Vet like George in, say, 1850, could be enormously varied. He farmed several acres to support himself, his widowed mother and his siblings, a nephew and living-in servants, as well as helping support his brother to go to veterinary college to train as a vet too. He would have kept horses himself because pony and trap were his only means of transport out to see clients and patients across a big area. These, of course, needed to be in very good health and tip top condition since they were a moving advertisement for his professional abilities and his Practice. He would have seen horses aplenty – carriage horses at the grand houses around, probably Rothiemay Castle being one of them; and plough horses on the farms, as well as cattle and sheep. People did not use the services of a Vet in quite the way we do today, but if you were breeding cattle, for example, and aiming for top prices in the sale ring or wanted to found a breeding line, then engaging the Vet for help was a necessity.
Into the midst of a hardworking - and no doubt satisfying life - came the dreadful cattle plague in 1865. Brought into the UK by imports of live cattle from Europe, it soon spread across the country through towns, villages and isolated hamlets and fresh cases were reported each day. The newspapers of the time make very grim reading. Although in 1848 the government had passed an Act 'to prevent the introduction of Contagious Disorders among sheep, cattle, horses and other animals' this was having little effect in the outbreak of Rinderpest in this country.
The Act didn't establish the kind of rigorous and precise methods of dealing with the disease - and thus prohibiting its spread - that we are used to today. Instead the government thought that the measures being taken on the Continent would be all that was needed to prevent the plague affecting our bovine population and a laissez faire attitude prevailed. "How wrong can we be?", George must have thought! Containing (quarantining) sick animals, slaughtering if necessary and – most important – burying such carcasses in their skin, so that no hides, bones or hooves or hair could transmit the plague further, was what he knew had to be done. He must have learnt, at the Dick Vet, of Lancisi's 18th century similar - but highly unpopular -  recommendations for this in Italy; but he would have realised that short term loss could only mean long term gain.
The loss of an animal, particularly milk and beef cows in an area beginning to develop its markets for high quality supplies, would have been anathema to local farmers and landowners. However, George – and it must be said – a number of his local professional colleagues – were adamant that this was the only way to stop the disease spreading and possibly annihilating the whole of the Banffshire and Aberdeenshire herds.

Photo: The Rinderpest virus under the modern microscope



In the Aberdeen Journal of 13th September 1865 we see: -
"The following report was sent in by the Inspectors to the Convenor of the Committee in the parishes of Huntly, Forgue, & c, on Friday: -This is to certify that a cow belonging to Mrs Booth, Westerton, died of Rinderpest on the morning of the 6th inst., and was buried with the skin. Today we find a cow and two calves ill of Rinderpest, and have caused them to be destroyed in our presence, and buried with their skins. The above is the whole of Mrs Booth's stock, and her houses will be disinfected as soon as possible. Two cows belonging to James Ogg were pastured in a field with Mrs Booth's, but were separated on her first cow taking ill, and up to the present time they have shown no symptom of the disease.
GEO. STEWART V.S.
M A SNOWBALL V.S."
(Matthew Snowball was the Huntly Veterinary Surgeon).
and in the same edition of the newspaper: -
Garmond Village September 6th 1865

"We, the undersigned, have seen a cow and a calf, both of which were affected with Rinderpest, which we have destroyed, and we confirm the report given by Mr George Stuart (sic), Veterinary Surgeon, Rothiemay, to the parish Committee, on 31st August 1865.
JOHN MORRIS V.S.
GEO. STEWART V.S.
H G BRUCE V.S." (John Morris was a Vet from Old Machar and Hugh Bruce was a Vet from New Deer, Aberdeenshire.)
George would have had the task of diagnosing these cases of Rinderpest that he saw, informing the owners - who could see their livelihoods disintegrating before their eyes – and persuading, pacifying and yet enforcing the need to take the action to slaughter. Such was his determination and that of his veterinary colleagues, to act for what would be the greater good, that alongside his normal case load and the demands of this outbreak that he also spoke at farmers meetings and to parish committees to help others understand the need for this method of control.
The advice to slaughter would definitely not have been welcome, but it was advice that was necessary and eventually became recognised as the only way to contain the plague. His actions in giving this professional advice and overseeing the gruesome outcomes got very wide coverage in the newspapers, so much so that it appeared in the media in Australia: -
The Perth Gazette and West Australian Times Friday 1st June 1866.
"The Government bill as to insurance is very simple. Under the measure proposed, whenever the plague appears in a county or borough, the magistrates sitting in petty sessions or the town council are not only allowed, but now compelled, to order every infested beast to be slaughtered, and to pay its owner one-half of its value, as it would have been before infection. The amount, our readers will see, is likely to be pretty heavy. It will be, at least, at the present rate of mortality. £3,500,000 per annum. But, after all, it is the only way. We go into these details, because we have had something of the same curse in Australia, and any European ship may bring the plague."
"We make no apology to our readers for coming back again upon the subject of the "the Rinderpest," or the cattle plague, for the dimensions to which it has attained in England are perfectly awful, and new facts about it are coming out every day. So infectious it is that in one instance it has been ascertained that a herd was attacked because the Government inspector after going through the infected animals, had not taken the precaution of washing his hands. The provisions, of the present Government bill just passed show that the risk of contagion goes further still. Dogs running in the infected districts are summarily destroyed, although in Leicestershire, where there are more foxhounds and greyhounds than elsewhere, the disease has not yet appeared. In Cheshire, where the cattle plague now rages, it is proposed to put a stop to hunting for the remainder of the season. When such is the danger from such very small causes, considering how the beasts are conveyed promiscuously by railway, what mobs of them arrive promiscuously by steamers, and how many necessarily graze loose, it is no wonder to be told that the weekly loss was reckoned at 10,000 three months ago, and the daily now at 2,000."
"Supposing each beast to be worth £8, which is a very low average for high-bread English cattle-one-third more would be nearer the mark, this supposes a loss of over seven millions Sterling directly, which, enormously wealthy as Britain is, is more than a scratch - it is a wound. Indirectly it is even more detrimental. A good breed of cattle can no more be created immediately than a good breed of horses. It took Bakewell years upon years to get up his improved shorthorns out of the old, long-legged, long-backed, heavy headed runts with which he had in the first instance to deal. It is the best-bred stock that is first attacked, and if the plague go on, the result may be the permanent deterioration of the English, breeds. We only wish we could report the discovery of any effectual remedy. A gentleman of long experience in Ceylon has indeed sent to the leading journal a wonderful recipe, but the wonderful recipe of Ceylon seems to be no wonder at all in England. It does not work. A Mr. Maurice Worms, of Egham, is said to have cured several cows with a compound of small red pickling onions, ginger, and asafoetida. It is also commonly believed, and we think a good deal of foundation for the belief, that salt does good, but there seems to be some doubt about the experiments. As to what the disease is, beyond the ascertained fact, that it has been going over the world from time immemorial, opinions are just as much divided as when it made its first appearance. The prevalent idea is, that vaccination will prove a preventive to its further spread. It is held to be established that the cattle disease is no more and no less than smallpox- that in cattle the thickness of the hide prevents in most cases, the eruptions from appearing externally as in man, and as the virus cannot be thrown off in that way, the animal inevitably dies. In despair of an effectual remedy the public attention appears to be directed by two points: one to relieve the losses by a general insurance fund, and secondly, combined with the first, to get rid of the evil by the only effectual way, namely, the immediate destruction of every animal effected, or even suspected of being infected. The Government has at last taken up the matter; but the farmers, that is, the intelligent ones of them, were beforehand. As the disease may come among us at any time, we quote from

The Times

how effectually and successfully the pestilence was dealt with in

Aberdeenshire

. The county of Aberdeen is the great cattle rearing and cattle-feeding county of Scotland. It is almost a purely agricultural county, and the great object of the Aberdeenshire farmer is to raise and feed cattle for the London and other English markets. The fame they have acquired by their skill - a fame not confined even to Great Britain - is pretty good evidence of their success."
"Of course, when this great disaster to the farming interest began to threaten us, the shrewd farmers of this county were on the alert. Although they stood sorely in need of imported cattle to feed for the London market to from infected they generally ceased to purchase from infected districts ; but among farmers, as among other classes, there are always rash persons who will see no danger where their neighbours see utter ruin. Calves were accordingly brought, about four months ago, by a certain dealer, from an infected district in the south. These calves, as it proved afterwards, were infected by the disease, and being scattered over the county might have involved the whole district in the ruin which has overtaken so many other districts of the county but for the prompt measures taken. The most virulent attack of the disease displayed itself in the parish of Forgue, Aberdeenshire, a parish, that which, from its central situation, the plague could have fixed on no better point as a 'Head Centre' for directing its attacks against the flocks of the three great cattle-feeding counties in the north-east of Scotland -Aberdeen, Banff, and Moray."
"What do the farmers of the district immediately do? A meeting is held forthwith at Huntly, in Strathbogie, the nearest market town, in which the farmers of several parishes resolve to pay the value of every animal upon the farm on which the disease has broken out, provided all that had been in contact with the diseased cattle are at once slaughtered and buried, skin and hides, four feet under ground."
"Fortunately, a shrewd Scotch veterinary surgeon,

Mr. Stewart

by name, who had been called by the farmer to see his cattle, knew the dangerous nature of the disease, and, skilful as he is known to be in the district, felt that cure of this disease was beyond his skill, and advised the farmer accordingly. What was the result? Every head of cattle on this farm was forthwith slaughtered and buried. But to show the contagious nature of this deadly pest, the disease again broke out, about ten days or a fortnight afterwards, in a byre containing a cow or two, belonging to a relative of the farmer whose cattle was first attacked. The same process was at once gone through. The axe and the knife, and four feet of earth for carcase, hide, and every appurtenance of the infected animals, settled the question for these cattle, and stamped the plague out in this very promising centre. In two or three other centres about the same time the disease made its appearance, although scarcely in so virulent a form, and was dealt with in the same manner. The country was now thoroughly roused. A meeting was held at Aberdeen, and resolutions were adopted to assess the country -of course voluntarily - at the rate of 1d. per pound, to be paid in equal proportion by landlord and tenant, every tenant who paid his proportion having his cattle insured by the association, should they be attacked by the Rinderpest, but only on the condition that the members of the association should bind themselves to conform to certain very stringent rules. What was the result? In a very few weeks the Rinderpest was 'stamped out' in Aberdeenshire."
All in all George Stewart's professional life was very busy and very hard work. He never married and had little time for himself; perhaps an occasional bit of fishing or a walk with his dogs but little else. Such is the lot of the country Vet. Out in all weathers, often in ferocious gales, snow storms and driving rain, he died in 1874 age just 56 years.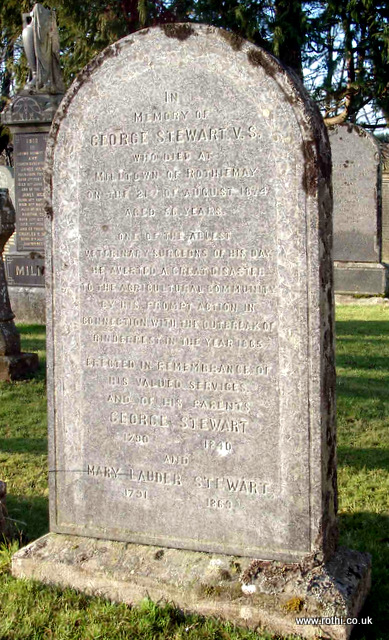 His epitaph on his headstone in Rothiemay Churchyard reads: -
"In memory of GEORGE STEWART V.S. died Milltown of Rothiemay 21 August 1874 aged 56.
One of the ablest veterinary surgeons of his day, he averted a great disaster to the
agricultural community by his prompt action in connection with
the outbreak of Rinderpest in the year 1865.
Erected in remembrance of his valued services & of his parents
GEORGE STEWART 1790-1840 and MARY LAUDER STEWART 1791-1869"
A fitting comment, by those who knew him, on a man who believed in the training he had received, the qualifications he held, the profession in which he served and the prompt action he took to save the reputation of his farming community. A man well ahead of his time.
© Copyright Diana C-S
reconstructingthepast@gmail.com
---
Sources:
The Science Museum, London
Scotland's People
"The British Veterinary Profession 1791-1948" by Iain Pattison, publisher J A Allen 1984
The Royal College of Veterinary Surgeons Trust Librarians
Denhams Auctioneers, Sussex.
Credits:
Mr & Mrs J Stewart, New Zealand
the late Mr Martin Cleaver MRCVS
Mr T Murphy MRCVS, Leicestershire.