Features:
In Mind, Acute and Sensible

"THE INHABITANTS ARE … IN MIND, ACUTE AND SENSIBLE"
The education provided by Rothiemay School has shown how a good amount at 'the learning' can help shape a child to pursue a successful and satisfying career in adulthood. And the Reverend James Simmie's remarks, above, about his parishioners in 1797 still held true in the next century too. A good example of that was George Stewart MRCVS, the Rothiemay boy who became the village's and the district's veterinary surgeon. He was followed into the profession by his brother Alexander - again a lad who benefited from teaching at the Rothiemay School.

Alexander is seen, age three, in the 1841 census with his newly-widowed mother Mary Stewart (nee Lauder). In the ten years that followed, he attended the school to be taught by Mr and Mrs Webster with a view to him going on to the veterinary school in Edinburgh. There's nothing like practical experience, too, so by 1851 he was gaining knowledge of beasts by working as a shepherd for William Petrie, across the river at Barlatch. It is possible that brother George arranged this, as Mr Petrie had a large farm of 100 acres under arable and 200 acres of pasture, so he could provide a great deal of experience for a budding vet. In 1861 Alexander can be seen working for Peter Stewart at Boharm as a saw miller, echoing his own late father's expertise in the forestry business. Jobs, like these, would give Alexander several things - experience of the farming world around him, of how local businesses functioned and the chance to save for board and lodgings when he went to Edinburgh, while developing strong muscles needed for equine and bovine veterinary work.
Alexander attended William Dick's school in Edinburgh for the two-year course and, while there, he would have benefited from the prodigious writings of Professor John Gamgee (1831-94), lately of the Dick school and then of the Edinburgh New Veterinary College.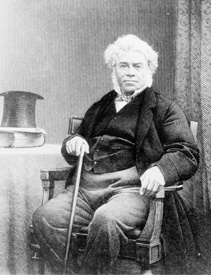 William Dick, Head of School
© Gazetteer for Scotland 2015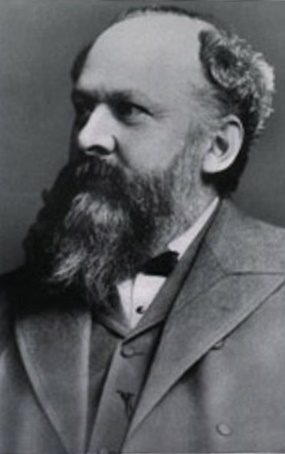 Professor John Gamgee
Professor Gamgee, who was one of the brilliant Gamgee family of that time, taught at Dick's school on a number of subjects and one of his major interests was pathology and what we call, today, epidemiology. He had a particular interest in both brucellosis (named Crimean or Malta fever), tuberculosis (called phthisis pulmonalis when it infected - via milk or meat - humans) and in rinderpest; and he recommended the control of UK meat imports as early as 1865 to reduce the incidence of tainted meat. Students would have been taught about such sheep diseases as scrapie (first identified in 1732 and with us still), pleuropneumonia in both horses and in cattle (it was known as lung plague at this time); and of course equine strangles.
With exposure to thinkers and teachers like this, Alexander completed his studies well and graduated in 1866 to join George, his brother in his Practice in Rothiemay. George, who was also a Member of the Edinburgh Veterinary Medical Association, had already begun the Practice business and placed an advertisement in the "Aberdeen Journal" on 3rd June 1846 'intimating to the inhabitants of Rothiemay and surrounding Districts' his intention to 'open a Practice business at Milltown of Rothiemay' providing 'professional services at moderate charges'. On 25th June 1868 Alexander married Miss Jane Innes of Aberchirder and in 1871 we see them in Mid Street, Aberchirder with their first child, named Alexander.
Sadly, for what could have been a very successful partnership Practice, George Stewart died in August 1874 with heart disease and the effects of long hours in, often, bad weather. The responsibility for the business was left to Alexander as a sole practitioner; and from 'The Veterinary Register' it seems the Rothiemay address for the business was still used for some time by Alexander, while a small satellite business appears to have operated in Keith for a short while. A decade later he seemed to either have a new Practice address or to be operating a second Practice in Turriff and had moved house to Sheil House, Inverkeithny - which had a croft attached to it. All seemed set fair for him and his now larger family, but his young son Peter, died in 1891 after a period of illness.

And then, in 1900, Alexander himself died, age 62, in the early hours of the morning of 22nd March at Sheil House as a result of cancer of the throat, from which he'd been suffering for six months. He'd lived through tremendous changes in veterinary medicine and in veterinary training. Colleges had been established across the UK and in the year of his death the first veterinary college was set up in Dublin - and veterinary science was to develop apace in the new century.
© Copyright Diana C-S
reconstructingthepast@gmail.com
---
Sources:
The National Archives
ScotlandsPeople
Aberdeen Journal
Edinburgh University
Credits:
Mr John Stewart, New Zealand
The Royal College of Veterinary Surgeons Trust Librarians