Features:

For Country and County
Major
Alexander Francis Tayler
and his family, and house staff, have been touched upon elsewhere in the village history. However, now we come to the life of the 18th and 19th century figure himself, who saw a great deal of the world and who gave service to both his country and his adopted county.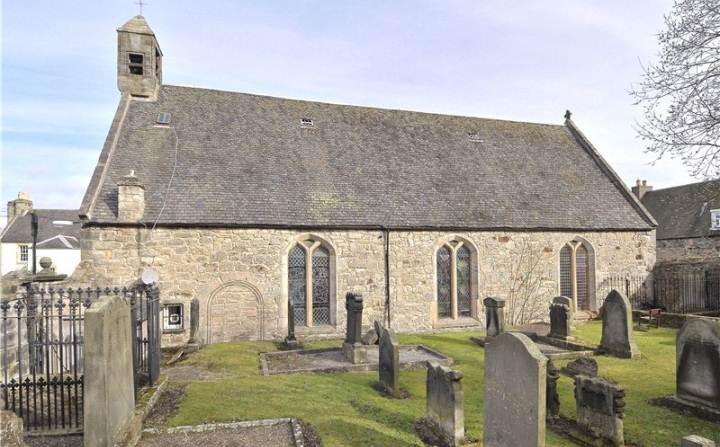 The Vennel Kirk, South Queensferry
In the newspaper obituary for Alexander F Tayler it is stated that he was born about 1763 at South Queensferry, but no precise date is given. The memorial, in the Duff Mausoleum, gives his birth year as 1765. The baptismal entry for South Queensferry shows the birth to be 1st June 1765 and the baptism on 14th of that month. The parents were
James Tayler
and
Ann Dalgliesh
.
The church and its parishioners had strong connections with the sea and many of the tombstones evidence this with anchors, quadrants and three-masted sailing ships. Said to have come from a family connected with the Navy (there were some Naval Taylers in Devizes, Wiltshire but it is not clear how close that connection was) the boy first joined this Service. He was on the sixty-four gun "Bienfaisant' when it took part in the Battle of Cape St Vincent in 1780 and the capture of the "Comte de Artois" off Ireland in August of that year.  And he saw further action under the command of Admiral Sir Hyde Parker and the Captaincy of Braithwaite, in the 1781 Battle of Dogger Bank.
Nelson, who also served under Admiral Sir Hyde Parker, was a contemporary.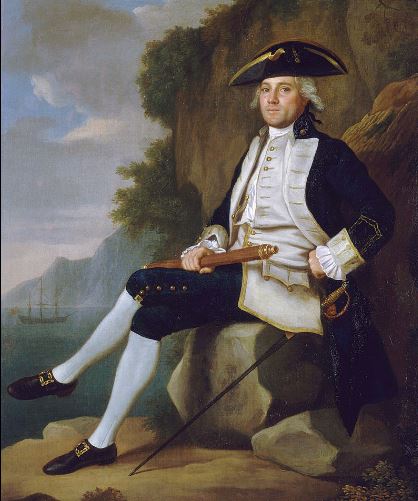 Captain Edward Vernon 1723-1794
On his return home Alexander was offered a commission in the Army and was on the staff of General Charles Grey in the West Indies and was present at the invasion and taking of Martinique on 5th February 1794; at the attacks on Guadeloupe and the surrender of Fort Bourbon on 24 March in the French Revolutionary Wars.
After a second tour of duty in the West Indies he returned home to the UK and in 1798 was appointed to serve under – successively – Generals Hamilton, Hay and Wemyss in Aberdeen. The uniform, at that time, was somewhat like that worn here by Captain Edward Vernon who died in 1894.
Major Tayler met, and then married,
Lady Jane Duff
of Rothiemay House, daughter of Alexander, Earl of Fife. The couple were married on 2nd December 1802 at the Earl's estate of Kingcausie, Deeside, Aberdeenshire.
Major Tayler, now styled
Major Alexander Francis Tayler of Dunnideer, Bilbohall & Monaughty
, remained on the Scottish Staff nominally serving with the 20th/21st Regiment of Foot (from which he exchanged to half pay on 1st August 1804 and leaving to manage the estates in 1810).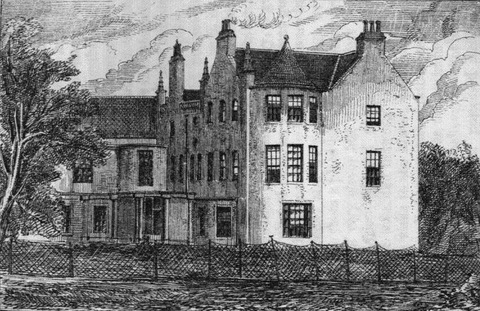 Rothiemay House in the 19th century
The  Major took a lease on Rothiemay House on 8th June 1809 for thirty-eight years at a nominal rent of £10.00 per annum for
"the mansion house, office-house, pigeon-house, orchards and gardens, with the grounds around the house which were in the late Earl of Fife's natural possession at the time of his death, with a provision that they shall 'not be liable to pay any pejoration on the said mansion-house, or any way obliged to repair or support the same, except to keep the roof wind and water tight, and if they shall meliorate the same, or shall for the ornamenting or beautifying of the lands let or plant wood, the meliorations, etc., shall be paid for by the proprietor at the issue of the lease."
In addition, for the salmon fishing on the River Deveron, the rent was £2.00 to be paid annually, while various farms and crofts were rented annually at £3.00 and £4.00 apiece. This lease was held by Major Tayler for the whole of his life and then by his son
W J Tayler
until 1886. Alexander Tayler and his wife, Lady Jane, lived at Rothiemay House each year in the Spring – Autumn periods and in the city of Aberdeen, at Castle Street, during the cold north east winters.
The Duff Mausoleum, Banff
The couple's first child –
Alexander Duff Tayler
was born 1803 in Aberdeenshire. Sadly the boy died age just 6 years old on 29th July 1809 after falling into a bath of boiling water and he is buried at the Duff Mausoleum, Banff. Sister
Anne Frances
was born in 1804, but died accidentally in 1808. Her brother,
William J Tayler
was born just a few days before the death. This boy we will meet later (and he is mentioned elsewhere on our series of "Walks".)
A daughter came next –
Jane Marion Tayler
– born 5th June 1811, baptised 9th June at Duff House, Banff. This little girl was followed by
Alexander Francis Tayler
, born 8th June 1814; then another boy –
George Skene Tayler
, born 20th September 1816 at Rothiemay, then lastly another boy –
Hay Utterson Tayler
born 28th April 1818 in Rothiemay.
Very sadly Alexander Duff Tayler, Alexander Francis Tayler and Hay Utterson Tayler were all born deaf and dumb, a condition they had inherited genetically from their great Grandmother,
Lady Mary Skene
(1734-1790). Alexander Francis, who in spite of his handicap, could read and write and understood both French and Latin, died, age fourteen, of health problems after a bout of measles and is buried at the Duff Mausoleum, Banff.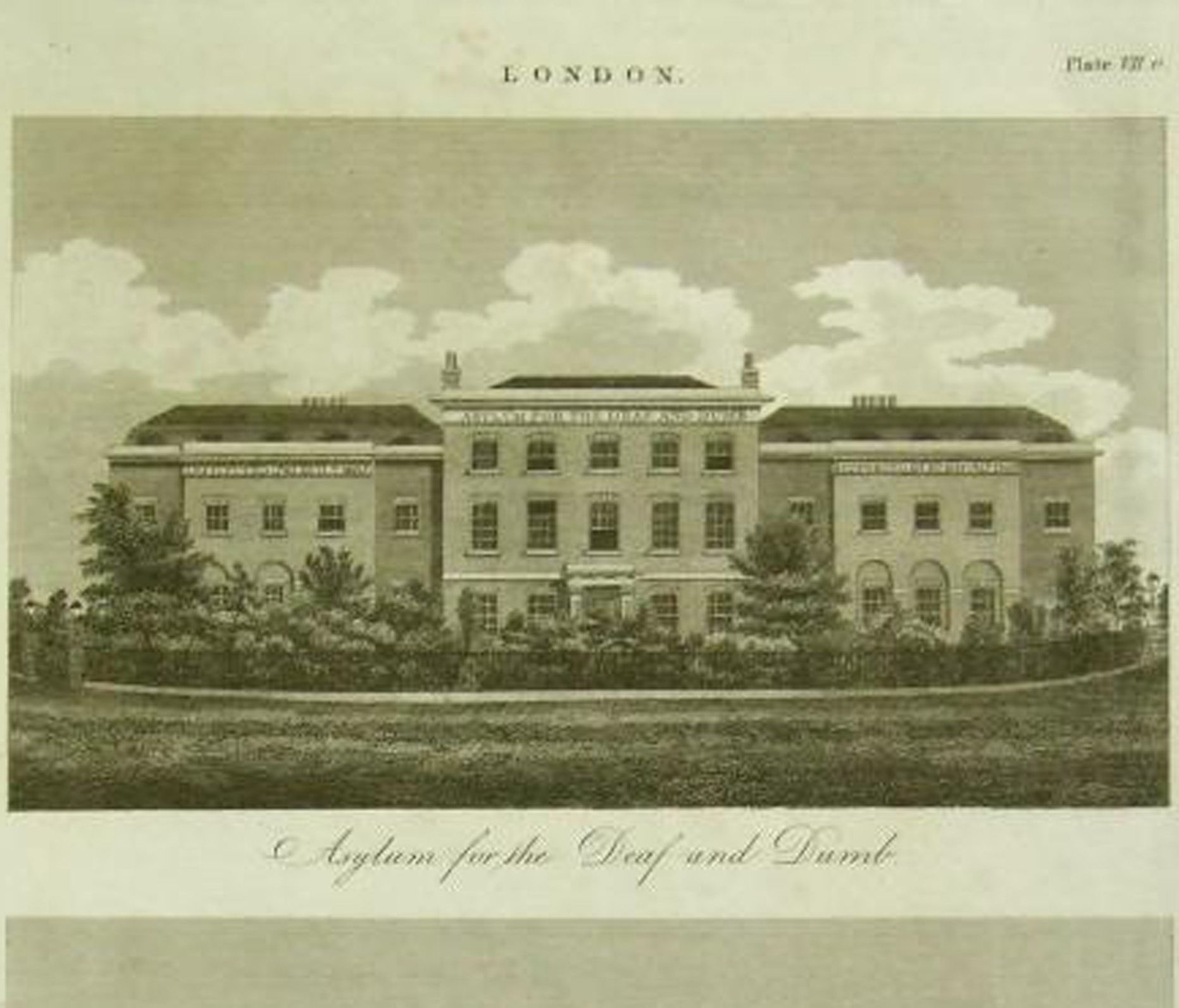 The London Asylum for the Deaf & Dumb
Lady Jane, her grandchildren commented, could not be persuaded to part with her youngest child, Hay, and he remained with her until he was twenty years old. As a result he was less skilled in speaking. He could, however, use sign language (possibly utilising Dr Braidwood's system.
Dr Braidwood
was an 18th century Edinburgh teacher and his system was the forerunner of today's BSL). Hay had been taught to read and to write and he could write very quickly indeed, and conversed with others in the form of long written conversations between him and the other person in the room. He kept many of these during his lifetime and was able to re-visit them long afterwards. He lived a long life, principally in London, staying with a
Dr Thomas James Watson
from 1841 at the Asylum for the Deaf and Dumb in Southwark.
Throughout his life he maintained contact with the Watson family. As he grew older Hay had a particular love of books and prints, spending a lot of time in bookshops and old print shops. He lived, appropriately, in Hogarth Road, Kensington but died at St Leonards-on-Sea on 19th August 1903 and is buried in Hastings, Sussex.
Major Tayler was very active in local affairs. He sat on the boards of a Bank, insurance and other financial bodies, and used his administrative skills in actuarial proposals for several companies with whom he was a board member and was a land tax Commissioner. He took a great interest in the agricultural improvements going forward at that time, was especially interested in the work of the Rothiemay vet,
George Stewart MRCVS
on Rinderpest; and supported a wide range of initiatives to help those in need. For example his consistent annual subscriptions to the 'Meal and Soup" Funds -  in both Banffshire and Aberdeenshire.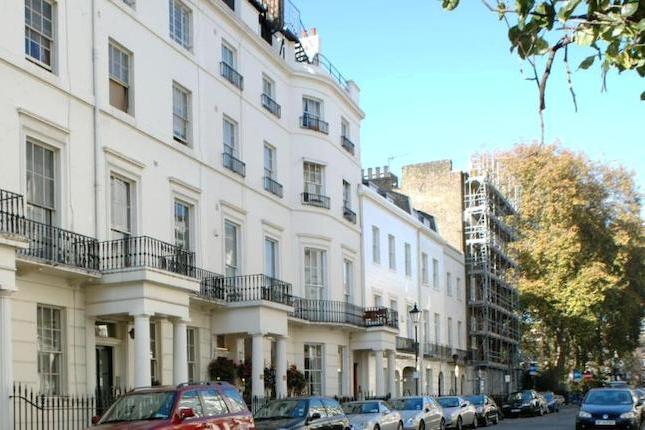 Stanhope Place
He was succeeded by his son
William James Tayler of Glenbarry and Bilbohall
. William, born 8th July 1809, at Duff House, Banff married his cousin,
Georgina Lucy Duff
at St George's, Hanover Square in July 1864. William had trained as a barrister but did not practise law. The couple set up home at 3 Stanhope Place, Hyde Park with a staff of six – predominantly from Scotland, among whom was
Alexander Dey
, the butler.
They had three children
Constance Jane Tayler
(1868-1948),
Helen Agnes Henrietta Tayler
(1869-1951) and
Alexander Norwich Alasdair Tayler
(1870-1937); the last two children being the authors of 'The Book of the Duffs' among others*.  Neither married, but spent a great deal of their lives writing together and, when Norwich died, Henrietta (Hetty Tayler) continued writing herself.
Jane Marion Tayler
, born at Duff House in 1811, married
Dr Charles Dawson
, an Army surgeon  with the 54th Regiment. Unfortunately Jane was widowed the following year when her husband died of Yellow Fever in Antigua, West Indies.  Her brother,
James George Tayler
, born 1812 in Rothiemay House, married a young lady,
Mary Ann Duncan
, daughter of
James Duncan
Esquire in 1842 at Greenwich.  The couple had one son – James Alexander Tayler who was educated at Harrow and then Trinity College, Cambridge gaining both a BA and an MA, but died in 1889 in Millbrook Road, Southampton.
George Skene Tayler
, Major Tayler's fifth son chose a career in the Navy. He married
Anna Maria Scott
, the daughter of
David Scot
t and
Mary Sedden
. The couple lived in various homes including Winterfield House, Dunbar and a house called Inchgarth Bothy, in Banchory, old Kincardineshire.
His naval biography reads that he: -

He retired as Commander George Skene Tayler RN. He died in 1894 at Inchgarth.
Major Alexander Francis Tayler on his death on 29th September 1854 at Rothiemay House, was noted as

"a benefactor of the poor, a kind man, a genial host and an enlightened gentleman".

Much the same had been said of his late father-in-law. It seems that Rothiemay lost two men, whose commitment to the village, their county and their country could not be surpassed.
© Copyright Diana C-S
reconstructingthepast@gmail.com
---
Sources:
The Book of the Duffs Volumes 1 and 2 Tayler A& H Constable 1914
GRO Scotland; GRO England & Wales
British Newspaper Archive
Transactions of the Highland and Agricultural Society of Scotland
The British Veterinary Profession 1791-1948" Pattison I . JA Allen 1984
Debrett's Peerage & Baronetage
The London Gazette
Burke's Landed Gentry
The Edinburgh Gazette
The Royal College of Veterinary Surgeons Trust
Burke's Peerage, Baronetage and Knightage
Journals of the House of Lords
The Scots Magazine
Note: - Among the books under the joint authorship, or editorship, of A and H Tayler were: -
Jacobites of Aberdeenshire and Banffshire in the 45

  Tayler A & H Tayler 1928 Milne & Hutcheon

The Ogilvies of Boyne

 Tayler A&H  1933 Aberdeen University Press

Jacobites of Aberdeenshire and Banffshire in the Rising of 1715

Tayler A&H  1934 Oliver & Boyd

John Graham of Claverhouse

Tayler A&H 1939

The House of Forbes

  Tayler A&H 1937  The Spalding Club
Hetty wrote, or edited, additional historical works after her brother's death, including: -
The Child Sovereigns of Scotland

. Tayler H 1937 T & A Constable

History of the Family of Urquhart

  Tayler H  1946 Aberdeen University Press

Bonnie Prince Charlie

Tayler H  1949 Thomas Nelson