Local Heroes (and Villains)
Banffshire/Aberdeenshire
Thomas Edward
James Gibbs
George MacDonald
Frank Troup
William Cramond
"And nature was to him an open book"
Gravestone inscription

Thomas Edward (1814-1886)
"DILIGENCE,  DEDICATION AND - EVENTUALLY - DISCIPLINE"

Thomas Edward was a Victorian naturalist; a man of humble origins who educated himself throughout his life and whose diligence and attention to scientific discipline gained him admirers and supporters of his work that enabled him to become a museum curator; and a member of The Linnean Society – "the world's oldest active organisation devoted exclusively to natural history in the broadest sense." 
Sketch by George Reid RSA
©The Linnean Society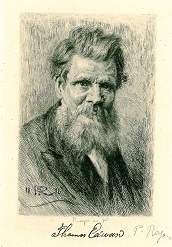 Thomas was born in Gosport in 1814. His gravestone, in Banff cemetery, states he was born on Christmas Day 1814. In fact Hampshire baptism records show he was born on 28th February 1814 and was christened in the barracks chapel on 11th March 1814. It was not unusual for people in that time to be less than exact about their birth dates. They, unlike us today, lived in a less bureaucratic age. Christening records were put into church registers – but not always on the day the event took place, sometimes weeks or even months elapsed before this would occur. There was no 'birth certificate' as we have now, Statutory registration of births, marriages or deaths did not take place until 1854 in England and a year later in Scotland. So people quite often were hazy about their birth dates and, sometimes, the places in which they were born.
His father was John Edward and his mother was Margaret Mitchell. John, born in 1782 came from Kettle, in Fifeshire and both before and after service with the Militia, he was a hand loom linen weaver. His wife, born in 1793 came from Aberdeenshire. John was with the Fife Militia who were, at the time of Thomas' birth, stationed in Gosport to guard the prison hulks moored offshore which housed prisoners of the Napoleonic War (1799-1815). His wife was with him, with their older son, John, and lived just outside the barracks in a small house in the High Street, Gosport.
In the year following Thomas' birth the Militia were sent home again to Scotland and, effectively, partially disbanded and John, Margaret and the two boys set up home in the parish of St Nicholas, Aberdeen near what is now the main railway terminus. Here Thomas was then joined by his two sisters – Jean in 1822 and Ann in 1826.
Thomas, as soon as he could toddle, was out of the house and roaming the area nearby all over the small green islands, called Inches, at the mouth of the mighty River Dee, which gives Aberdeen its name. As might be expected this, together with the various 'beasties, crustaceans and other items that he brought home, drove his parents to distraction. He then, as he grew a little, widened his net, so to speak, and began going up the river and exploring – and bringing home beetles, newts, fish, hedgehogs, birds, frogs etc. These, of course, wandered not just his home – but those of the neighbours too!
This habit, which he later called being "a fool to nature" got him into trouble at home again. They tried everything and most of it we'd not permit today. Tied to the table to stop him wandering, taking all his clothes away on the same basis – nothing worked, scolding, reasoning – even caning, nothing worked and in the end they had to give in and allow him to establish a tiny aquarium in the yard out back of the house. It's easy to paint the parents as ignorant, squeamish people who were trying to hold the boy back, but his lengthy wanderings would worry any parent and the creatures he brought home were seen, then, as "venemous", so the mother and father had done what they thought was right.

Eventually the time came for him to go to the school. Unfortunately this didn't go well. He was frequently beaten and was expelled from three schools before the age of six! The journeys to school presented him with daily opportunity for viewing even more birds, insects and animals, so he was late for school most days. Some days he never even got there. He just would take what he found on his journey to the school into the schoolroom. Birds, beetles, even leeches (which escaped their bottle and sucked blood from the legs of some of his classmates).  A jackdaw, which he took to school, joined in school prayers. So his school days ended and he was left to wander again – just as he wanted – in the fields, woods and streams to observe, catch and keep any manner of birds, insects and mammals. He had learnt to read, though, which was a skill that stood him in good stead for the rest of his extraordinary life and allowed him to become much, much more than simply an enthusiast for nature.

Finally his parents decided that he should learn a trade if he wasn't going to get some more schooling, so they allowed him, after much pestering from him at age six, to work in a 'tobacco-spinning' factory, owned by Craig & Johnston, where his older brother worked, a couple of miles from home. While this may have sounded like a good idea at the time, it turned out to be disastrous. On the two mile journey, Thomas could again collect all manner of fauna – and take them into work with him! Fortunately the factory owner was kind and interested in nature, so he allowed Thomas to bring in birds and keep rabbits there. Then the two boys heard of better paid work at another factory, this time a wool mill, further away from home. They went to see the factory owner and got taken on. Their parents weren't too sure, but finally gave in to the boys' pleas. So they were up in the mornings at 4.am and off walking about five miles to the new factory. For Thomas this was wonderful. The route took them through new woods and valleys along the river Don and the craggy valleys near Grandholm. Their working day was 4.00am-9.00pm, taking in their journey to and from the factory. No 'Factory Act', then to provide for fair employment, proper hours, proper rest and meal periods but Thomas later said "People may say of factories what they please, but I liked this factory. It was a happy time for me whilst I remained there. The woods were easy of access during our meal-hours. What lots of nests! What insects, wild flowers, and plants, the like of which I had never seen before."

However, Thomas' father felt that the lad needed a trade to his hand and so he apprenticed him to a shoemaker. At that time an apprentice 'lived in' at the home of his master. The shoemaker was no lover of animals and every living thing Thomas took home on his very rare journeys out, the man killed. He was, by all accounts, an excellent shoe maker, but drank heavily and was fast with his fists. After three years of a six year apprenticeship and regular beatings, Thomas left. He 'ran away', in fact he walked over 100 miles to his father's brother at Kettle, Fifeshire.  After a week away he returned home and resumed his work, either for his original shoe maker master or for a new one – the story is a little hazy - with his small amount of leisure time being spent in his usual manner.

In 1831 he enlisted in the Aberdeenshire Militia. While he was on drill one day he saw and chased a rare butterfly – and narrowly escaped punishment for insubordination because, on crossing the parade ground held by his arresting corporal and soldiers, they met an officer accompanied by some ladies. On learning what had happened the ladies in the party begged for him to be let off a charge – and he was, but a near miss as the Militia was famous for their extremely strict discipline.

He remained with the Militia for three years but in 1834 he decided to move to Banff in Banffshire (the county now – for many purposes – part of Aberdeenshire) and work as a journeyman shoemaker. Low wages and long hours and he thought long and hard on leaving Scotland and emigrating to America.

Then, just on the point of taking the step,  he met a young lady working at a farm three miles away in nearby Boyndie, who came from Huntly in Banffshire. She was called Sophia Reid. Her parents, both originally from Aberdeenshire, were Gordon Reid and Janet Bremner. Gordon was a hand loom weaver like John Edward. Thomas and Sophia 'walked out' together for three years. Much of that time was spent walking in the surrounding countryside and down, through Rothiemay, to visit the Mr and Mrs Reid in Huntly. A happy time for them both with Thomas able to share his love of nature with his intended. The couple married on 18th December 1837 in Banff Parish Church.

They set up home in Banff in a little house in Wrights Close, off Banff High Street and soon the first of a total of eleven children came along. The little girl was named Sophia after her mother. She was followed by Margaret, named for Thomas' mother, in 1841, then next year came Jessie, in 1845 Jane, then Ann, then Mary, then Helen and Elizabeth. Then in 1855 came their first – and only – son: John Gatherer Edward.  Georgina and Frances followed John and the family was complete. As they grew, the family moved home to bigger premises from Wrights Close, to High Shore and to Low Shore but always remaining in Banff. This allowed Thomas access to sea, to shore and to the country around Banff which is both beautiful and varied.


| | |
| --- | --- |
| | |
| Low Shore, Banff in1876 | Low Shore in 2012 |
He worked hard, with many mouths to feed, and he worked very long hours: 6.00am-9.00pm, but still he went out into the fields and woods, the streams and rivers. Always observing, watching and learning the habits and the habitats of all he saw. He collected avidly, often staying out all night in cold and wet, sleeping in haystacks or under hedges, in barns and ruined buildings. Using an old gun – tied together with pieces of string – he captured birds and mammals; and he chloroformed some on site. Having the chloroform with him helped him one night when he was attacked by a polecat, with which he struggled for two hours, until the animal finally succumbed to the drug.
In much later life, like many in even the next century, he realised that killing for collecting and for taxidermy would eventually deprive us of the very wild animals and birds that were so important to natural history; and he wrote articles which, today, may be described as indicating that he was among Britain's first "conservationists". As much time as he could was taken up gathering knowledge by observing. His past seeming-lack of discipline now carefully schooled for his need to know all he could of what he saw. The only day he remained at home was Sunday as he was a strict observer of the Lord's day. And over time he amassed a collection of specimens which he decided to put on display in Banff.
Boyndie Kirkyard - "one of Edward's favourite spots"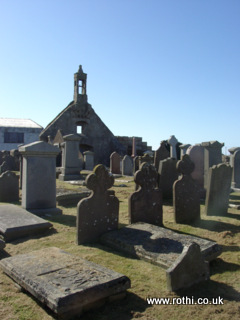 Not only did Thomas want to try and help others to understand the value of nature, he thought, too,  to perhaps make a small additional income for his family and to gain some money to help him buy text books to study much more. Accordingly he took space in the trades hall in Banff at St Brandon's Fair. There was some slight interest in his 'museum' of  the three hundred cases he showed and he managed to just break even – enough to spur him on to repeat the exercise the next year. Again, there was slight interest – but nothing like what he had hoped and again he made nearly no profit.
Nevertheless, he thought a wider audience might be more appreciative and accordingly he decided to take a small shop in Union Street, Aberdeen - a busy street where he thought he'd get plenty of interest.  Sadly no-one cared about what a shoe maker from a smaller local town had to show. A week went by with no money made and at the end of it, with a letter from his employer demanding his immediate return "or you will be discharged", he sold his entire collection for £20/10/- simply to pay the rent on the shop and went home a sadder man.
He then began again collecting and building up his collection. This was hazardous as he often had to shoot birds and animals. He had an old gun, tied together with string, but he ran the risk of being apprehended as a poacher. Poachers could, if caught, get between one month and  twelve months hard labour in prison – something that Thomas needed to avoid at all costs. Fortunately he persuaded several county magistrates to sign a document stating that he was not poaching and that they knew him to be a naturalist and could vouch for him. Generally, if he presented this to gamekeepers they allowed him onto the land to take what he needed, but given the times they probably thought him very odd indeed.
But times "they were a-changing" and a friend and fellow naturalist the Reverend James Smith, Minister of Monquhitter Kirk, lent him books and persuaded him to write to the scientific journals of the day about his observations and findings. Initially he contributed to his local paper – "The Banffshire Journal" – a newspaper that many local antiquarians wrote for; and then he was persuaded by Reverend Smith to try his hand at writing for " The Zoologist" and "The Naturalist". By and by he began to be recognised as something of an authority on a wide range of creatures and plants.  In 1850 he was appointed as the curator of the Banff Museum where he remained for some years.
Voting paper
©The Linnean Society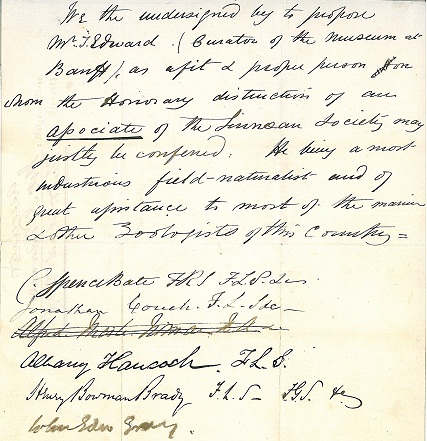 This enabled him to correspond with an array of other naturalists and, in 1866 he was unanimously elected an Associate of The Linnean Society and a Member of The Natural History Societies of both Aberdeen and Glasgow. In 1877 he was presented with a gift of 130 Sovereigns by the folk of Aberdeen, who now began to recognise his worth and that of his 'beasties'; and Queen Victoria awarded him a pension from the Civil List of £50. per annum. The application for this being supported, in part, by no less an eminent personage than Mr Charles Darwin, after whom he had named one of his crustacean finds
"Darwinia Compressa".
Unfortunately, as might be expected from his constant nocturnal wanderings in all weathers, his health began to fail. He was very sick for about a month. He could not work and he had to keep his family and pay his doctor. Therefore he sold his entire collection. So, no more out in all weathers? Certainly he'd learnt his lesson about the weather, but stop collecting? Not at all. He hit on the idea of laying 'traps' for sea fish and crustaceans. He and his daughters gathered anything they could find in and around their neighbourhood, filled old pots, buckets, pans etc with straw and sank them in the rock pools along the Banff shoreline. His daughters also watched fishermen's nets being cleared and brought home to Thomas all manner of fish and other items that he could study at home, together with the creatures that made their homes in the old buckets and pans from the pools. He was thus able to observe at very close hand all manner of sea creatures and, most importantly, he was able to correspond with other naturalists around Britain's coasts, who told him about finds local to their shores and learned, from Thomas, about some of the unique sea life around that part of Scotland.
Thomas Edward working at his trade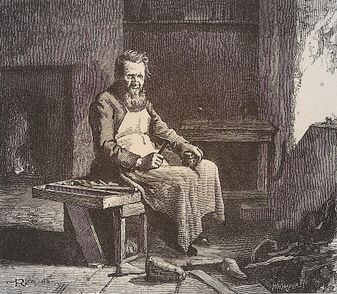 They exchanged books, periodicals, letters; Thomas wrote for more journals. Life, having been very,  very hard, began to be a little sweeter. He had his autobiography written by the historian Samuel Smiles and published in 1876, his portrait drawn by George Reid RSA. He had some material comfort, he was asked to become an Observer (of plants, animals etc) for the Meteorological Society, he was made an Honorary Member of the Historical Society of Great Britain, he saw his daughter – Elizabeth – marry in 1882 to Alexander Simpson, ship master, and they gave him his first grandchild in 1884; and he saw his only son, John Gatherer Edward*, begin to train for the Ministry in 1882.
Thomas Edward died on 27th April 1886 at 3 Low Shore, Banff and was survived by his wife, Sophia and all of their children. He was the discoverer of twenty previously unknown species of sessile-eyed crustacea. Not bad for a poor shoe maker from rural Scotland.
*John Gatherer Edward was ordained and, in 1900, was Assistant Minister for an Argyll parish. He subsequently became Minister for Unst, Shetland. He didn't marry and died in his sleep, age 83, in Glasgow near his sister, Elizabeth's family.
Thomas Edward's gravestone in Banff Cemetery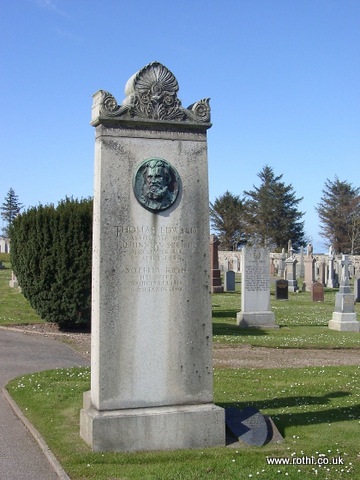 ©DC-S
---
Sources:
The Linnean Society of London www.linnean.org
'The Life of a Scotch Naturalist' by Samuel Smiles
'The Dictionary of National Biography' Volumes 1-20
Obituary article in 'The Graphic' 17 March 1877

Birth, baptism, marriage and death data from both England and Scotland.
Acknowledgements:
The author is grateful for the kind assistance given by The Linnean Society in the preparation of this article. Particular thanks go to Mrs L Brooks who supplied clippings, copies of original Linnean Society papers and other material.