Local Castles and Houses
Pitlurg Castle
Kinnairdy Castle
Crombie Castle
Huntly Castle
Mains of Mayen
Mayen House
Milton Castle
Frendraught House
Avochie Castle
Rothiemay Castle
Lessendrum House
Durn House
Achoynanie
Grange

Pitlurg Castle
Pitlurg means  'the hillside place,' the name suggesting the existence of an earlier pictish settlement, long before the descendants of Jock Gordon O' Scurdargue acquired the lands of Botarie and Auchairn that made up the original estate of Pitlurg, about the end of the 15th century.
The Gordon lairds built a castle on rock foundations, with the linear feature known as the Den of Pitlurg on the south side and an open view to the west.
The castle had a courtyard plan enclosing a well and was said to have been surrounded by a deep ditch, with a 'toun' on the north-east angle, and a long range of buildings on the west.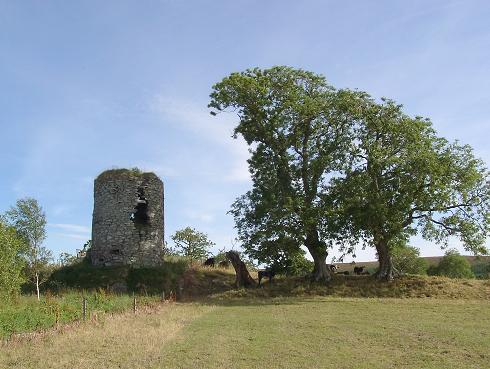 Only the circular tower remains and this is now unroofed, having been used as a doocot in the past. But sufficient of the architectural details remain to give it a 16th century date. The structure to the east has been removed, and is marked by a rebuilt doorway, and the remains of a stone staircase leading to the second floor of the tower in it's south east side. 
Pitlurg's most famous resident was Sir Robert Gordon of Straloch (1580-1661), the scholar and geographer, and father of James Gordon of Rothiemay. Both were born here - Robert inherited the estate from his elder  brother John in 1619, to become 5th of Pitlurg.
The building continued to be occupied in part until the 1760's although the Gordons' gave up ownership of the estate in 1724.
The original doocot was removed and re-erected at the House of Leask in Formartine.