Features:

"Long Held in High Esteem"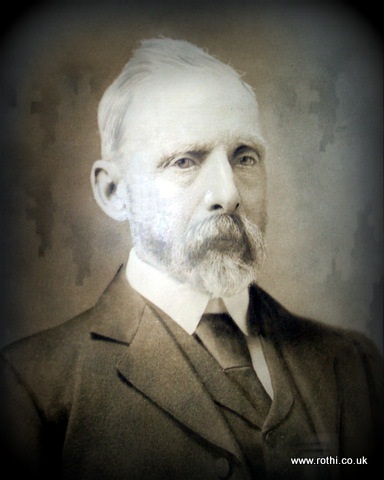 James Primrose of Auchinclech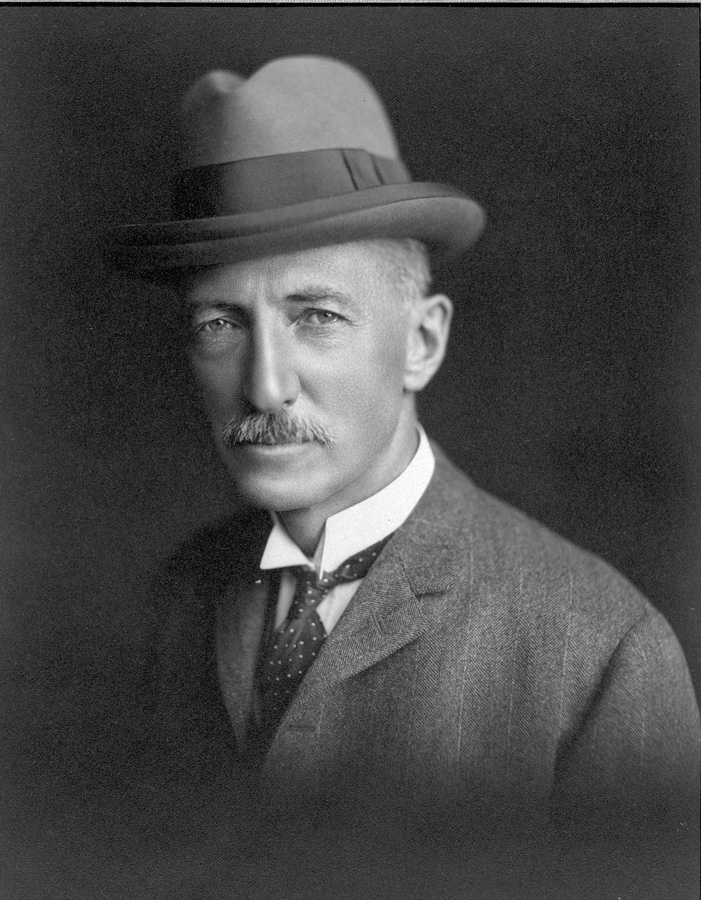 Philip C H Primrose
Lieutenant Governor of Alberta 1936-7
The Primrose family, of Rothiemay, were indicative of many in the latter half of the nineteenth century who believed in service to their community as a paramount obligation.
James Primrose
, who farmed at Auchinclech, was a Factor for the Duke of Fife on both the Rothiemay and Inverisla estates, a parish clerk, a collector of rates, an inspector of the poor and a Justice of the Peace. He came from a family that had provided a number of church ministers in Scotland, and in England too. Two of his uncles had emigrated to Pictou, Nova Scotia and had successful import/export businesses there. Both uncle
Alexander
and uncle
James
were important merchants in the Province and both had shares in shipping companies, warehousing and inland distribution. And young James numbered among his cousins a Canadian MP –
Clarence Primrose
- and the fifth Lieutenant Governor of Alberta in 1936-7,
Philip Primrose
. Others across the Primrose extended family became distinguished doctors and surgeons.
James was one of thirteen children born to
George Primrose
and his wife
Isabella Steinson
. George was born in Grange parish and his wife was from Fordyce. Initially George farmed his father's small farm at Whitehill, Grange. The farm supplemented a slim income for George's father who was the
Reverend John Primrose
*, the Secession Minister at Grange and – every fourth Sunday – at Portsoy too. James' sisters
Helen, Isabella, Catharine, Ann
and
Alexandrina
were all born at Whitehill, but by 1844 the young family had moved to Rothiemay and onto the 200 acre
Auchinclech Farm
.
Here James was born and he was followed by Margaret, John, Charles, Eliza, George, Euphemia (who was later known as "Elsie") and William. Unfortunately Helen (who became Mrs James Reid), Ann, Margaret, John and Eliza all died young as a result of tuberculosis. George died as a young child from renal failure as a result of kidney disease, William died in the same year he was born. Charles, a Minister, died in Aberdeen, where his parish was, of acute enteritis during what was described as a 'diarrhoea epidemic' in 1919. This was, in fact, an outbreak of milk-borne bacillary dysentery.
James was fortunate to have escaped tuberculosis and he worked, with his father on the farm, for a number of years. In the 1881 census we can see that James was running the farm with his 77-year old father and the help of Alexander Forbes and James Paul. He is noted as Inspector of the Poor. This was a post previously occupied by village blacksmith Lewis Paul. (See article "Police Come to the Village" on this website). This was more than twenty years before the Local Government Boards took over responsibility for the poor and the old 'poor law' system was administered through elected parish councils. James would, in 1881, be responsible for assessing those who sought poor relief from the parish, deciding – against a number of precepts – whether the individual qualified for such relief and then informing the committee of representatives of the Kirk, the heritors and latterly the Parochial Board who would agree to provide the necessary financial support the applicant needed.
Most folk preferred to manage themselves if they possibly could, but if they needed assistance it meant swallowing pride and asking. So the qualities required for such a post were numerous - considerable administrative ability, a good deal of tact and a necessary humility in helping to make provision for those falling on hard times.
While Rothiemay did have its own 'poorhouse', the Scottish rural system favoured what was called 'outdoor' relief. This meant that only a few lived in the poor house and the building was seen as temporary accommodation in any case. Instead 'outdoor' relief was provided, that is supplemental relief where the applicant was expected to take an active part in sustaining himself with only supplementary help from the parish. The phrase coined by Algernon Sidney in the seventeenth century very much applied – "the Lord helps those who help themselves".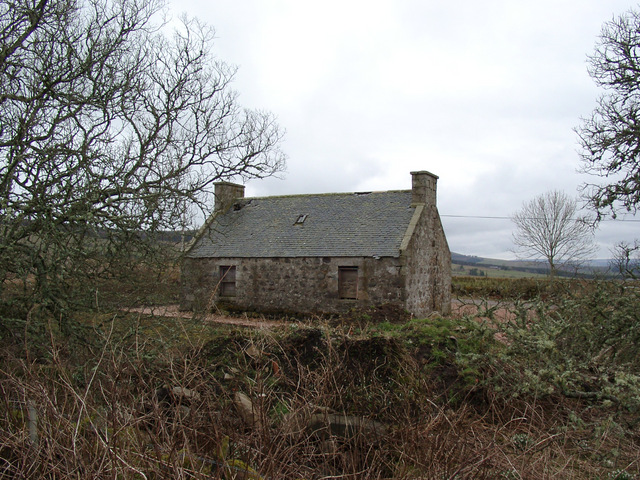 The "Paupers Cottage"
For example: -
In 1841: Two paupers, both female, one living in Milltown, the other lodging at Moss side with Ann Munro and family. Mrs Munro was of independent means.

In 1851: Forty-six paupers, all living at addresses around Rothiemay and receiving outdoor relief.

In 1861: Forty-three paupers in total, one a child of one year of age. Nineteen lived at the 'Paupers House', the rest either boarded out (2 adults) or lived in and around the village and received relief.

In 1871: Seven paupers in all. Three live in the "Paupers Cottage" at Knauchland†, one lady is still boarded out in the same place she was in 1861 and three lived in Rothiemay and received relief. The three who lived in the Paupers Cottage are of note. One was a lady on her own. Then came another lady who had with her daughter and the daughter's daughter; then another lady who, again, had her daughter with her and her daughter's one-year-old baby. Here is a case where the Inspector of the Poor (Lewis Paul) had used common sense and humanity. Splitting up these two families would have meant that there would be no financial contribution from the two daughters, both of whom were domestic servants in work, and without the Grannies to mind the children while Mother was at work, there would have been a bigger dependency on parish relief for the children.

In 1881: Fifteen paupers in all. They all lived in and around the village with the exception of one lady who lived 'in the Pauper's House at Knauckland'. However, also living in that house, but not classified as a pauper, was another lady (an outdoor worker) and her two sons.

In 1891: One pauper, a lady, who was boarded out at Turtory.

In 1901: Two paupers. One was boarded out at Moss side; the other, a lady, lived with her Grandson and received relief.

In 1881 the Duke of Fife provided a water supply, piped down to the village, from a spring on Auchinclech (see "A Public Water Supply"). Auchinclech was a mixed farm and a very productive and well-managed enterprise. Then George Primrose died in June 1882 and James took on the farm full time, with help from John Riddell and Primrose extended family members. His uncle David, now aged 80, lived with him and his new wife Anne Adams MacLeod. Ann, or Annie as she was known, had come to Rothiemay with her sister Isabella, to be the teachers at Mannoch Hill school. Annie, Isabella and their brother Neil, were all teachers; while their sister Sarah married Alexander Skinner of Rothiemay and their son was an eminent doctor. Their grandson was the Scholar and Hausa lexicographer, Professor Alexander Neil Skinner (1921-2015).
James and Annie had married on 23 April 1885 in Edinburgh, three years after his mother died and in 1894 the couple were blessed with the arrival of baby Cecil James Primrose. James now was the Parish Clerk, sitting with others like Alexander Carle the postmaster, to decide how to meet both the needs of Rothiemay village and the requirements of both local and national requirements. The Banffshire Yearbook for 1898 shows James as the parish clerk to the parish council made up of Thurburn of Mayen, Riddoch of Tarryblake, Morrison of Boat of Turtory, Leslie of Moss side, Skinner of Crossroads, George of Shiel Park, Dingwall of Cairnhill and Drs Smith & Whitton.
In December 1900 the Banffshire Herald reported that two Rothiemay men had been appointed as Justice of the Peace – Alexander Leslie of Moss side and James Primrose. James's long experience in administration and the necessary meticulous attention to detail would have stood him in good stead. Life in 1901 seemed good. In 1911 young Cecil was at Dollar Academy and Britain moved gently towards that 'endless summer' of 1913. Then came the outbreak of the First World War. Cecil, who was working at the Union Bank of Scotland at Rosehearty, near Fraserburgh, joined up in Glasgow.
His parents were no doubt proud but trepidatious. In early 1916 his unit of the Royal Field Artillery was sent to Egypt and then, in 1918, to the Western Front. Just days before the Armistice was signed, Bombardier Cecil J Primrose was wounded in action. His death on 2nd November 1918 is recorded on the Rothiemay War Memorial, Dollar Academy Roll of Honour, the Famars Communal Cemetery, France and on the memorial stone in Rothiemay Kirkyard.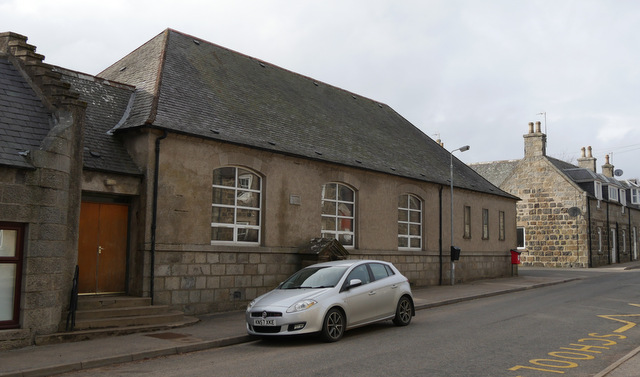 Rothiemay Hall
The blow was a hard one, as it was for very many other families in the village who lost family in this War. All the hopes and aspirations for the future were ended. James had already decided to retire from all his parish duties in June 1918, he was 74 years of age and in not good health. An article in the 'Aberdeen Journal' commented, on his retirement, that he was "long held in high esteem for the capable and efficient manner in which he has discharged the duties of his office."
James and his wife threw themselves into activity within Rothiemay and one of the projects was the new village hall, which was announced in December 1919 in the "Aberdeen Journal" as replacing the old hall which had burnt down in 1916.
Designed by Duncan & Munro this building marked village hopes for the future and James brought his skills to bear in helping with the project. The Hall was officially opened in 1921 and the "Aberdeen Journal" notes that Mrs Foster Forbes of Rothiemay Castle performed the opening ceremony.
However on 2nd December 1925 James died suddenly at Auchinclech. He had long-term heart problems. His wife, Annie moved from the farm to a cottage called 'The Bungalow' at Rothiemay and involved herself in a variety of activities to raise money to pay off the village hall building costs. She died in 1932 in hospital in Aberdeen from long term heart disease. The Primrose family, like the Milnes of Retannach, the Moirs at Ramsburn, the Dingwalls of Cairnhill – all were among those who believed wholly in the concept of service to the community in which they lived.
*There may be some confusion with regard to marriage dates for the Reverend John Primrose and his wife, Helen Grant. Equally, baptismal dates for their children appear, at first glance, confused. It seems that Reverend James Bunyan, the Established Church Minister in Grange, inserted his letter to his superiors in the parish register concerning Reverend Primrose's desire to have his children's baptisms formally recorded in the Kirk register. Thus many of the children's baptismal dates seem to be 1802 – the date of Reverend Bunyan's letter.
† The Paupers Cottage (OS map 1867) later became Knauchland Smiddy. By 1888 it was listed as a ruin.
© Copyright Diana C-S
reconstructingthepast@gmail.com
---
Sources:
GRO Scotland; GRO England & Wales; British Newspaper Archive; Transactions of the Highland and Agricultural Society of Scotland; Debrett's Peerage & Baronetage; The Banffshire Herald; The London Gazette; Burke's Landed Gentry; The Edinburgh Gazette; Burke's Peerage, Baronetage and Knightage; Fasti Ecclesiæ Scoticanæ, Scott, H.