Features: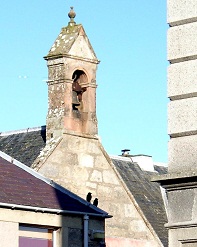 "Nearly all the parish schools of Banffshire owed their origins, during the first half of the 17th century, to chiefly the growing zeal of the Church, assisted to a certain extent by the liberality of some of the lairds, and still more by the awakening of that sense of the value of education, which ever since has distinguished so large a proportion of the common homes of the Shire both urban and rural."
            Sir George Adam Smith, Principal, Aberdeen University, November 1925

Four Hundred Years of Education
Looking back through hundreds years of history, Scotland has always been renowned as one of the countries that afforded its peoples a high standard of education - initially in the small Catholic Church schools of the Middle Ages. Scotland was seen as an intellectual and cultured nation, whose representatives in foreign Courts and in all corners of the world, were unsurpassed.
The measure of this standard was based, particularly in the 16th century and at the time of the Scottish Reformation, on the ability of people to read and understand the Bible. Marischal College at Aberdeen University was established in 1593 and parish schools were set up, often with the parish minister acting as teacher or "dominie", in order that such attainments might be evolved.
In these very early days, the first recorded schoolmaster in Rothiemay was a Mr
William Abernethie
, who was a graduate of Marischal in 1611 and who was appointed to the school in the following year. But by 1620 he'd resigned to go to be schoolmaster at Banff Grammar School.  After a month with no schoolmaster, Rothiemay parish appointed Mr
William Milne
, also a graduate of Marischal, but he, too, left in 1617 to go to Ruthven to follow a church career.
The school had no teacher until 1619 when
John Watson
– yet another Marischal graduate – came to the school. He, too, left to pursue a church career in 1627.
Thomas Smart
, who was son of the then Minister of Rothiemay, took over in 1627. Then he resigned also! Education in Rothiemay entered a dry phase as no-one took up the schoolmaster's post until 1640, when
John Findlayson
was both Reader and schoolmaster. In what seems to have become the way of things he, too, resigned quite quickly, moving to the school in Marnoch within two years. Then Mr
James Cruickshank
, this time a graduate of King's College, Aberdeen came to the post in 1643 and he remained at Rothiemay for five years. In the year he left Lady Rothiemay set up a provision in trust to give £1,000 Scots to maintain a schoolmistress to teach girls to read, write and sew. The proviso being that said schoolmistress must be "a widow of good repute".
In 1633 an education Act set out that local landowners, or "heritors", should contribute towards the cost of establishing and running local schools. However a loophole in the Act allowed them to avoid such funding, and not much progress was seen in education of the day. Another Act of 1646 sought to close that same loophole. Education was  felt to be so important that a further Act of Parliament in 1696 set out to ensure that all burghs and rural parishes provided schools for children, regardless of social class, so that all could read.
By 1648 for two years Rothiemay had a new teacher in the shape of
Alexander Gordon
MA. He was succeeded by
James Richardson
, graduate of King's College. However, he was dismissed within six months for being drunk and assaulting the parish Minister's wife and her maids at the Manse!
There then followed a rapid succession of teachers:
Patrick Jack
MA who joined the school in November 1652 and left the following September. He was followed by
William Watson
who didn't stay even a year and left to go to university. Then Mr
Robert Gordon
came to the school in 1654 but resigned the next year to become Minister at Cairnie.
George Ruddoch
MA took over until 1666 and then he moved to the school in Fordyce. 
Alexander Smart
, son of the former Rothiemay schoolmaster Thomas Smart, took the post and stayed three years, left to pursue the farming and doctoring life in Grange but returned to the school in 1697 as master.
1671 saw the appointment of
William Logie
MA as both schoolteacher and Session clerk – just as his predecessors had been. However, by 1686 he'd left and once again Rothiemay had no schoolmaster.
John Pirie
MA came to Rothiemay in 1686, but left in 1691.
Hugh Spence
MA followed him and remained for just two years.
It seemed that Rothiemay simply couldn't keep its teachers. In reality this was much to do with the fact that they just weren't paid a living wage. While this was not specific to Rothiemay it was a situation that pertained for over a century. In 1797 Reverend Simmie commented in his contribution to "The Statistical Account of Scotland" that for his parish there was one schoolmaster paid "200 merks Scotch"  The schoolmaster took some fees for students and these, together with his other part-time occupations as Precentor and Session Clerk give him another £20-21 per annum.
Although such schoolmasters were undoubtedly gifted and educated individuals dedicated to giving the best education to their pupils that they possibly could, they did have to live and eat – and many struggled very hard to do this. There are records, elsewhere in the county, of schoolmasters also supplementing their meagre teaching income not just by being Session clerk, but also by grave digging, by running a grain business and by a number of other means. And some teachers were single women, how they managed financially isn't clear, but in Rothiemay in 1841 a
Janet Scott
, a single woman (possibly "a widowed lady of good repute") who lived at Corskellie, was noted in the Census as a female teacher. The Minister of the day commenting that she was "an old woman", who "affords instruction in English reading only."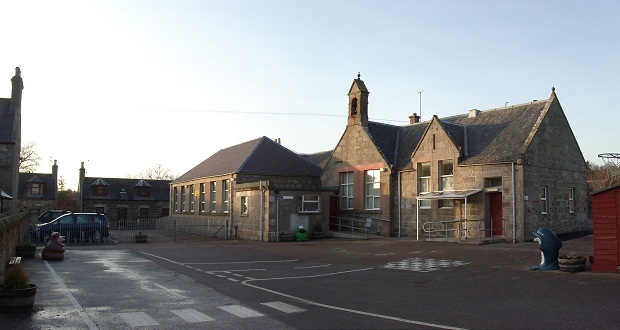 This situation of teachers trying to teach and trying to eat and live continued for many years to come.
James Guthrie
MA took over from Mr Spence in 1693 and managed to stay just the two years also. Mr
Kenneth Strachan
took the post on for the period 1695-7, and when he left
Alexander Smart
returned to the school but died in 1710.
Mr
William Milne
MA became teacher in the same year. But he left five years later. There followed
William Longmoor
who, after two years, was sacked because had different political sympathies and he became a Minister of the Episcopal Church – thus he was dismissed.
Alexander Mearns
arrived in 1718 but left in 1721 to become Minister, in time, of Insch. Four years passed and the school was empty. Then in 1722
John Barclay
came to Rothiemay and he remained for some seven years, leaving to care for his sick father but also to become Minister, in time, of Delting, Shetland.
Mr
George Ogilvie
of Boyne took up the school post in 1729, but he stayed just what was becoming the usual two years!
James Moir
became the latest teacher in 1731 and 'resigned' the same year having had a dispute with the Session over augmentations to his "sellarie" in connection with the parish registers. They took advice from Professor Chalmers at Aberdeen University and took the case to court. Mr Moir had fled – to Newcastle - and was seen no more.
Rothiemay was still very determined upon education for its young people so in 1734
John Bennet
, school teacher at Kennethmont, was appointed. He, as an experienced hand at schooling and also, no doubt, at the management of relations with the Presbytery, remained at Rothiemay school for thirty-five years. It was, however,  not until he died in 1774 that another teacher was appointed and that was Mr Bennet's assistant master –
John Stuart
. Again the school benefited from continuity, since Mr Stuart remained in post for fifteen years. Next came
Alexander Joass
MA, who remained for eight years and then moved to Boyndie School. Then came
William Ingram
and he remained for sixteen years until 1804. He was followed in 1805 by
Peter Merson
and this gentleman stayed at the school until 1814.
Alexander Smith
, who at just 19 years of age, was appointed to the Rothiemay school. Although not a well man, Mr Smith was an influential person of thought. He wrote for the "Edinburgh Review", was very interested in music and wrote "The Philosophy of Morals" (first published by Smith, Elder & Co 1835 and now available as a PDF download from Google books).
Indeed such was the desire that all, particularly boys, should be able to gain as much education as they could, the way was open to a university education for some if they were bright enough and worked hard. In Rothiemay the Reverend Simmie notes of his parish in 1797 "the inhabitants are... in mind, acute and sensible." It was not uncommon in the 17th and early 18th centuries for schoolboys of 13 years of age to go on to Aberdeen University to study; and elsewhere we touch on the Ogilvies and James Ferguson – of Rothiemay – who did just that.
Although this seems an excellent and extraordinary accomplishment, the general run of a really broad education wasn't as good as might be expected. As the population grew, both in towns and villages, the need for better, more apposite to the needs of growing industry, and more widely available education provision grew and the Church struggled to provide this in the way that it had been doing.
Two new teachers came to the school in 1821. A Mr & Mrs Webster.
William Webster
was a beneficiary of the Dick Bequest and a graduate of King's College and had been a teacher at Portsoy. As they were both teachers we may assume that the joint income provided for a more comfortable home than many had been used to. Mr Webster commented in the "New Statistical Account" in 1842 that "there are two schools in the parish, viz., the parochial, and one supported entirely by school fees. The parochial schoolmaster's salary is £30. and his fees may amount to about £20. The schoolmaster is at present Session clerk, the emoluments arising from which office are from £5. to £6. stg. per annum; and £2 stg. in lieu of a garden." It's worth noting that Mr Webster was also Inspector of the Poor, collector of rates and Registrar for the parish.
By 1851 the Census showed Mr Webster still teaching, but Mrs Webster had ceased. At this time the Free Church had created a school in the parish and thus a Mr
George Rae
was a teacher at the Adventure School. (Adventure schools were not the 19th century equivalent of today's "Outward Bound" schools – but were a commercial venture – a school as a business.) At the same time a 19 year old Mr
James Reid
was an assistant master at Rothiemay Free Church school and a Mr
John Alexander
was an assistant master in a private school; while at the Free Church School House a Miss
Eliza Campbell
, age 20, was also a teacher.
Ten years on and Mr Webster had died. He was succeeded by another Mr Webster – this time John.
John Webster
remained in post until 1862 and when he left to go into the church he was given a gift of books and a clock by the Temperance Society, with whom he'd been very active.
Mr Rae was still teaching in the parish, Mr Reid had moved to another school, as had Mr Alexander, Miss Campbell had married and stopped teaching and four new teachers came into the area: two Mr
Skinners
, aged 20 and 18 years of age respectively (the latter – Alexander – classed as a graduate teacher), a 16 year old
William McKay
as a pupil teacher as was a
James Gordon
and a Miss
Isabella Dingwall.
Of these, Alexander was the son of Alexander Skinner who farmed 9 acres and was also a mason. Here is the local example of the 'Lad O' Pairts'. Young Alexander, educated in Rothiemay, went on to University and graduated, was now working in his home village and teaching classics and mathematics. Their salaries were paid by fees from parents, often in kind and some came from the local landowners, but these salaries were still not high. The quality of the education they provided for the students in their care was still overseen by the Church.
In the parish school Mr
G E Sim
MA had taken over from John Webster in 1862 and he stayed for 10 years before moving into Church life in Scotland and then emigrating to New Zealand in 1883. There then came
Alexander Mann
  in 1861, Mr
George Hepburn
  from 1873-82.
In 1884 there was one school in Ternemny, with accommodation for 128 children (but only 85 children attended), one in Milltown of Rothiemay with accommodation for 200 children, (only 70 attended) and one at Mannoch Hill able to seat 85 children (but just 64 attended school). Non-attendance was not a matter of playing truant, rather that children were expected to take a full part in the running of home and livelihood of their families, so often they were kept back from school to help on farms with herding, harvesting and other activities. Nevertheless, when they could children in the parish attended school and were proficient in reading and writing and a general knowledge particular to their country and region.
For those interested in genealogy in Rothiemay, many will be familiar with Mr
James Geddes
. Mr Geddes was the Registrar for Rothiemay and his signature appears on all birth, marriage and death registrations for the parish from 1883 until his death in 1914.  Mr Geddes was also the Rothiemay schoolmaster. He was justifiably acclaimed by his peers as a fine educationalist, was well known for his charity work, was loved and revered by his pupils and was instrumental in getting pupils at school hot midday meals. Perhaps his most obvious outward attainment is in his work in getting the monument to James Ferguson created and sited in the parish as an example of what education can achieve. His belief in and dedication to his pupils and to education as a life-long activity has extended far beyond what he would have dreamt of – inspiring the children and the grandchildren of his pupils in Rothiemay all those years ago.
All of these schoolteachers made an impression on the children and families of Rothiemay. But change was afoot and in 1872 Scotland began to create a State School programme with schooling, under the care of School Boards, which by 1890 was largely free and open to all.
Rothiemay embraced the concept wholeheartedly, being among the first of the parishes to set up their School Board in 1873. And the whole was administrated from England under "The Scottish Office". Education now became compulsory from age 5 to 13 years and in 1888 the Scottish Leaving Certificate was introduced to establish a set standard and attainment of education for all.  At approximately the same time the universities developed extended and more specific courses, set up entrance examinations, the age of entry moved from 13 years up to 17 or 18 years of age and the honours degree system was developed. While in the past students had gone to university at a young age, had stayed perhaps two years, followed no actual course of curriculum, attended whichever lectures they wanted to and left without any certification, now this would change. Scotland strode ahead in the fields of medicine, economics, science, engineering as well as the usual law and the ministry.
Through both World Wars and beyond teachers in Rothiemay have been dedicated to their craft of educating young minds and preparing young people to lead useful and productive lives, to contribute to society in every way that they can and to attain all that they are able. Such aims began in the parish some four hundred years ago and illustrate all that is best in Scottish education.