Features:

A VILLAGE WALK (continued)
The next house is that of
Alexander McGregor
and his widowed sister Dorothy Scott. Servants: Elisabeth Fraser and Mary Leed. Mr McGregor gives his occupation as a Merchant. A merchant is defined as someone who is in the business of retail trade. What his retail trade was we don't know. He and Dorothy died in the decade that followed and so, by 1851 the house and shop were taken on by Alexander Milne - Merchant.
However, next door was
Isabel Milne
. She was 60 years old and gave her occupation as 'baker' . Living with her was Isabel Henderson, who we assume helped her bake a variety of bread and morning goods from beremeal, oatmeal and wheat flour - which was gradually becoming popular with the gentry and those who wanted something special from time to time. The bakery and shop must have been successful since, by 1851, she appears to have a croft of her own up at Knauchland, where, according to the 1851 Census, she had 1 acre of ground and employed an ag lab (he didn't live on the property). Oats were milled, for human consumption, into grades, each being used for a particular purpose. Very fine oatmeal for 'brose', slightly coarser for porridge and coarser yet for 'sowens,' or 'skirly' when the oats were mixed with chopped onion and some fat, or added to offal for haggis. Medium and very fine grades would be used for baking scones, bannocks and oatcakes using girdle (griddle) or oven according to end product.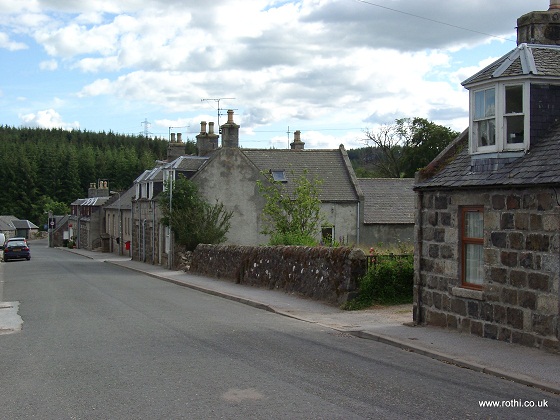 Near the bakery was the Schoolhouse, occupied in 1841 by
William Webster
, who was the schoolmaster; his wife Ann was a female school teacher. William was born in Forglen, Banffshire in 1796 and his wife in Inverkeithny in 1807. They are still there in 1851and we can see Alexander Dawson, who was born in Huntly and appears to be boarding with them. Their housekeeper is now Elspet Grant, from Keith, their previous house servant being Jane More. Further information about the school, here in Rothiemay, at this time appears elsewhere on this site.
Mr
James Riach
, souter (shoemaker), lives close by. Mr Riach is from Forgue. He is married to Margaret who is from Granton, Banffshire and they have a little girl of 1 year who is called Elisabeth. Elisabeth, who is born in Rothiemay, is soon joined by siblings James, Margaret and William. During the next few years the family move to Forgue and the house is taken over by Margaret Geddes, who in 1851 is listed in the Census as a pauper, formerly a servant. Margaret appears to be using her maiden name. Shoemaking, particularly where both took hard wear on farms and the hard roads, was a particularly important job and Mr Riach was not the village's only shoemaker as we shall see. He would have got his leather from the tannery at nearby Keith. A skilled shoemaker could cut a great many pieces from a hide - both for the making of shoes and boots and small pieces for repairing soles, heels, patching and for strengthening the backs of heels on boots and on shoes.
Margaret, in 1851 is having a tough time. She has with her: son John Grant who is 9 years old, daughter Isabella Wright, who is 6 years old and 2 year old George Wright. All the children have been born in Rothiemay. When we shall see her in 1861 out at Mosside, she is working as a farm servant and has with her her daughter Isabella and another son, James Connor, who is 6 years old. George and John are not with her by then.
The next house is occupied by
Hellen Mackie.
Hellen, aged 80 at this Census, is described as a pauper, which meant that she was receiving assistance from the parish. Whether Hellen was related to the Mackie family at Lossat we don't know. She may have been Alexander's sister - they were of an age. What she couldn't say was that she was employed, of independent means or that she was an 'annuitant' (pensioner), all of which were classifications used for elderly folk who didn't fit categories of head of house or wife and had, in this instance, no living husband.
By the 1851 census Hellen had left the house and it was the extended home of
James Barclay,
the wheelwright. Mr Barclay, who was born in Forgue, was expanding his business as the demand for more and better farm wagons, carts and other horse-drawn vehicles continued to grow. Mr Barclay, a single man, had no staff living-in with him, so his domestic arrangements were catered for by servants living elsewhere. Similarly, his apprentices and his other workers - and he would have needed quite a few - all lived away from his home.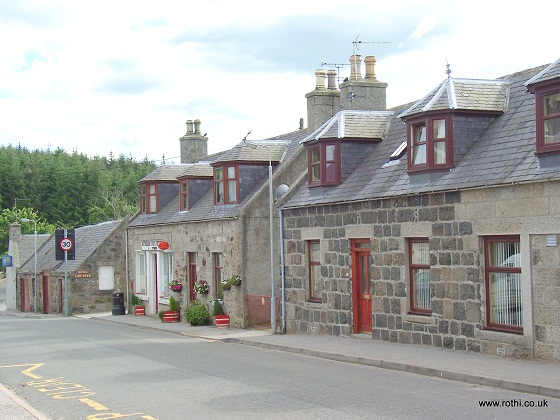 Mr Barclay needed a lot of space for his work as both wheelwright and carpenter. He'd have to store considerable amounts of wood for his craft. Much of that wood - oak, ash, elm - he would have seen in its growing form, have bought it, set it to season sometimes for years and have fashioned stocks (the wheel hub), spokes and strakes. James Barclay fashioned them all using only hand tools, human ingenuity and considerable skill. When it came to putting the metal rim or hoop on the finished wheel, he would have used the wheel pit behind his home and workshop to judge the wheel and its balance before taking it to Lewis Paul back up the road at Hacklaw Smiddy. Mr Paul would have had a wheel pit too. He would have heated the band or hoop of iron at his forge and dropped it, literally red hot, onto the wooden edge of the wheel. Burning the hoop onto the wheel made plenty of smoke and sometimes small fires - immediately quenched with buckets of cold water to shrink the metal very tightly onto the staves.
Next to Mr Barclay lived the Loban family. In 1841
Elisabeth Loban
was at home - of 'independent means' - with her children John, age 6, James age 4, Alexander age 2 and the baby of just 8 days - George. Husband - John - is out of the house on Census day. The couple come, respectively, from the parishes of Rathven and Fordyce and move for Mr Loban's work, which was on farms. By 1851 they'd moved to Kilnhillock in Fordyce and their home in Rothiemay was occupied by
Alexander Edwards
, who was a tailor and hailed from Keith.
Mr Edwards and his wife Mary, who was from Rothiemay, and their children Jane, Mary and Alexander live in the house together with Charles Milne, who is a journeyman tailor working for Mr Edwards. It is Charles who would take orders for clothing, he would work with Mr Edwards making garments (for men and women) and go with Mr Edwards to weaving mills for cloth. As well as making bespoke garments from new, Mr Edwards and his colleague would have made alterations to client's clothes, would have repaired clothing with patches and with clever re-seaming; and would have made off-the-peg items for sale at fairs and markets.
At the house next door, in 1841, lived
John Fraser
and his wife Mary (nee Lamont). Their family included Jean, Charles, William, Mary and baby Margaret. John was born in Rothiemay, his wife in Craithie, Aberdeenshire. John was a Master shoemaker. His daughter Jean, age 22 was a Milliner - so the family had a sort of head to toe business! Living-in with the family were two employees - John Lyle of Layton and John McKenzie of Gartly. The family still lived in the house in 1851 and, while the two journeymen had moved on, two more had come to join the business: John Sangster of Forgue and George Roy, also of Forgue. Later in the century young Charles Fraser married Margaret Elder and they emigrated to Bright, Victoria, Australia; William married Isabella Smith from Dyce and they lived in Aberdeen. One of their three sons - Alexander - emigrated to Philadelphia, USA. All of them would have taken memories of life in Rothiemay in busy times.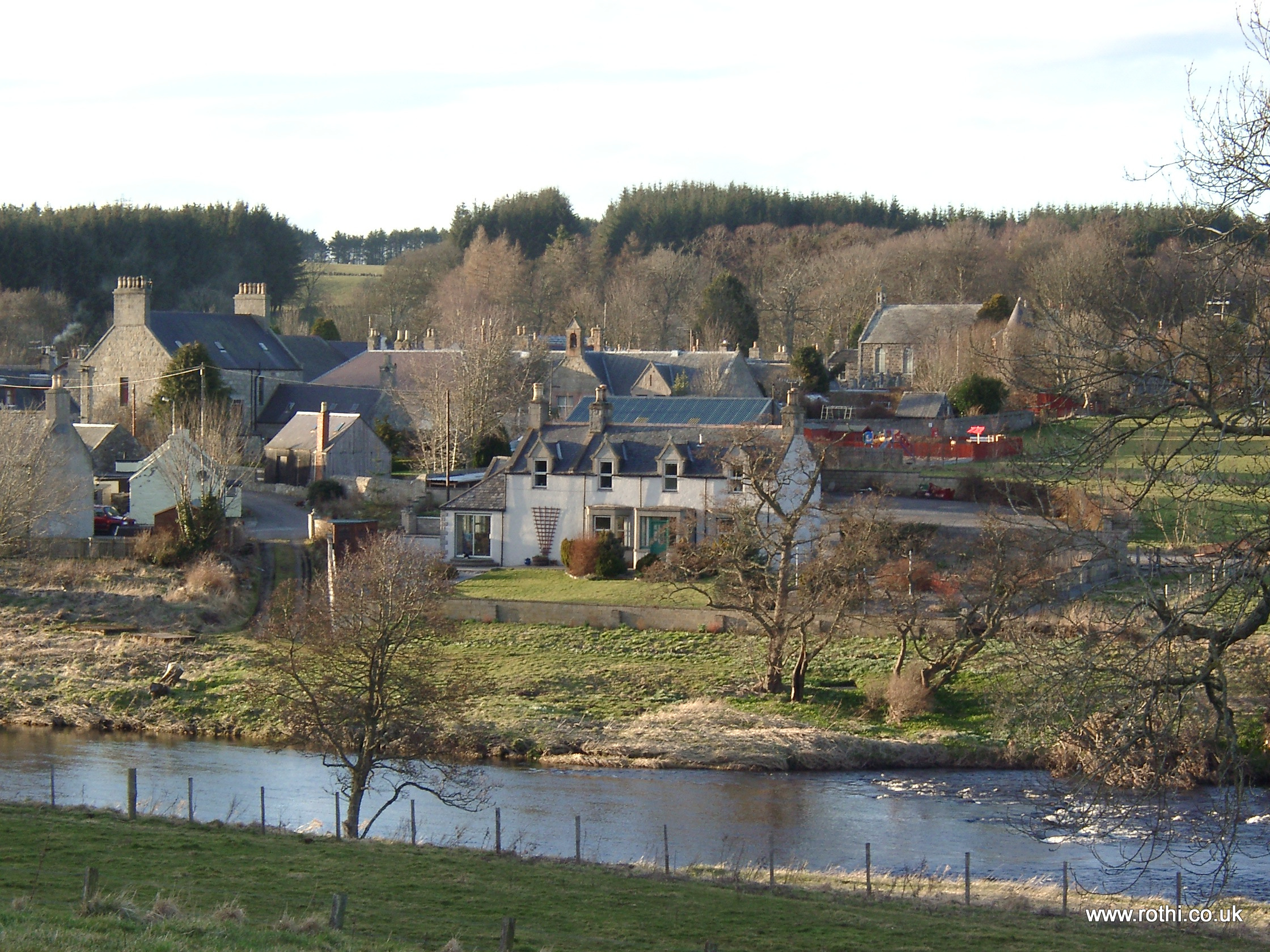 Margaret McQueen
and her sister
Isabel McQueen
lived beside the Fraser household.. Both ladies were in their late 70's and of independent means. The two sisters had a housekeeper - Hellen Gibb who lived-in. However, by 1851 the two ladies had left the home they shared and the house was occupied by Isabel Stewart, who was another lady baker no doubt filling the gap in the market left by Isabel Milne. Living with her, at that time, was her son James who had not long graduated from King's College, Aberdeen. Staying with them, at the time of the Census, was Isabella McBain. Isabella, who was a cousin of Isabel's, was born in New York! Her parents were Helen Cowie of Auchterless and William McBain of Rothiemay, who had emigrated to the USA. Isabella just stayed a while with her family here in Rothiemay and by 1860 was back in USA. This little girl married George JS Chesebrough in 1858, but he died in the War of Independence in 1865; and she subsequently married James Bale in 1882. She died in Grand Rapids in 1901.
The house next door to Mrs Stewart was unoccupied on Census day 1841, but by 1851 it was home to
Ann Fordyce
, the dressmaker. Mrs Fordyce was from Rothiemay and was married to husband William. Their children were Jane and Ann. Curiously, although not in the house in 1851, Ann and her family appear in the 1861 Census in Rothiemay. By then Ann, who was classified as a shirt maker, while daughter Ann was the dressmaker, had reverted to her maiden name and there was no sign of husband William. Perhaps he had died.
The village had three shoemakers, the third one being
William Stewart
, who had a home and workshop in the village. William, his wife Helen and 5 year old son Alexander, came to Rothiemay to live from elsewhere. They had a house servant - Betty Milne - who in 1841 was 60 years of age.
In 1841 we see the start of the Pirrie family shops in Rothiemay.
George Pirrie
, who was born in nearby Grange is living in a small house and shop in the village with his wife Margaret (nee Ritchie) who is also from Grange and the first of their children, baby George, born in Rothiemay. George has come to Rothiemay, just as his brother John has. John runs the Mill down near the River Deveron - more of him later. George is starting a career that enabled him and his family and descendants to provide the village with groceries and other items and a pharmacy right on into the middle of the 20th century.
Beside Mr Pirrie is a lady called
Margaret Taude
. Mrs Taude (later shown as Mrs Tause) is the 'wife of William Tause, farm labourer'. Mrs Tause is of 'independent means' and the couple have no children. She is still living, alone, in the house in 1851.
Her next-door neighbours are the Gordons.
James Gordon
is a wheelwright and a carpenter and he and his wife, Jane, and children Jane, Margaret and George live in the house with a 15-year old domestic servant - Isabella Henderson, possibly the same lady who previously worked in the bakery. James comes from Huntly, while Jane is from Forgue. Business must have been good as, by 1851, the family have expanded and Jane, Margaret and George have been joined by James, John, William and Isabella. Mr Gordon would have made not only wheels, but a whole host of other wooden items like rakes, shovels for grain, tables, chairs, stools, cupboards and coffins. Either living in a separate house or a part of the Gordon's house is 20 year old George Adamson He works locally on a farm and is unmarried. By 1851 his home had either been made part of the Gordon's main house or it has been taken on by George Pirrie, who needed to expand.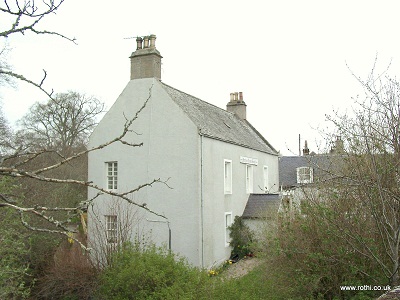 Margaret Grant
, beer seller or publican is also the innkeeper of the 'Fife Arms' with her young son Alexander and female servant Jane Ingram, who is living-in. At this time, according the the Trade publications available, there were over 270 breweries across Scotland supplying both the home market and trade to the rest of the world and Tennants and Younger's were well established and there were small, regional, breweries across the country. Whether Mrs Grant bought her beer from Younger's, Tennannts or the Banff brewery we don't know but in setting up her business she must have anticipated local thirsts. By 1851 she seems to have moved away and her house has been acquired by George Pirrie. The Inn was taken over by a Mr William Fiddes.
We're nearing the end of the enumerator's journey for 'Milltown of Rothiemay' now and come to the Mill. This is operated by
John Pirrie
, George's brother. George and John are the children of Jane Riddoch and George Pirrie - both of Grange. Jane was a redoubtable woman who lived into her nineties and supervised her brood gently, but firmly. We can see her in the 1841 Census living with John at the Mill. Then in 1851 she went to live with George and Margaret.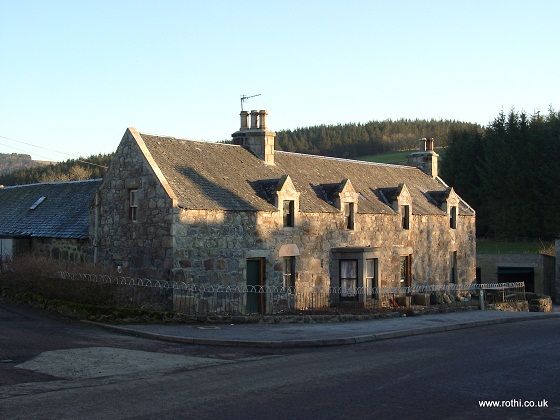 John became the Miller in about 1838 and his older unmarried sister Hellen, kept house for him, helped by Isabel Allan. John had two people who helped him - young James King, who was 12 and employed as a 'dryster' - someone who sees to the drying of grain to be milled; and 11 year old William McCurrach who was termed an agricultural labourer, but is more likely to have been helping with the processes of moving grain in the Mill. John would primarily have milled oats and barley. Barley produced beremeal, which was used for baking early on in this century, but was gradually being superseded by wheat flour - which gives a lighter, finer flour and a better loaf with a good rise. Barley was partially crushed for the early brewing processes, but could also be crushed for animal feed. Oats, in various forms of milled product, supplied both home users for porridge, bannocks, oatcakes, etc; and the rapidly developing manufacturing industries. The mill was water-powered, diverting water from the Deveron via the mill lead - which can still be seen running off by the side of the current hotel in Rothiemay.
Ann Randle
, age 55 and a lady of independent means lived next to the Mill and the miller's house. Ann appears in some valuation documents as Ann Ranald. She is a single lady, born in Banffshire - but not in Rothiemay. By 1851 she is living in another house nearby and working as a flax spinner. A lady called Jane McIntosh lives in the house Ann had. Jane, who is 72 and was born in Keith says she was formerly a domestic servant. Her niece, Elspet McPherson, lives with her. Elspet, who was born in Rothiemay, is married to James McPherson of Boyndie. James is a ploughman and, on Census day, is away from the house.
Next-door we have a surgeon and his family.
George Ritchie
and his wife Christina (nee Lumsden). George comes from Grange, the son of George Ritchie and Jane Gauld of Botriphnie. They have two living-in servants: Hellen Stewart of Rothiemay, who is age 10; and Jane Wilson of Rothiemay, who is 15 years old. At this time the couple have a daughter - Christina Helen - who is age 2; subsequently the family expand with two other children and they move from Rothiemay, down to Durham, and finally to Lincolnshire where George dies in 1879, having lost his wife at the birth of his youngest child - Charles. The other half of the house is taken over by a family whose son - George Stewart - born in Rothiemay in about 1818 is working as the boatman while on vacation from University of London, where he's studying to be a vet. By the 1851 Census George is
George Stewart MRCVS
. He was A Member of The Royal College of Veterinary Surgeons, London and a Graduate of the Edinburgh Veterinary College; also farmer of 2½ acres." Mr Stewart lives with his mother Mary Stewart (nee Lauder) who comes from Huntly and was widowed in 1840 by the loss of her husband George in Rothiemay. Also living with George and his mother are his younger sister, Isabel age 19 and young brother James age 14 - also born in Rothiemay and a baby - William - who is nephew to George (son of Jane, George's sister). Alexander, who was in the house in 1841, does not seem to be there 10 years later, A busy household.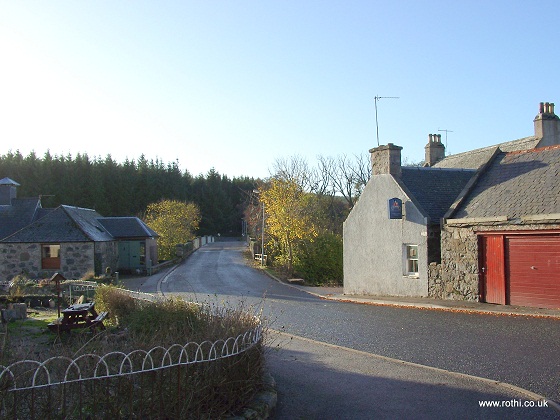 No less busy is the house next door where
Robert Smith
lives with his wife, Mary and his grandson -
George Robertson
. Robert, who is a stonemason, is a native of Rothiemay and his wife is from Alvah. Young George is 9 years old and staying with his grandparents. Whether Robert belonged to the United Operative Masons Association of Scotland we don't know.
Masons formed the backbone of the Scottish construction industry up until relatively recent times. The UOAS was formed in 1831, but individual branches retained most of the funds, rather than funds being held centrally - thus providing strength. By 1840 it still had just 433 members. Inter-branch and inter-country rivalry resulted in part of the Scottish membership breaking away and forming a 'Northern Union' which had three branches - in Aberdeen, Peterhead and Pitsligo. Each, again, acted independently and kept their funds to themselves. The historian Raymond Posgate commented "The members regularly divided the surplus funds as a dividend, and there was no chance of their accumulating a sufficient fund to become a national union, had they so desired. Little, indeed, can be recorded of the Aberdeen movement, except the foundation in 1846, of one of the earliest permanent Trades Councils, the Aberdeen 'Delegated Committee of Sympathy'. Elsewhere in Scotland, by 1846, the English society had become so concerned at the absence of any activity on the part of its Scottish equivalent, that it opened its own lodges at Dundee and elsewhere. The following year, an experienced organiser was despatched from England to Glasgow, and a new Scottish society was built up on the English model.
However, although working as a Mason was hard, out in all weathers and breathing in fine stone dust - Mr Smith had reached 75 years of age and, in 1851, still lived in the house with his wife. He was now retired and the couple were able to have help in the house from Margaret Jesseman of the parish of Rathven, who lived-in.
Elizabeth Ingram a lady of independent means in 1841, lived next door for both the Census'. She and her daughter Ann (Mrs Alexander) lived together by 1851. Initially Elizabeth came from Grange and, as her daughter was born in Rothiemay, must have met Mr Ingram here. Ann lived with her mother and the 'independent means' seem to have, sadly, run out as they are both detailed as paupers.
For a time the house on the other side of Mr and Mrs Smith was occupied by the
Allan
family. Husband, James who came from parish of Rathven, was not at home on Census day 1841, was a blacksmith. His wife Jane came from Boyndie. Jane has two children at home with her: Ann age 4 and William age 2. Eventually the family occupied a 6 acre farm out at Cairnhill with their other children Jane and John - and in 1881 Ann's daughter, little Annabella Black was staying with her grandparents.
Now there are now just two more houses which face more along the river.
John Kilgour
, who is a forester and a farmer up at Inchcorsie moves down into one of the houses with his wife Elizabeth and their nephew, John Lobban. Both John's work in the forest and that of John senior has been profitable, by 1851, John has rented 6 acres of land and 10 acres of pasture land. Anne Leslie, who was with them as a servant in 1841 is replaced by Isabel Grant in 1851.
Lastly, in 1851,
Alexander Yule
is in the final house. Mr Yule, who works on a local farm, comes from Aberdeen. He was born in 1814, the son of Alexander Yule and Mary Watson of Cruden. He is with his wife, Louisa, who was born in Peterhead in 1820. Mr and Mrs Yule, who had no children, emigrated to Puslinch, Wellington, South Ontario in the early Spring of 1871 - very brave as they'd be in their 50's at the time. They had a farm and would have worked very hard, although the land was good in that part of Canada. Louisa died in 1893 and Mr Yule a year later - both still in Guelph, Wellington. In the 1891 Canada Census we see them and Alexander is shown as a gentleman, so it seems that they were able to ends their days in some comfort. No doubt they'd have thought sometimes of Rothiemay and their neighbours there.
We can see how the Milltown main street developed and flourished in the next decade (the parish population reached a peak of 1413 in 1851); the advent of railway mania brought astonishing changes to Rothiemay. On 26th June 1846 Parliament gave approval to The Great North of Scotland Railway being built. This line would, in the first instance, be built just as far as Keith and allowed for a small station at Rothiemay. The line got as far as Huntly by 1854 and opened on 9th September that year. Progress was then made to build further and in October 1856 it opened to Keith.
Great changes were afoot, and we shall see how these affected some of the folk whose tales have been told here.
© Copyright Diana C-S
reconstructingthepast@gmail.com
---
Sources:
Scotland's People
Ancestry.co.uk
Acknowledgements:
  The author would like to thank the following people for their kindness in providing assistance for this article: -
Mrs Joellen Harche, USA for data on Alexander Yule and his wife Louisa.
Mr Bruce Sandison,USA for data on Reverend Harry Leith.
Mr John Stewart, New Zealand for help with the Stewart family of Rothiemay.
Veneta Wilson, USA for some background of Isabella McBain.