Features:
Police come to the Village

POLICE COME TO THE VILLAGE
Continuing the walk along the main street in Milltown, we will see a number of changes. This walk will cover the twenty years from the previous 1851 Census up to the 1861 event and on, up to the 1871 Census. There were still no house numbers or house names to speak of, but that will change in the near future because of the needs of the postal service. As we shall see a postal messenger has been appointed and he will collect a great deal of the incoming mail from the new railway station. Similarly, he will take outgoing mail, from Rothiemay, to the station for despatch to all corners of the globe. So, from the people we saw in the last walk, who is still living in the main street of Rothiemay?
Beginning at the Lossat, as we did before, we can see that two families occupy the land and housing. One is Isabella Mackie, the daughter of the late Mr and Mrs Mackie who farmed the land earlier in the century. Isabella farms 14 acres. With her on this day are George Smith, age 49, who is Rothiemay-born and is the ploughman who works with Isabella. Next door is her brother-in-law, John Reid of Drumblade. He is married to Isabella's sister, Jane, and the couple have with them a daughter, Jessie Ann, age 9, a Grand-stepdaughter Elizabeth Morrison, a step-daughter Jane Mitchell and Grand step-niece Hellen Watson. Hellen is a domestic servant and was born in Rothiemay in 1844; while Jane Mitchell was born in Ordiquhill and is noted as a midwife. In 1871 Isabella is still at the house and farming 17 acres. She employs 1 man, who lives elsewhere. Her niece, Jane Mackie, is living with her and is noted as a domestic servant.
At Hacklaw we see Lewis Paul, who is 43 years old in 1861. His business has developed well and he also holds the post of Inspector of the Poor for the parish. With him on Census day are his wife Jane, their eldest daughter Jane and her sisters Margaret, Isabella, Jessie, Jane and Barbara; and sons 7 year old Lewis and 1 year old William. Helen Morison of Marnoch is helping in the kitchen and Lewis' employees live-in. They are journeyman George Simpson, age 49 from Gartly, apprentices James Simspon from Rothiemay and James Wilson from Alvah; and second journeyman Alexander Watt from Fordyce. By 1871 Lewis employs five men: Alexander Hay, from Marnoch who is a journeyman blacksmith, William Hay from Gartly who is an apprentice, William Morrison of Ellon who is another journeyman and two others who do not live-in. At home on Census day are wife Jane and her mother elderly Margaret, daughters Margaret and Isabella, young Lewis who is now training as an advocate's clerk. William is now at school and the family has grown too, with children Eliza, Robert, Alexander, George and Ellis Edward age 9 to 1, respectively.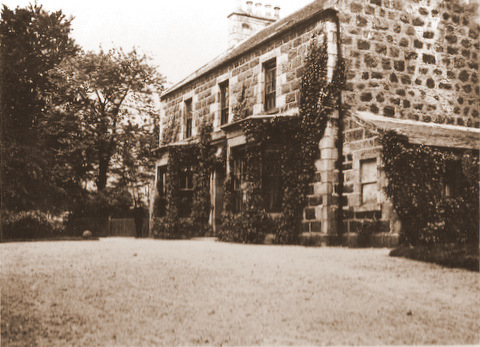 The old Manse - demolished c. 1960
(Photograph courtesy of Moray Heritage Centre and Miss Pirrie)
At the Manse both Reverend Robert Moir and Mrs Moir are away from home. Mrs Moir, Margaret, is the daughter of the late Reverend James Simmie and Keturah Gerard. Reverend Simmie was the Minister of Rothiemay until his death in 1826. He was much respected in the parish and many folk had his surname as part of their given name up until the turn of the century and beyond. His son-in-law, Robert is away visiting on Census day. He's at the Manse at Huntly seeing the people there. Margaret Simmie Moir is also away from home, she's visiting the Morrison family in Turriff. At the Manse are: Jessie Wilson, from Portsoy, Jessie is 21 years old and is a house maid; Isabel Reid, age 27 and from Deskford, is the cook and Peter Duguid, age 35 from Fyvie is the Manse ploughman for the land from which, in part, Reverend Moir got his living. By 1871 Isabel is still working there, but an Elsie Wilson, from Fordyce and James Lyon, also of Fordyce, have been taken on as general servants to help the Moirs.
Of the people we saw in the last walk, several have left but some are still living here. John and Margaret Tause still live in the village. John is working on a local farm, while Margaret tends the home. But in 1871 Margaret seems to have died, leaving John alone. He is working as a gardener locally.

William Stewart, the shoemaker from Culsamond is still here with his wife Hellen; and their daughter Hellen is visiting, she is now Mrs Sinclair. Mitchel Lamont (nee Wildgoose) is a few doors down too, but her husband Charles seems to have died. With her on this day is Mary, now Mrs Shand and her little daughter, Jane; and boarder John Lobban from Marnoch, who is a tailor. By 1871 Mitchel is classed as an annuitant; and two Shand grandchildren are staying: Jane age 13 and Margaret, age 8.

A new face is Mitchel's neighbour, John Donald. John is the new police constable and he lives in the police station in the main street (probably also the police house). He is from Fyvie and his wife, Margaret, is from Auchterless. Their two children, Ann and James were born in Auchterless and Rothiemay, respectively. Banffshire's police force came into being in 1840, but it was some time before a police presence was set up in Rothiemay. It seems that Mr & Mrs Donald came to the village in 1860. By 1871, John has moved on and been replaced by Robert Park of New Machar. Mr Park is married to Jane who comes from Fintry. The couple have six children Jane, Alexander, Margaret, Robert, May, and William, who is just 3 months old. Mr Park has had some experience elsewhere.

A Miss Mary Smith has come to live in the village in 1871 and she is classified as an annuitant. She worked, for much of her adult life, at Corskellie and we see her, there, in 1861 visiting Elizabeth Leslie. Somehow she came to know of the availability of the house in the village and she has a pension from her previous work, so hopefully she made some acquaintances among the older ladies in the main street and enjoyed her retirement. Among these would be Ann Fordyce, who we saw with her husband William in our earlier walk. In 1861 Ann is working at home as a shirt maker, but in 1871 she is living alone and has no occupation or designation. Another lady would be another Ann, this time Ann Webster. She was born about 1808 in Inverkeithny and in 1871 she is an annuitant. Her niece, Eliza Dawson, from Cairnie lives with her and Eliza is a dressmaker.
The Edwards family were still in the village. Alexander, as we know, is a tailor for the district. His family has expanded, so with wife Mary, the children are Jane age 16 and working as a domestic servant, Mary age 14 and still at school, young Alexander and his younger brother John are both still at the school and little William, age 5, has just begun school recently. New people, the Simpsons, have come to live nearby. Alexander Simpson is a saw miller, no doubt at the nearby plantations; and he comes from Ferintosh on the Black Isle. His wife, Isabella, is from Huntly. They have no children.
A new family are the Clarks. Peter, age 37 is a shoemaker. He employs two journeymen: James Watt and Charles Adams and young James Robertson is the apprentice. All live with the family. Mrs Clark's mother, Mary Fooer (Fouar), is 72 and widowed and lives with them and the children are John, Peter and 8-month old Margaret. Mary Stewart, a young lady from Rothiemay helps Margaret and her mother run the house.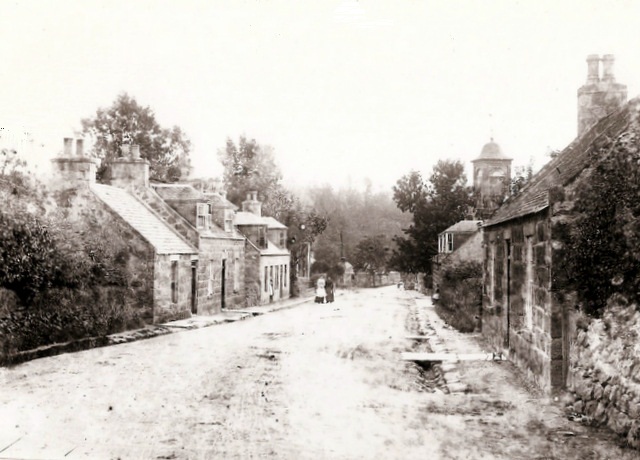 The main street c.1905 (Photograph from Moray Heritage Centre)
Another family, who have moved down into the village from Rothiemay House, where they were living in 1851, is the Milnes. Alexander is from Kintore and is a gamekeeper on the House estate. His wife, Isabella, is from Mortlach. Children Mary, George, Hellen and John are all school-age or under and in 1861 they have two boarders: one is the under-gamekeeper, James Taylor from Grange, the other is an elderly lady called Margaret Lipp, who is from Keith and is a knitter.  Margaret, daughter of John Lipp, the corn miller at Keith and Elspet Steinson, was the widow of William Cruickshank, shoemaker and had reverted to her maiden name at his death. Sadly she died on 26 September 1862 of influenza of six days duration. Although not as bad as either the previous, or the subsequent epidemics and pandemics, there was an outbreak at this time and Margaret was, sadly, one of the deaths. The Milne family must have cared for her during her illness (happily they survived) and Mr Milne was the informant on the death registration; Lewis Paul being the Registrar. By 1871 James Taylor no longer lives with the family. Daughter Hellen is working as a domestic servant and the family have a toddler, Isabella, age 2.

The

Pirrie

families are still prospering. In 1861 we can see George Pirrie, his wife Margaret and their children. George junior is now the druggist for the village, while his brother William works in the grocers with his father. Brothers Charles and Alexander are still at the school. George's mother, Jane Riddoch, is still living with the family. In 1871 there have been some changes in the family. Both George junior and William are no longer seen, Charles Pirrie is now the druggist, while Alexander is working with his father in the shop. Jane Riddoch is now 91 years of age and a new addition to the overall family is there on Census day, Georgina Pirrie who is the great grand daughter of George and Margaret. Isabella Milne, age 19 and born in Rothiemay, is living-in as a domestic servant.

Nearby lives Margaret Pirrie. She is 90 years of age and was born in King Edward, Aberdeenshire, but is not directly related to George. (George did have a sister named Margaret, but at the time of the 1861 Census she was the widow, Mrs Cruickshank, and still living in Grange.) George's brother, John, is still the miller at the meal mill on the River Devron. He is ably assisted by his nephew George Cruickshank and looked after by Margaret Innes. A lad, Arthur Dey, lives at the mill house and is at school. However, by 1871 things have changed. John Pirrie died in 1867 and George Cruickshank is now the miller. Margaret Innes is still working in the mill house, as are Robert Innes of Rothiemay and Francis Day, who is at school but also helps in the mill.

Four new families, connected with nearby farms have moved into Milltown. James Gray, of Marnoch with his wife, Ann, who is from Rothiemay have come to live in the village. They have a daughter, Jessie, who is a needlewoman. The family have three Duguid children stated as boarding with them: Margaret, age 8; Ann age 6; and Robert age 4. Possibly these children are connected with Peter Duguid at the Manse. Alexander Harper, from Cairnie, has moved himself and his wife Margaret and their five children into Rothiemay. Alexander is a farm servant. Their children: Isabella, Margaret, Clementina, Mary Ann and 7 year old James are all at school.


Two ploughmen have come to live in the village. Ploughing, with heavy horses was a highly skilled job. The man had to know his horses very well, judge their abilities both individually and as a plough team. More land was being put under the plough as Britain underwent another agricultural revolution and horses and ploughmen were the motive force of change. Mr and Mrs McKimmie had moved from Keith, where John was born in 1827. Mary was born in Rothiemay and the couple had Alexander, Hellen and Margaret as well as two stepsons: William Mitchell age 10 and James King age 8, both born in Rothiemay. T
he other ploughman is George

Ogg

. George is from Forgue and his wife, Jessie, who was Miss Scott, is from Rothiemay. The couple have three children, James, William and Elizabeth Scott Ogg, age 2. By 1871 young James has become an apprentice gardener at Meldrum, William is on a farm at Inschcorsie and Elizabeth is still at the school and has a baby sister, Isabella.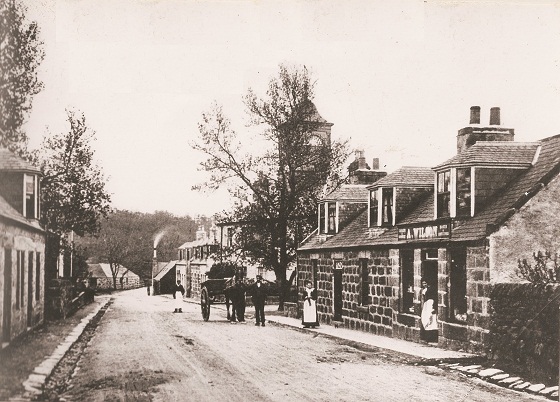 The main street c.1905 (Photograph from Moray Heritage Centre)
A second grocery and general store opened up by 1861. George Murdoch, of Gamrie, was the grocer and he is married to Eliza, from Ordiquihill. The couple have family in the shape of Eliza age 5 and John age 7; both are at school. Mrs Murdoch is away on Census day, but Jane Smith, age 20 from Gamrie is living-in. The family has grown considerably in 1871. Additional children in the shape of Jasper age 12, Georgina, age 10, Christina age 8, James age 6, Margaret age 4 and little Henry age 3. In addition, George is developing the business with the help of George Ritchie, of Elgin, who is a baker. Domestic help is provided by local lass Jessie McKenzie and Charles Morrison from Grange.

John

Fraser

, the other shoemaker, is still living in the village with his wife Mary (nee Lamont) and daughter Margaret and Granddaughter Ann. Living with the family are John Sangster and George Roy both of Forgue and both are journeyman shoemakers.

At the schoolhouse John and Mary

Webster

have taken over from the previous Mr Webster. John Webster is not only the schoolmaster but also the Session Clerk and the Registrar of births, marriages and deaths for the parish. As the article elsewhere on this website illustrates, a number of schools were being opened in the parish. With John and Mary is 14 year old Harriett Smith. Harriett is from Chapel of Garioch and is a domestic servant. John, while busy with the school and the parish work, was thinking much of the future. In 1862 he decided to leave teaching to go into the Ministry and take up a living at Cluny.

His job as Registrar was taken on by Lewis Paul, and as we have seen elsewhere on this site, the new teacher was George Sim. Mr Sim was from Deskford and his wife, Margaret was from Aberdeen. They had two children: John B Sim born in Rothiemay and a sister, Jane, also born in Rothiemay. In 1871 a Miss Jean Smith lodged with them and their family and worked as a pupil teacher and the household staff were Christina Robb, age 61 from Forgue, Margaret Lorimer and Margaret Morrison both of Deskford and Jean England from Perthshire, who was the housekeeper.

Near to the schoolhouse a lady by the name of Rosammund Lemon lived. She was the widow of a soldier and she came from County Down in Ireland. The poor lady was a pauper and may have found life quite hard, but no doubt the good folk of Rothiemay helped when and where they could. Her neighbour, another widow, was Jannet Edwards. Jannet was from Grange, but there is no indication of her personal status in the Census, so we assume she was financially stable.

Previously we saw the

Gordon

family and, at that time, James was a general carpenter. In 1861 he specifies, in the Census, that he is a house carpenter, meaning that he both worked on the building of houses (doors, windows etc) but also on making items for the house and its furnishing. I have one of his tables yet, inherited from my great grandmother, for whom Mr Gordon made same. With James and his wife Margaret, are Jean who works as a domestic servant, Margaret who is a milliner, James who is a pupil teacher, John who is an apprentice house carpenter and Isabella and Jessie, both are still at school. In 1871 Margaret and James have left home, but John and Isabella are still at home. John is a journeyman carpenter, with his father, while Isabella is a dressmaker. George Tause, from Marnoch, is living-in and is an apprentice carpenter.

John and Jane

Mitchell

live near the Gordons. John is the newly-appointed Post Messenger. He is from Huntly and his wife, Jane, from Careston, Forfar. They have just had a baby, at Christmas named John. However, by 1871 Jane and her son are out and John is the only one at home. The job of Post Messenger was a very responsible one. Each Messenger was personally responsible fro the Mails and worked to strict timetables in collecting and delivering post in all weathers and at several points in the day. This was the start of John's career. He went on to become a commercial traveller in the drapery business and young John became an assistant in an ironmongers shop in Old Machar; with a younger sister, Annie, who was a seamstress.

In the last walk we met George Stewart MRCVS and his family. In 1861 George is still the district's veterinary surgeon. His work would have been concerned, predominantly, with horses and with cattle and he would have deployed the services of a farrier for many of his equine patients. His widowed mother Mary Stewart (nee Lauder) lived with him still and his nephew, William Taylor, who we saw age 1 in 1851 is still at home in the household. They have a visitor on 1861 Census day, John Lyle of Longside, Aberdeenshire. John is a shoemaker. Also living with George and his mother is Eliza McRobert of Huntly, who is the house servant for the family.

Sadly in 1869 Mary passed away. Sisters Jane and Elizabeth Ritchie came to look after George and his house. His nephew, William Taylor, age 21 in 1871, was working on a farm which may have been the land that George had. George's brother, Alexander Stewart, was now qualified as a vet too and, like his brother a Member of the Royal College of Veterinary Surgeons. Alexander married Jane Innes of Marnoch in 1868 and the couple lived in Mid Street in Marnoch with 1 year old Alexander in 1871.

Very gradually more farmers were inclined to turn to the vet for help. Largely this would be for horses which were a valuable and essential part of both farming and everyday life. And cattle were treated too, since much depended on healthy beasts and good market prices. Cattle plague, as it was called, but we know it as rinderpest, had struck the British Isles in the mid-1860's and few counties across the UK, were spared the ravages of this terrible disease. Indeed William Dick of Edinburgh (the then head of what we now call The Dick Vet or The Royal (Dick) Veterinary School, part of Edinburgh University) said that rinderpest was a disease that veterinary surgeons do not understand. However, it seems that George did and he was a brave man since, like a very few other equally brave vets, he advocated immediate slaughter of infected animals to contain contagion and bring the 'plague' to a halt. Although this was seen, by many, as an astoundingly outrageous step it was the best course of action and eventually brought the disease, locally, under control.
As we're now so near the River Deveron we can look at The Fife Arms and see how things are there. A new landlord, James Cruickshank of Marnoch -has taken it over with his wife, Elizabeth, who is from Grange. A guest or 'boarder' is William Grassick of Tarland, Aberdeenshire. Mr Grassick is a mason by trade and is probably working locally. James Copland, of Tough is staying too and, as he is noted as a mason, we assume is helping Mr Grassick. Mary Thompson, from Grange helps in the hotel and the hostler is Peter Shearer, age 72. He is from Keith. A decade later and the hotel is being run by William Fiddes and his wife Catherine. William, who was born in Old Machar, has taken on the hotel after farming at Woodhead in Marnoch. Three of his older children: William, Catherine, Francis and Jessie have not moved to the hotel; but the younger ones: Elizabeth, Euphemia, Peter and Mary are there in 1871. All help in the family firm and Peter and Mary are at school too.
So, change is moving at a pace. Rothiemay is a busy, bustling village with its own police force and its own postman. In the next walk, as we move towards the end of the Victorian era, we shall see more changes and celebrations at the turn into the brand new century.
© Copyright Diana C-S
reconstructingthepast@gmail.com