Features:
Towards the Turn of the Century

TOWARDS THE TURN OF A CENTURY
This is the third of  four walks along the main village street in Milltown of Rothiemay. From the beginning of these walks in 1841, utilising the census of that year and the succeeding decennial ones, we have seen a very rural village in an agricultural setting grow into a busy place with two mills, one a woollen mill at Bridge of Isla, Rothiemay; the other, the meal mill, down on the River Deveron at the foot of Main Street. Shops had expanded and more people were working both in their own homes and for others on farms and in local businesses.  The sewage works had been greatly developed just before 1881 and a new piped water supply was put into the village – both at the expense of the Earl of Fife. The Earl, Alexander William George Duff, 6th Earl of Fife. The Duke, born 1849, married Louise, Princess Royal and eldest daughter of the future King Edward VII, on 27th July 1898 in London and amidst much local rejoicing in Rothiemay. The Earl was created Duke two days after the wedding by the bride's grandmother, Queen Victoria.

The railway was extended and brought people in to the village and, at the same time, allowed people to travel out to the wider world. Indeed many of those who emigrated from Rothiemay would have taken their first steps, to a new land, via the Rothiemay railway station. Services such as the police and the postal service were firmly placed in the Main Street and the village took on an importance it hadn't previously known. As we begin this walk, through the 1881 and 1891 census' we shall cover the period in which Queen Victoria celebrated her Diamond Jubilee of sixty years on the throne. This had been an era of tremendous cultural, political and industrial change. She ascended the throne in 1837 and so, for the period of these walks, the folk of Rothiemay knew themselves as what we now call "Victorians".  From her death – for just nine years – they were to be "Edwardians". An age that has been described as 'peculiarly self-conscious'.
Beginning at the Lossat in the 1881 census, we no longer see Isabella Mackie. Instead we see her sister, Jane Mackie, with niece - also Jane Mackie Milne with her on census day. Jane farmed a slightly increased acreage of 20 acres and employed two men to help; they lived elsewhere.  In the following census both ladies were still there and a John Wilson, age 32, was living-in helping on the farm.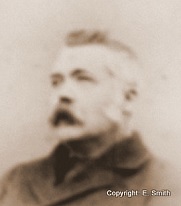 Peter Henderson, Hacklaw
(Photograph courtesy of E. Smith)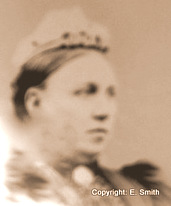 Mrs Jane Henderson, Hacklaw
(Photograph courtesy of E. Smith)
Along at Hacklaw Smiddy we can see a very marked change. Lewis Paul, blacksmith, Inspector of the Poor since 1856 and Registrar of births, marriages and deaths has, together with all his family, left Rothiemay. The family moved to Watson Street in Aberdeen, where Lewis set up a mechanical engineering business. One of his descendants followed in his footsteps and was, until he retired, a Mechanical Engineer. In 1881 the Smiddy was in the hands of Peter Henderson, who was a Master blacksmith. Born in Turriff in 1843, Peter was married to Jane who was from Old Machar. Prior to coming to Rothiemay the family had lived in Huntly and in Forgue and had taken over the Rothiemay business in the previous year. The couple had eight children - with two sets of twins - one of boys and one of girls. Of the girl twins, Elizabeth was older than Agnes by one hour, both girls being born on 10th November 1869 in Huntly. Of the boy twins, Peter was five minutes older than James, being born on 8th May 1877 in Forgue. The other children were George (born 1871), Mary Ann (born 6th April 1873 in Forgue) and Anna-Bella (born Rothiemay on 13th April 1879). Mr Henderson employed two smiths to help him: Robert Robertson from Aberdeen and Alexander Faskin from Boyndie.
Mr Henderson and family remained at the Smiddy in 1891 with wife, Jane, children George, Mary, twins Peter and James, Anna-Bella and Frederick. Working with Mr Henderson was Alexander McQueen from Boyndie. Peter and Jane's daughter Mary was at home with her parents in 1891 but in 1895 she married James Murray, a tailor and clothier and they set up home in Huntly at 31a Bogie Street.  Peter and James Henderson, the boy twins were just 3 years old in 1881 and still at school in 1891. Oldest brother, Alexander, (born 1868) had left home.


Reverend & Mrs Allardyce wiith parishioners
(The stone sphere used by James Ferguson, saved from the old Durn House, lies in the foreground)
(Photograph courtesy of A. Grant)
At the manse a new Minister had arrived. The Reverend Robert Moir died in 1880 and he was sadly missed by the congregation. His wife, Margaret Simmie, daughter of the Reverend James Simmie, outlived him by just six years, after leaving Rothiemay too. She was born and brought up in the service of God and was a very pro-active, kind and a very gentle woman who helped others in every way that she could. She left £15,579 in legacies for organisations which would help others. In 1881 we see the Reverend William Allardyce and his sister Margaret with their mother - Isabella Allardyce at the Manse. William was a graduate of Aberdeen University and this was his first placement in the Church. The family had 22 year old Jane Clark living-in as cook-housekeeper. In the 1891 census we can see William's wife, Jamima, (nee Anderson) at home with children Robert Moir Allardyce age 8, Alexander age 6, Isabella age 5, Catherine Forbes Allardyce age 2 and baby Marian age 11 months. With the family was Jamima's father, the Reverend Alexander J Anderson of Auchindor parish - Reverend Allardyce was preaching in his parish this Census day; and Reverend Anderson took the service and preached in Rothiemay this day. Annie Wilson from Huntly was housekeeper while Jemimma Milton from Gartly the children's nurse.
Some people, who we saw in previous walks, were still in the Main Street in 1881 - and there were new people too.  George Murdoch, the grocer, was still there. His fledgling catering business had really got going in the previous decade and he catered a number of events. The Aberdeen Journal of 1879 commenting upon 'an excellent tea purveyed by Mr George Murdoch' at Avochie farm for the Huntly Congregational Church Sunday School - who came and went from Rothiemay by the train. His wife, Elizabeth (nee Christie) died in 1880 and his sister-in-law, Christina Christie, moved into the house to look after the family. Eldest son, John, was working as a clerk, daughter Georgina worked in the family shop, but Margaret and Henry were still at the school. The family had Jessie Brown from Boharm living-in and they employed young James Mackie of Inverurie as an apprentice shop-keeper and Robert Gardiner of Clatt as a shop assistant.
George and family continued the catering business too and frequently catered for two hundred or more folk on choir outings and Parish treats. Daughters Elizabeth Murdoch and her sister Isabella married two Henry brothers in 1880 and 1882. Isabella Murdoch married James Hay Henry (widower) on 29th July 1880 at Rothiemay. James was the son of Andrew Henry and Mary Henry (nee Gossip). Andrew was a chemist - as was his son, James. William P Henry, the other son Andrew and Mary, lived in Badulla, Ceylon and was a coffee and cinchona (quinine) planter. He married Elizabeth D Murdoch on 13th April 1882. The couple moved to Ceylon almost immediately after the wedding. They had a child - Herbert - in Ceylon and we see mother and son in the 1891 census staying with George & Christina in Rothiemay.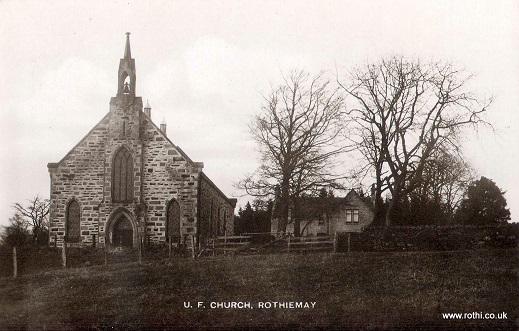 The Free Church & Manse at Mannoch Hill
In 1891 we can see that the business had expanded to include a Post Office and so George was now classified as the Post Master. At that time Christina was still acting as housekeeper and daughter, Elizabeth was at Rothiemay on census day with her young son. Young James Murdoch had become a Partner in the business and the shop had developed to carry haberdashery and clothing, with the addition of milliner Frances Henderson who lived with the family. Domestic help came from Mary Topp of Aberdeen, while young Alexander McLean of Isle of Skye was an apprentice shopkeeper.
The school had a new teacher in the shape of Alexander Mann. A graduate of Aberdeen University, Mr Mann hailed from Forgue. His housekeeper in 1881 was Jane Maitland of Turriff. He had previously been the Assistant Master at the Boyndie school.  Also a teacher was schoolmistress Helen Merson. She lived in Main Street with her younger sister - and pupil - Mary Jane Merson. Helen had been a pupil teacher in her home district of Strichen.  She had left Rothiemay by 1891 when Miss Jean Innes, from Alford, took over her job. Her sister, Mary Innes, lived with her there in 1891. William Panton Brown and his wife Williamina (nee Bruce) lived next door in Main Street in 1881.  He was a gamekeeper. They had lived in Rothiemay since 1874 when their daughter, Annie, was born here. Up until 1876 the couple had Mrs Brown's mother living with them. They were still in Rothiemay in 1891.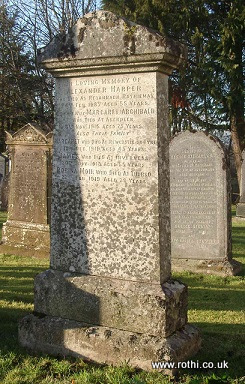 Alexander Harper's gravestone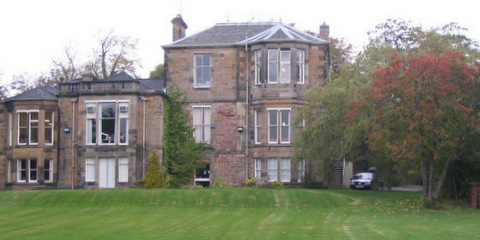 Astley Ainslie Hospital (previously the home of Mr David Ainslie)
(Photograph courtesy of NHS Lothian)
Alexander and Margaret Harper (nee Archibald) still lived in the Main Street in 1881. This was a large family: Isabella (born 1861 in Forgue) and working, then, for Reverend and Mrs Ingram at the Free Church Manse at Mannoch Hill), James (born 1863 in Forgue), Margaret (born 1865 in Forgue), Clementina (born 1867 in Drumblade), Mary-Ann (born 1870 in Rothiemay), Alexander (born 1873 in Rothiemay), Jeannie (born 1875 in Rothiemay), Robina Moir Harper (born 1880 in Rothiemay), John Harper (born 1882 in Rothiemay) and Christina (born 1886 in Rothiemay). Unfortunately, father, Alexander died on 24th February 1887 at Retannach; he was buried in Rothiemay Kirkyard. Margaret took on the tenancy of the farm and, with her son Alexander, daughter Jean and the other three younger children - ran the farm. Meanwhile in 1891 Isabella was  away from home working in Edinburgh in the mansion home of Mr & Mrs Thomas G Taylor. Mr Taylor who, Edinburgh-born, was a rather up-market upholsterer, his father - John - having been an Edinburgh cabinet maker. He and his wife Helen lived in a substantial house built in the traditional style.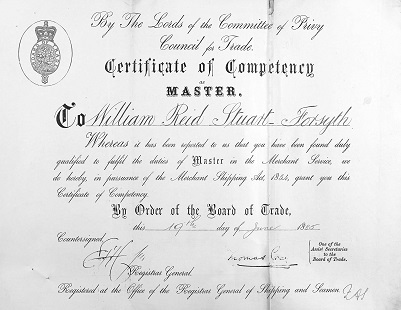 Masters Certificate 1885 William Reid Stuart

Forsyth, son of Robert Forsyth of Nova Scotia and Rothiemay

(National Maritime Museum)
The Dey family still lived in Main Street in 1881. Alexander Dey had begun his working life with Major Alexander Francis Tayler, who married Lady Jane Duff and he leased the Duff family home of Rothiemay Castle (usually referred to as Rothiemay House) from Alexander, Earl of Fife, Jane's father. Mr Dey held a special place, as the family butler, for many years and was one of the witnesses to Major Tayler's Will and the codicils to same. He travelled with the Major and his daughter and was with them at their London home in 1851, just three years before Major Tayler's death. Mr Dey continued as the family butler when WJ Tayler of Glenbarry, Major Tayler's son, inherited his father's estate.

In the decade since our last stroll through the village, Alexander Dey, who began his working life with WJ Tayler of Glenbarry, and is noted as a butler. In the last decade the family had grown with Jessie born in 1874 and William in 1878. However, by 1891 the family had left the village for Alexander to take up the position of butler to Mr David Ainslie at St Roque's House in Edinburgh. Mr Ainslie owned several large properties and estates in Scotland. St Roques became the property of Lothian NHS PCT. Another tailor moved into the village of Milltown in 1881 - Mr Robert Forsyth. Nothing unusual until we see that Mr Forsyth was born in Halifax, Nova Scotia! Married to Jessie, who came from Kirkmichael, they had two children: William Reid Stuart Forsyth and Jessie C Stuart Forsyth. William, who was initially apprenticed to his father as a tailor, took to the sea and, in 1885, received his Board of Trade Master's certificate. Meanwhile, Mrs Forsyth died in 1879 in Rothiemay and Jesssie remained at home to keep house for her father. Robert died on 12th October 1897.
In 1884 George Smith and his wife Isabella moved, with their son, John into the village. Isabella (maiden name Baxter) was the daughter of police constable Baxter at Crimmond. That same year they had daughter Maggie and then son George. Mr Smith was a Foreman stonemason. Andrew McBean, of Inverness and working locally as a gamekeeper, lived with the Smith family.  A third tailor and cutter, by 1891, was Henry Marr of Turriff. Henry and his wife Elizabeth and children, Henry, Alice, Maggie and Douglas lived in the village. Boarding with them were William Mitchell, a blacksmith, John Stewart and William Rudiman - both stone cutters, presumably at Avochie quarry. Another family where the father had a connection to Avochie quarry were the Mitchells. Father, Daniel, Mother Catherine, from Old Machar, children: Maggie, Alice, Catherine, Grace, Daniel and Peter. By chance another Mitchel family lived in the village and the father, Andrew, worked at the quarry too. His family were wife, Annie and children: Annie, James, Andrew, William, Catherine, Mary and John. James Findlay, a granite stonecutter at Avochie, lived nearby with his wife, Anne and their children James and Elizabeth.

Mitchel Lamont (nee Wildgoose), was still living in the village in 1881. Her husband, Charles, (they married on 8th January 1832) was the Grieve and Land Steward for the Duke of Fife. He had died on 13th February 1849, leaving Mitchel and their children William, Mary, Charles, James and Alexander. His death was reported in the Aberdeen Journal in the issue of 21st February 1849. Mitchel is noted on the census of 1881 as an annuitant. Her granddaughter, Jeanie Shand (Mary and John's daughter) lived with her, at that time, and worked locally too. Some of Charles' and Mitchel's other children had moved away. By a stroke of bad luck Mitchel broke her hip and died in July 1882 from bronchial complications. She was undoubtedly mourned by her children and her neighbours.

Mr Peter Clark, the shoemaker, was really very busy in 1881. He employed three men, two of whom - James Domnie of Huntly and John Morrison of Longside - lived-in, as did Jessie Morrison of Keith who helped Mrs Clark with her home and family. Sadly, in the same year, Mr Clark died suddenly (3rd September 1881) and Jane, who came from Grange, and the family moved away. Charles Shearer of Marnoch, took over the house and business. His wife, Georgina from Westhill, Banffshire (daughter of Alexander Pirrie) and their children: Charles and James also had, living with them Mr Shearer's assistant - John Reid of Aberlour.  Alexander Sharp and his wife Joan and children Alfred and Alexander had moved into the village by 1881. Recently married, Mr Sharp worked nearby on a farm. Next door was Robert Park, the policeman. He was married to Ann Coath, and  was previously the PC in Castle Street, Dufftown. He and his family were still in the village in 1881. Jane, his daughter, was at home helping her parents. Alexander, though, had left home to work on a farm, Margaret was working at the Free Church Manse at Ordiquhill and William and May were still at the school. By the following census, James Fairweather, had been appointed, in 1887, as the police constable. James was from Glenmuick. With him were his daughter Annie and sons Alexander and John. His previous post had been in Rathven and before that in Govan.

Mr Peter Forsyth and his wife Mary moved into the Main Street in 1887 and we see them in the 1891 census. Mr Forsyth, who was from Forgue, was a wood carter. Mrs Forsyth was from Elgin. They had three children: John, William and Alexander.  George Sandison and his wife Mary (nee Riddell) and their three children came to Main Street in 1891. George was a local farm manager. Their children, Helen and Maggie were at the school; while baby girl Lesley was at home. A baker had moved in from a nearby farm into the Main Street of village by 1891 - George Ritchie with his sister Margaret who was keeping house for the little family. Living with them were George's young brother, David and his young sister Agnes. Both the children went to the local school. Agnes was helping in the bakers shop in 1891.  Mr & Mrs George Ogg still lived in the village in 1881. Their baby Isabella was now a young woman, living at home helping her mother. Sister, Elizabeth who had worked as a housemaid, says on the census that she was seeking a new post. In the coming year she married coachman, John Harder, and the couple moved to live at 'Rosemount', Frances Road, Windsor, Berkshire.

A new addition to the village was 79 year old Mary Petrie, who lived by the Ogg family. Her occupation was shown as 'knitter'. While we think of two or four needles to knit garments like socks, knitting could mean framework knitting. These frames were often circular and the first of these, which was was invented in England in 1816, revolutionised the knitting of stockings and socks, scarves and hats. Rather like 'French knitting' with the peg doll and four pins that some of us did at school, a tube of knitting was created to make a woollen stocking or sock. The knitter would re-fashion and secure the toe, normally by hand to make it marginally more comfortable to wear. However, without a 'fully fashioned' heel (i.e. 'turn the heel'), these socks wore out pretty quickly - which kept the knitter in business. Mary, who was the daughter of Alexander and Elizabeth Petrie of Keith, had worked at Glencross Manse near Penicuik. When the Minister there, Alexander Torrance, died in 1871 she headed towards home and took the cottage in Milltown. As we saw in an earlier walk, Margaret Lipp had been a knitter before her death and it may be that Mary Petrie took up  the employment opportunity.

Sadly Mary died of bronchitis on 5th June 1886 at her cottage. The informant was her nephew, John Edward, and her death was registered by James Geddes. Mr Geddes, from the Enzie, Rathven, was the main teacher at the school and was also the Registrar of births, marriages and deaths for the parish. More about the school and Mr Geddes  appears in the feature on this site entitled "Four Hundred Years of Education". His wife Annie, was from Cushnie. Alexander Simpson and his wife Isabella (nee McWilliam) lived in the house next door. Alexander was a sawmiller. Their daughter, Mary Simpson, was at home on census day 1881. Last time our walk didn't catch her at home. She was at a training college for teachers in term time. Once qualified she taught at Mannoch Hill school and we can see her there with her mother in the 1891 census. Next was widower Alexander Barrie, who took over from Mr Milne as sexton, lived in the village in the house nearby. Alexander McPhail was next door. Mr McPhail was from Inverness and he was a watchmaker. He previously lived in Keith in lodgings with Mr and Mrs Munro there. John Tawse (Tause), living alone nearby  in 1881, died in 1884. His wife, Margaret, had pre-deceased him.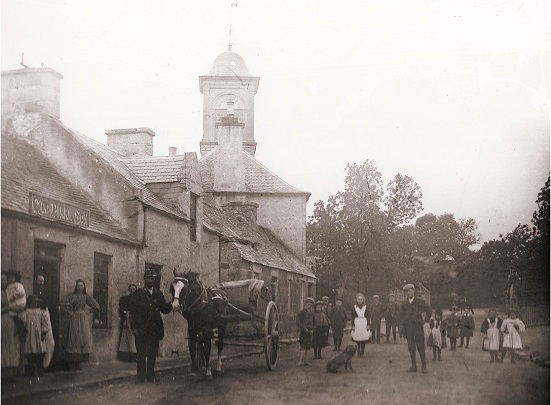 George Pirrie's Shop (Photograph courtesy of Moray Heritage Centre and Miss Pirrie)
The Pirrie family were still very busy with their grocery store and pharmacy. Brothers George and William died in 1865 and 1871 respectively and their father in 1872. Charles was head of the family and in charge of the business. He and his wife Margaret (nee McKenzie) had four children: Margaret, Jane, Charlotte and Elizabeth in 1881; and Charles' widowed mother lived with them, as did their niece Georgina Pirrie, age 11, of Boyndie. Margaret's father was living with them too. In 1891 young Margaret worked for her father Charles in the shop, as did Charlotte. Elizabeth was still at school and so was George and there was another addition to the family: Charles Alan Pirrie age 3. Margaret Appleby of Strichen was helping Mrs Pirrie with the house and family.

Others still living in the village included James Gordon and his daughter Isabella, named after Mrs Gordon who had died. Mr Gordon was now noted on the census as a Master Carpenter, Isabella a dressmaker and young Alexander was at school. Mr Gordon died on 25th July 1887. The informant of death was his son-in-law Alexander Dey of Rothiemay.  New to the area was Charles Archibald of Kinnethmont. Like his father, Charles was a Master Tailor. Married to Margaret from Foveran, the couple had five children: Andrew, Jessie, William, Margaret and Adam Alfred. The family didn't stay long and in 1891 they appear in the census for Aberdeen in North Constitution Street.

Unfortunately George Stewart MRCVS, the veterinary surgeon, died on 21st August 1874. He had had a very busy life and was much admired in the district for his professional abilities. His younger brother, Alexander, who practised in Keith, had married Jane Innes of Marnoch, but George remained single all of his life. His Practice was taken over by another member of the Royal College of Veterinary Surgeons - John Ironside MRCVS. John was from Old Meldrum, but his wife Jennie was from Rothiemay. Her formal name was Jane and she was the daughter of Alexander Mackie and Jane Allan who farmed up at Retannoch. Jane and John were married on 7th November 1878 by the Reverend Robert Moir in Rothiemay. They had a little girl - Jeannie A M Ironside. By 1891 the family had left the village for a Practice in Nairn and John Riddoch, Veterinary Surgeon, from Boyndie had taken over.

William and Margaret Simpson had moved into the Main Street from Barlatch, Rothiemay. Mr Simpson was an agricultural worker. He died on 17th July 1886 after a serious illness that lasted three months. Margaret remained in Rothiemay.  Ann Randle (or Randal or Fordyce - see previous walks) was still living near the meal mill. Now she was classed as an annuitant and she had with her her grandson George. Ann died in 1883 and George moved into farm work in his teens. At the meal mill we can see Robert Cruickshank working as the miller. Robert was the nephew of George Cruickshank who was the miller. George, of course, was the nephew of John Pirrie who had the mill when these walks began. Living with Robert was his sister-in-law, Hellen, her baby son John P Cruickshank, mill workers Alexander White and James Roberston and Barbara Reid, who helped in the house.
Finally we're at The Fife Arms Inn. William Fiddes and his wife Catherine (nee Montgomery) and their three adult children Elspet, Euphemia and Peter ran the Inn together, Peter also ran the family's small farm. The idea of home-grown produce for an hotel is, obviously, not new. The family continued to run the Inn through to the end of the century, when its name was changed to The Forbes Arms - which is what it is known as today.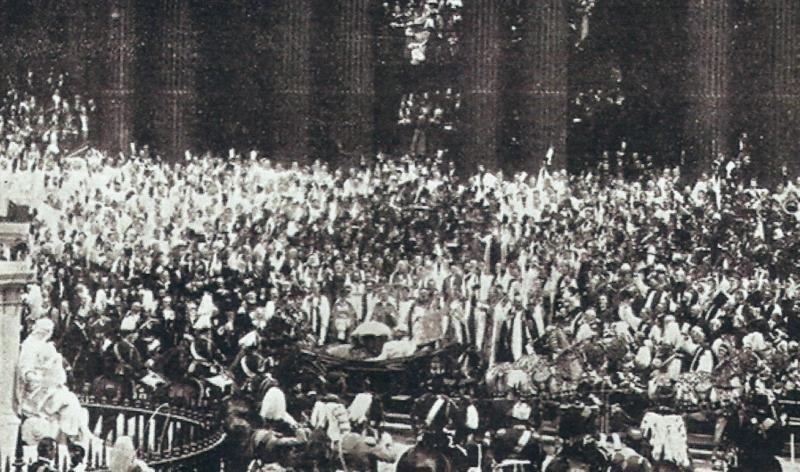 Queen Victoria's Diamond Jubilee, 1897 (DC-S)
This walk has ended and we're coming to the end of the century. In 1897 Britain and the Empire celebrated the Diamond Jubilee of Queen Victoria. The Queen had been at Balmoral in the later spring and early summer, but returned to London for the event in June. Celebrations were held across the country, since it had been declared a Bank Holiday. There were pretty arches erected in towns and villages and parties, games and special dinners, competitions and sporting events all took place. Major civic works were erected in celebration: fountains, statues, clock towers. Banners and bunting and flags were flown. Medals were struck, programmes issued, memorabilia of all sorts created and a chain of beacons was lit across the country. All in all a high point for the Sovereign and for the country. However, she was in extremely poor health and the New York Times commented, below a photograph of the carriage procession through the City of London, that this was "probably the Queen's last ride in State through the streets of London."
Our next walk - which will be our last - will take us into the twentieth century.
© Copyright Diana C-S
reconstructingthepast@gmail.com
---
Source:
General Register Office, Scotland
Aberdeen Journal archives
The Royal College of Veterinary Surgeons
Credits:
Considerable attempts have been made to contact living relatives of those persons mentioned in this article. The author would like to thank the following for their help in the preparation of this item: Mrs J O'Leary in USA; Mr & Mrs D Bamford in Oxfordshire; Ms K Bain in Edinburgh, Mr & Mrs J Stewart in New Zealand; Clare Boulton and Myai Du of The RCVS Trust; Mr T Murphy MRCVS; Mr IAH Mackie in Liverpool; Ms E Smith in Aberdeenshire; Mrs A Grant in Inverness, Scotland; Mr R Lamont in Canada;  Mr P Apperley in New Zealand, Miss M Turner in Perthshire, Scotland and Mr & Mrs A& S Beedham  in Chelmsford, Esssex.