Features:
Arrival in the Twentieth Century

ARRIVAL IN THE TWENTIETH CENTURY
This is the final walk down the Main Street of Milltown of Rothiemay. We see in this walk, using the 1901 census, Rothiemay in the very early years of the twentieth century. Change was coming to Rothiemay, some of it welcome, some less so. Few, when the census was taken, had any idea that within just a handful of years the country would be involved in a war in which many from Rothiemay, whose families we have come to know, would be injured or lose their lives.
People had left the village in the mid-nineteenth century and many were about to do so too in the early years of the twentieth century. Between 1904 and 1913 an estimated 13% of the population of Scotland left the country for North America or England. Skilled workers were leaving Scotland  for other places too – South Africa, Australia and even South America. Steamship journey times had reduced to about one week to North America and, provided you kept the price of a ticket by you, one could always return if things didn't work out. Indeed my late grandfather did just that and worked, seasonally, in Virginia over a number of years before he came home and married a lass from Rothiemay and settled down back in the west of Scotland.

Here in our village two changes had an impact. Lt-Col Ian Rose Innes Forbes was born in 1875 and his home was Rothiemay Castle. He married Lady Helen Emily Craven, daughter of the 3rd Earl of Craven on 23rd April 1901. Rothiemay was en fête for the wedding, a gold bangle was sent to the bride from the Rothiemay tenants as a gift and a special dinner was held in the village which people like schoolteacher Mr James Geddes attended.

The Duke of Fife, whose marriage to Louise, The Princess Royal was mentioned in the last walk, died on 12th January 1912 in Aswan, Egypt and the stability of the position was missed by the people of Rothiemay. He had no male heirs, so the Dukedom passed to his eldest daughter, Alexandra who became Alexandra, 2nd Duchess of Fife and was styled Lady Alexandra Duff; and through her grandfather's Royal decree Princess Alexandra of Fife. She married Prince Arthur of Connaught and they had one son. She died in 1959 and was buried down at at Mar Lodge Chapel, one of her late father's homes and his own place of rest. The property is now in the care of The National Trust for Scotland.
Beginning at the Lossat for the last time we, again, see both ladies named Jane Mackie and with them was 13 year old Maggie Milne. Maggie was the grand-niece of Jane Mackie senior. On looking at the Valuation Rolls for 1905 we can see a Jane Mackie as the tenant, but no other persons were shown, at the Lossat, on such Rolls.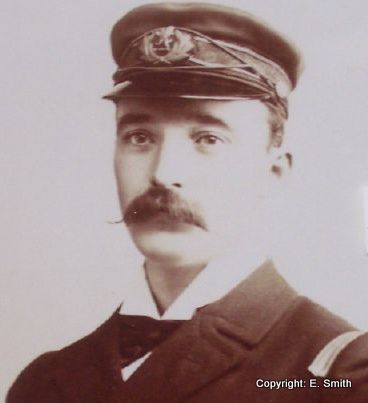 Alexander Henderson
© E. Smith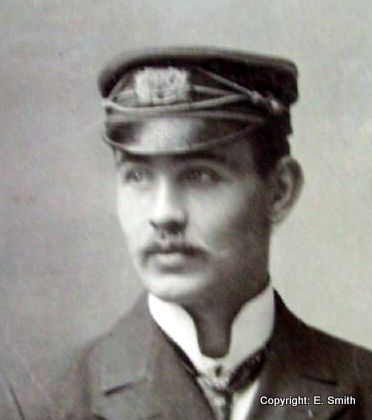 George Henderson
© E. Smith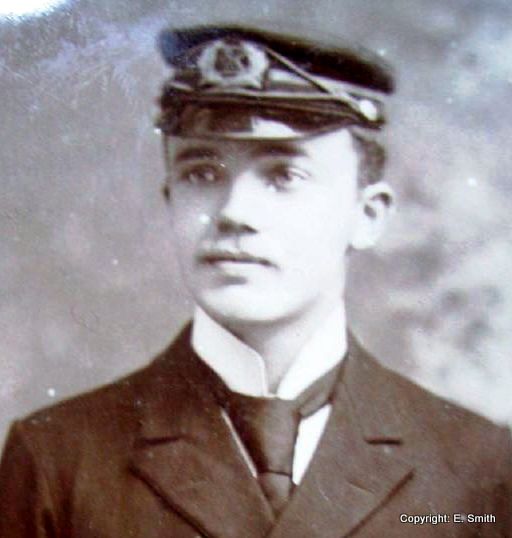 Peter Henderson Jun.
© E. Smith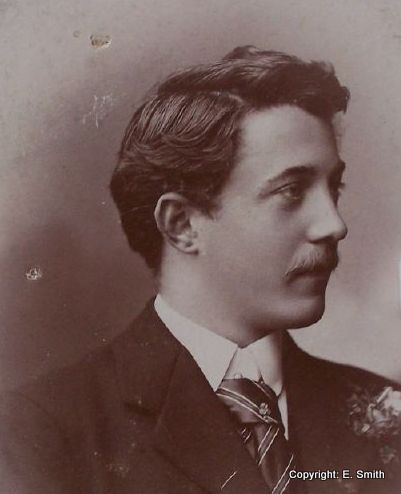 James Henderson
© E. Smith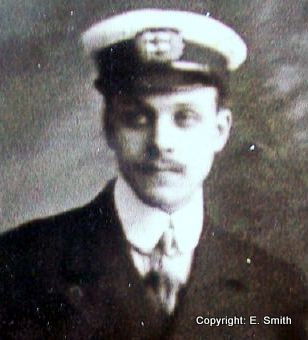 Frederick Henderson
© E. Smith
Mr Peter Henderson and family were still at the Smiddy in 1901 but some changes were taking place as we might expect. Eldest boy – Alexander Morrison Henderson (who had his mother's maiden name in his full name) had moved down to Barrow-in-Furness where he became a marine engineer in the Vickers shipyards. He married Jane Fell there on 14th October 1896 (both fathers mentioned on the wedding data) and then we can see the couple in the England 1911 census where Alexander is a dredging foreman for a railway (quite possibly on the Furness railway, originally for iron ore and then used to move raw materials and finished goods around the whole industrial site); and wife Jane is at home with their five children (Jane, Alexander, Margaret, Robert, and George).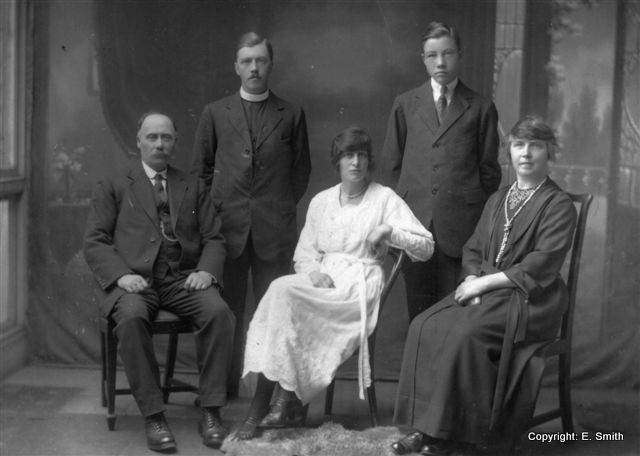 Mitchell family Wedding - left to right seated George Mitchell, daughter Agnes, wife Agnes Henderon. Standing sons Archibald Mitchell and George Mitchell  © E. Smith
Of the rest of the family, Elizabeth went to Edinburgh to train as a nurse and, in 1901, we see her as a head hospital nurse at Edinburgh Royal Infirmary. Her twin, Agnes, remained closer to home. Initially she worked as a table maid at Blairmore House, at Glass and subsequently married George Mitchell in 1896 in Huntly and remained in Scotland. Meanwhile George, younger brother of Agnes, had followed Alexander to Barrow where he was working, in 1911, as an engine fitter for Vickers. He'd married Georgina Yule Jamieson (they wed 27th September 1910 in Huntly, with brother in law James Murray as a witness.) George at that time, in 1910, stated on the marriage data that he was a young widower.  At this wedding we can see that Peter had given up or sold the blacksmith business and was a commission agent. This must have been connected with engineering – the business he knew best. A commission agent was someone who was an expert in their field and who derived their income specifically from only the commission on the sales they made. Peter and Jane's daughter Mary was at home with her parents in 1891 but in 1895 she married James Murray, a tailor and clothier and they set up home in Huntly at 31a Bogie Street and, by 1901 we see they had little James Murray. Peter and James Henderson, the boy twins were just 3 years old in 1881 and still at school in 1891. However, in 1901 Peter drowned at Port Pirie in Australia while swimming. His twin James, with that strong bond that so many twins have, wanted to be near his brother and  emigrated to Australia and eventually died there. Anna-Bella, who was just 1 year old in 1881 was at school in 1891 but by 1901 she was at home helping her mother. A new addition to the family in 1891 – Frederick – is, by 1901, Peter's apprentice replacing Alexander McQueen who worked with Peter in 1891. Mr Henderson died in Huntly on 14th June 1919; Mrs Henderson pre-deceased him dying on 23rd October 1912.

Article on Alexander Allardyce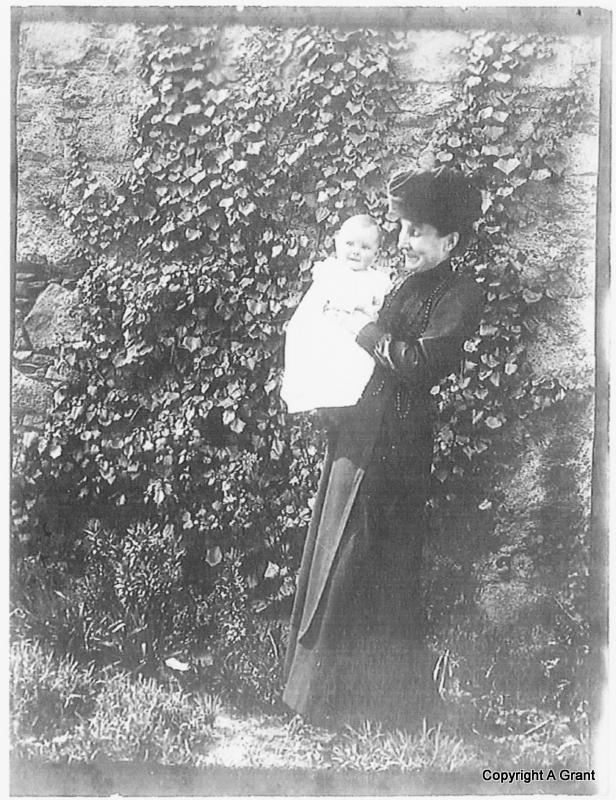 Jamima Allardyce with granddaughter Isobel
© A Grant
At the Manse the Reverend and Mrs Allardyce remained in Rothiemay across the turn of the century with William dying in 1912 and Jamima in 1923.  Our picture here shows Mrs Allardyce with granddaughter, Isabel. Young Alexander went to school in Aberdeen, we see him in 1901 boarding with the Grant family at 84 Leslie Terrace, St Machar, Aberdeen; his sister Isabella, in 1901, was staying with her grandparents Reverend and Mrs Anderson at Gartly. Back at home in 1901 with their parents were Robert, who was studying at University, Catherine who was studying too, Marian Jane who was at school and cook-housekeeper, Margaret McPherson.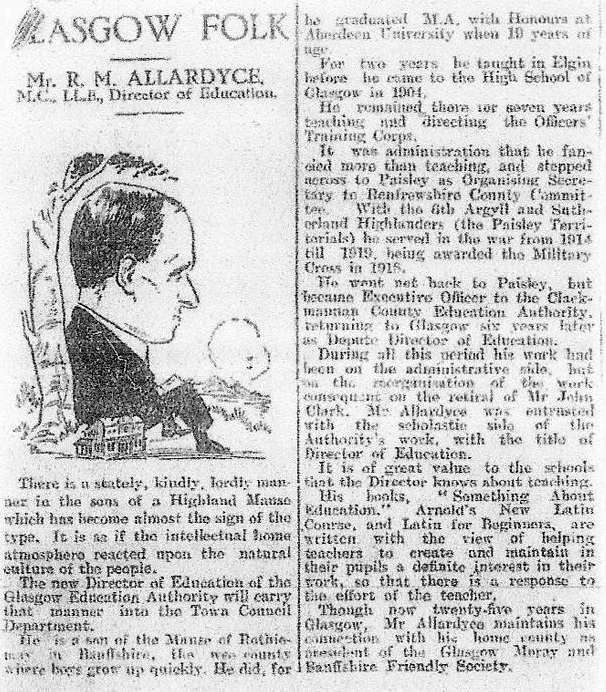 Robert Moir Allardyce, Director of Education for Glasgow

Alexander, seen here in uniform, died in the Great War and is commemorated on the Rothiemay War Memorial. His older brother, Robert, gained the Military Cross and went on to become the Director of Education for Glasgow Corporation, for which work he was awarded the CBE. Isabella and Marian didn't marry. Marian, who worked as a Higher Grade clerk at The Ministry of Labour in 1920 and then as a Pensions Officer for Customs & Excise in 1923, died at the Manor House, Broughton, Newport Pagnell, Buckinghamshire on 8th January 1965, leaving most of her estate to her sister Isabella and to another relative Aileen Forbes Ballantyne. Isabella outlived her sister, in Newton Abbott, Devon by 6 years.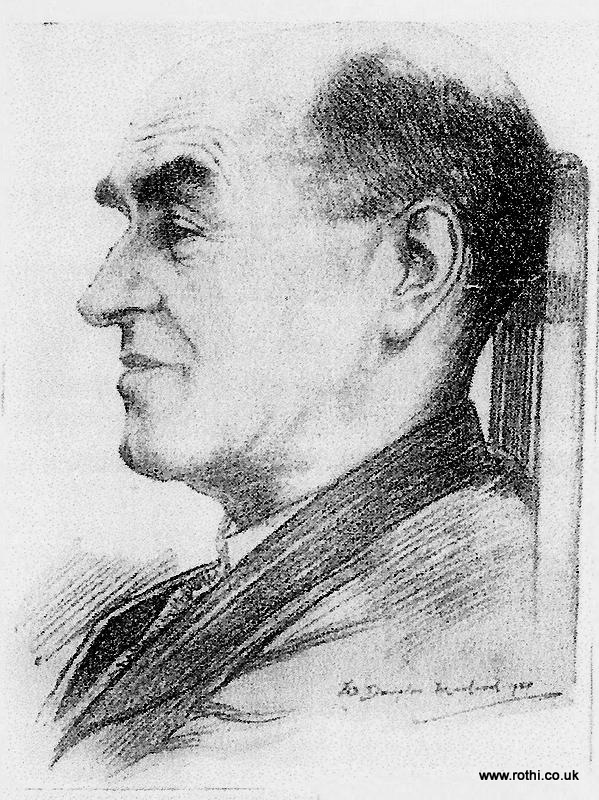 Robert Moir Allardyce

By 1901 George Murdoch had retired back to his home town where his daughter, Elizabeth, was widowed and was the Post Mistress and he and his sister-in-law Christina were surrounded by the young grandchildren and a grand-niece. His son, James, had married Margaret and, together with their young family, also lived in Gamrie and had his own grocery and bakery shops. Daughter Georgina married draper Robert Gardiner of Clatt and, in time, they moved to Yorkshire. The Rothiemay shop – complete with the drapery - in Main Street, was taken over by Alexander Carle of Tyrie and his brother Thomas, while their sister Lizzie looked after them with the help of Isabella McRae of Rothiemay.
Miss Innes was still the girl's school teacher in 1901 and her sister still lived with her. Mary Jane Merson, in 1901 lived with her parents, Joseph and Mary Merson, and worked in Aberdeen as a stenographer. She died in 1947. James Geddes was still the schoolmaster in the boy's school. From the Enzie, Rathven (born 1860), he was also still the Registrar of births, marriages and deaths for the parish and a JP. He and his wife, Annie, had, in 1901, children Margaret, Jeannie, Mary, Elsie, Willamina and Jemima. Mrs Geddes' mother, Mrs Mowat, lived with the family. Mr Geddes died before the outbreak of the Great War on 7th April 1914.
There were several changes in education in Scotland around the turn of the century. 1892 saw all elementary and most secondary schooling become free, but still only just under 5% of children went on to secondary education after the age of 11. There was concern that, if more young people didn't follow on into the secondary system and thence to university, Scotland would be left behind in a rapidly changing world. In 1901 the Carnegie Trust Fund was launched, enabling financial assistance for bright and determined youngsters to get a university place. Teachers were being trained, too, outside the universities and by 1911 70% of teachers in Scotland were women.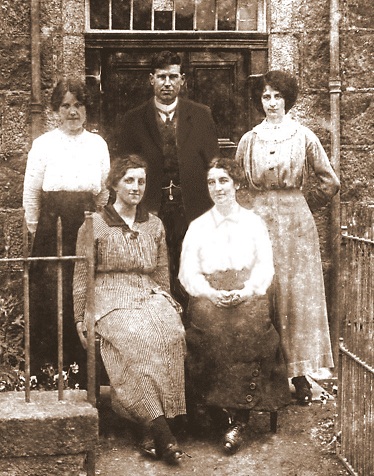 Mr & Mrs D Corrigall with family and friends
outside the schoolhouse door in 1917
(Photograph courtesy of J. Corrigall 2007)
Other school teachers followed James Geddes. Among them Donald Corrigall who came to the school on 1st June 1914, from a previous post in Kiltarlity, Inverness-shire. Mr Corrigall, who was born in Walls & Flotta parish in Orkney in 1879, studied at the University of Aberdeen. He married Jessie Ann Pirie of Newmill, Keith, who was a teacher too, in 1921. He retired in 1946 and died in May 1966. He was buried in Rothiemay. Mr Corrigall was succeeded by Alexander Naughtie of Dufftown, who also took on the headship. His wife, Isla Milne of Aultmore was a teacher too.

Further along the Main Street were William Panton Brown and his wife Williamina (nee Bruce). In 1895 they bought a coal merchant's business from a Miss Maver at 116 Mid Street, Keith and Mr Brown became a coal merchant, picking up supplies from the railway station there. In 1897 he purchased property from the estate of a Mrs Watt in Chapel Street, Keith and moved the coal business to that address. William had a head for business and he had a contract to supply coal to the Keith Institute in 1901; and other contracts to supply coal to Boharm schools and to provide coal for poor people, under a trust fund managed by Keith Parish Council. He died in 1924 and was buried in Rothiemay.

Mr Alexander Dingwall moved into their house. He was working for the parish Minister at this time, but had previously worked on a local farm. His wife Sophia (nee Pirrie) and daughters Jane and Mary were all home and classed as working in the home. Son Charles had moved into the Licensed Trade and worked in Glasgow as a spirit salesman. He died in 1907. Brother Thomas was an apprentice joiner with Mr Charles Smith in Aberdeen. Sophie died in 1899 and Mr Dingwall died in 1912 and was buried in Rothiemay. Daughter Jane died in 1917; Mary didn't marry and she died in Rothiemay in 1966.

Margaret Harper (nee Archibald) took on the tenancy of the farm at Retannoch after her husband's death and, with her son Alexander, daughter Jean and the other three younger children - ran the farm and were still doing so in 1901. Margaret died on 6th November 1915 in Aberdeen where she lived with youngest daughter Christina. Meanwhile young Margaret was a children's nanny in Drumblade. When Clementina married James Abernethy and then they moved to Newcastle-upon-Tyne, her sister Margaret followed her. She died in Newcastle in 1910; Clementina survived her by 30 years. Brother, James, died in Inverness-shire in 1918. Jean had married George Mutch and the couple emigrated to Canada.  Robina died in Caithness in 1919.


David Ainslie died in 1900 and Alexander Dey, who had moved from Rothiemay to be butler for him, retired the following year and lived in Montpellier Park, Edinburgh with his wife and some of the children. Son William was a joiner, Ann was a hairdresser and Isabella and Jessie were infant school teachers. Isabella and Jessie seem not to have married and they died in Edinburgh in 1951 and 1950, respectively. Their sister Ann died in 1951.William died in 1904. George Smith the stonemason still lived in the village in 1901 with his family  Andrew, Isabella and Jeannie. Son George was an apprentice mason. Nearby, Mrs Marr died before 1901 and Henry's sister, Margaret, came to keep house for the family. Charles Shearer's family had grown with the addition of John, Jeannie and Amy Shearer. The family emigrated to Michigan, USA and Mr & Mrs Shearer died there, as did their children that we see in 1901 in Rothiemay. Young Charles died in Michigan in 1963.  James married a young lady by the name of Louise Kunn; he died in 1937 in Michigan. John married Elsie Brett and died in Michigan in 1977. Jeannie died in Michigan in 1982 and Amy died in 1967 in Michigan.

Another shoemaker – also a Mr Shearer, but this time named Frank, moved into the village before 1901. Mr Shearer came from Inverkeithny, while his sister was born in Marnoch. Living with them in 1901 was James Harker of Marnoch, who was a shoemaker. Frank, by 1910, had married Margaret, they had a little boy named William, born in 1904 and they lived in Strichen where Frank was a boot-dealer.  Mr Peter Forsyth and his wife Mary had moved to Huntly in 1901 and added George and Margaret to their family.  Meanwhile son John was with the Christie's on their farm over at Tillytarmont working as a horseman.

Little Lesley  Sandison, who we saw with her parents George and Mary, died in 1893 in Banff. The family went out to the USA thereafter, the couple having two more children: James & Rhoda in the USA. In 1901 George was in  America, but Mary was at home in 14 Duff Street, Turriff with the new family additions: Peter, Rhoda and James. Within the coming decade the entire family  emigrated to the USA. George died in the USA in 1919; Mary re-married to Walter Allen and she died in 1942 in the USA. By 1901 neighbours, George Ritchie, his sister Margaret and his younger sister Agnes, had moved to Elgin where they again ran a bakery and shop. Agnes married William Gibson Scroggie in 1907 and they had Alexander before emigrating to Canada in 1912 where William died in Montreal in 1929. By 1901 the village had its own police station. An item on the Aberdeen Journal for 20th December 1893 commented that:-

    "On the recommendation of the Standing Joint Committee, Banffshire Council
    agreed to enter  into a lease of the Rothiemay police station for ten years from
    Whitsunday, 1894, at a rent of £5 5s per annum."

In charge was PC John McBeath. Mr McBeath and his family, including son William's new wife Annie, moved to live in Glasgow by 1911 where John was a Detective Officer for The Allan Line (later owned by Canadian Pacific) which provided the first regular service between the Clyde and Canada. Every wharf had a detective force. Responsible to the Wharf Superintendent, they would watch the handling of packages and cargo principally for pilfering of, and tampering with, goods. Their work was particularly important in claims adjustment. Smuggling of small items and of quantities of precious stones and of opium was often foiled by such detectives who were highly experienced in their field.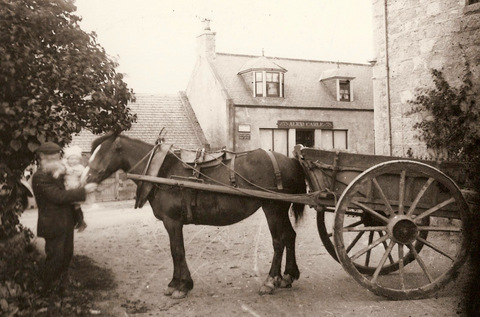 The Post Office/Alexr. Carle's Shop
(Photograph courtesy of Moray Heritage Centre and Miss Pirrie)
James Smith, of Duthill and his wife Mary, from Old Deer moved into the village in 1901 with their little girl. Mr Smith was a Foreman baker.  Next door, were Alexander and Alexandrina Mutch, they had just moved from Ordiquihill. He was a grocer's vanman, delivering for the Pirrie's or for Alexander Carle, next door, who was now both a grocer and draper. Alexandrina and Alexander's children were Isabella, Joseph, Alexanderina and Margaret. The eldest two were at the school in 1901. The couple had, in all, eleven children. Isabella married Leslie Allan and she died in Canada in 1943. Joseph married Margaret Gray and he died in 1953. Alexanderina married John Emslie and she died in Skene in 1984. Margaret married John Buchan and she died in Aberdeen in 1986. Jessie, born in 1901, married Alexander Stevenson and she died in 1972 in Inverness. Then Catherine married George Ross and she died in Aberdeen in 1978. Alexander married Margaret Lawrence and he died in 1973 in Aberdeen. Then William married Frances Donald, he died in 1981 in Aberdeen. Mabel, born 1910, married Harold Littlejohn, she died in 2002 in Aberdeen. Albert, born 1912, married Gladys Abercromby, who died in 1996 in Aboyne; and finally Leonard, born in 1916 married Ella Williamson and died in 1984 in Brechin.

Jessie Ogg, Elizabeth Ogg's mother and widow of George Ogg who had died in 1886, moved to England to be with her daughter and son in law at 'Rosemount', Frances Road, Windsor, Berkshire. Jane Fettes (nee Shearer) and her son, Charles, appear in the 1901 census. Mr Fettes was away on census day, but we know that he was a stonecutter. Mr & Mrs Fettes had Mary, just after the census, then William in 1905, and Laura in 1908. Laura married Robert Allan and she died in Aberdeen in 1996. Young Charles emigrated to the USA and was in the motor trade in Michigan. Alexander Simpson and his wife Isabella (nee McWilliam) lived in the house next door. Alexander was a sawmiller. Their daughter, Mary Simpson married Robert Main in 1903 and, when he died, Robert Enslie. She died in 1962 in Kenmay.

Widower Alexander Barrie, who took over from Mr Milne as sexton, was living in the village in the house nearby. His younger sister, Jane, was originally housekeeper. He worked over at Foulfolds as an estate worker in 1901 and lived there with new wife Mary Ann (nee Stewart) and their family and grandson Alexander.  Mr Barrie died, age 87, in 1935 at Mannochill. Alexander McPhail the Inverness-born watchmaker was still in the village in 1901, having lived with Mr and Mrs Watt. When Mrs Watt died in 1887 he was the informant for her death. He died in 1910, having been born in 1832.
 
By 1901 almost all of the Pirrie family worked in the shop which had expanded considerably. Charles Alan was not the youngest child any longer as a little girl – Johanna – was 9 years old at this census and was at school. Mrs Pirrie had help in the home from 18 year old Jessie Rennie who was from Banff.

In 1901 Mr John Riddoch MRCVS moved from Rothiemay to become the Veterinary Inspector in Edinburgh. The creation of an inspection service came as a result of the Contagious Diseases of Animals Act 1878, although the inspector's work in the latter part of the 19th century tended to focus on the animal as food and the possible transmission of disease through the food chain. In time, of course, their work took on a much broader role as we began to understand the need for better health among the farm animal population as part of economic necessity.

The new vet in 1901 was William Kidd, MRCVS, of St Vigeans, Forfarshire. He was the son of David Kidd and Isabella Findlay and he graduated from the University of Edinburgh on 17th December 1888. His household, in 1901, included William and Elizabeth Duncan, Mr Duncan noted as a crofter and gardener. This was just a fairly short stay for William since he left for South Africa almost immediately to work as a civilian veterinary surgeon with the British mounted troops in the second Boer War. He died, during an attack, near Wynberg, Western Cape on 27th October 1901 and is buried in the Wettton Road Cemetery there in a grave with a number of others who were also killed in the attack.
        
In 1901 George Fordyce, Ann Fordyce's (nee Randall) grandson  was living with the Holland family in  Edinburgh. Mr Holland was a builder and George worked with him as a stonemason. George's brother, John, had died in 1862 in Rothiemay.  By 1901 George Cruickshank, from the meal mill, can be seen over at Knauchland with Helen and young John. Meanwhile Robert married Elizabeth Dingwall, daughter of Alexander Dingwall and Jane McWilliam who also farmed in Rothiemay; and in 1901 we see them both, at the mill, with twins George and Hellen and young Elsie Cruickshank, who was 3 years old.

Finally we're at The Fife Arms Inn. 1901 the hotel, renamed The Forbes Arms – which is what it is called today - was in the hands of James Duncan of King Edward and his wife Mary, who was from Ardversier, Inverness. Like their predecessor at the hotel, this was another family business, too, since James' brother and sister – Walter and Isabella – were there also. Bella was the cook and Walter the ostler. Mr Duncan had been in the hotel trade as an hotel waiter at The Douglas Hotel in Aberdeen. Sadly he died in 1908 of cancer. Brother Walter married Jane Morrison, who died fairly young and he re-married to Jamesina Simpson in Turriff. Unfortunately he died of tuberculosis in Forgue in 1925. His sister, Isabella, married Andrew Munro in 1906 and they moved to Falkirk.

On 22nd January 1901 Queen Victoria died. She was 81 years of age and had been Queen of Great Britain for 63 years.  She died at Osborne House on the Isle of Wight and was buried in the Mausoleum at Frogmore, Windsor. The Countess of Denbigh commented in writing to a friend of the "Alberta" carrying the white coffin "As slowly and as silently as it came, the cortège passed away into the haze; with the solemn booming of the guns continuing every minute till Portsmouth was reached. A wonderful scene and marvellously impressive, leaving behind it a memory of peace and beauty and sadness which it is impossible to forget." At the Queen's death there was considerable national mourning. All adults wore black. Black and deep purple banners were hung from shop windows; and even fences, doors and railings were painted black. This continued for three months, until her son and new King, Edward VII brought this to an end.

We have now reached the end of a span of sixty years in the Main Street of Rothiemay. We have also reached the end of an era. When Queen Victoria died her son, Edward VII, was to reign just nine years, dying in 1910. In Rothiemay life went along much as it had, but many people looked ever outward to the wider world, moving to follow work opportunities and other family members. A member of my family went to Peru; another to Guatamala, another to South Africa. The status quo changed with the death of the Duke of Fife and social and political activities elsewhere in Scotland began to impinge on the village. Soon motor cars and motor cycles would be driven down Main Street heralding enormous technological changes to come. Progress, as we know it today, was on its way.
© Copyright Diana C-S
reconstructingthepast@gmail.com
---
Source:
General Register Office, Scotland
General Register Office England
The National Archives England
The Royal College of Veterinary Surgeons
Aberdeen Journal archives
Credits:
Considerable attempts have been made to contact living relatives of those persons mentioned in this article. The author would like to thank the following for their help in the preparation of this item:   Mrs E Smith of Aberdeen, Mrs A Grant in Inverness, Scotland; Mrs J O'Leary in California, USA; Mr & Mrs D Bamford in Oxfordshire; The RCVS Trust Mr IAH Mackie of Liverpool,  Mr R Lamont in Canada, Miss M Turner in Perthshire, Scotland, Mr & Mrs A & S Beedham of Chelmsford, Essex; Mr P Apperley of  New Zealand, Mr T Murphy MRCVS.