Features:
Fines, Fulling and Furbelows

FINES, FULLING AND FURBELOWS
Fashion is something that has always driven manufacturing – even before there were 'manufactories' in past centuries. And although many fashions often raise eyebrows today, there was a time when a woman could be heavily fined in Britain for wearing what she felt was both flattering and fashionable. To begin to explore how much fashion influenced textile production in and around Rothiemay, and its nearby neighbours of Dufftown, Keith and Huntly, this series of articles is concerned with the early parts of the 'industrial revolution' (1760-1840 - Arnold Toynbee). And thereafter we will follow the many changes which a growing consumer market brought about in our locality through to the end of the nineteenth and early twentieth centuries.
Scotland is readily associated with wool and woven and knitted clothing. Equally, Scotland had a very thriving linen industry and, in the late 18th and 19th centuries a busy and profitable cotton industry too. Such imports of finished cloth began to affect the home trades in cottons, linens and wool and both the bigger merchants and the home spinners, dyers, weavers and pencillers (printers) began to be vociferous in their complaints about the domestic trade suffering because of such imports. Parliament responded by introducing The Calico Acts of 1720 and 1721. The first Act banned the importation of cotton cloth from India and the Far East. These imports of dyed and printed cloth had become hugely popular among those who could afford them, so responding to consumer demand, smugglers began bringing bales of 'calicoes' into the country. Then in the 1721 Act, Parliament prohibited the sale of any calicoes – imported or made in Britain – to stop the trade in these goods to protect the home woven wool and linen cloth markets. Raw cotton was exempt – which meant that spinning and weaving of cotton could move apace.
This wasn't sufficient for the woollen industry and so in 1730 another Act was passed making the wearing of printed calicoes and Indian Damasks an offence. Which is how the ladies of fashion found themselves facing fines for wearing pretty printed gowns. This arose because we had, during the Stuart period,  imported printed 'calicoes' and 'chintzes', silks and fine wools for clothing and household furnishings.
The '
Caledonian Mercury
' commented:
"Yesterday the Laws against wearing Printed Calicoes and Indian Damasks were begun to be strictly put in Execution: and several Women were apprehended in the Streets with Gowns of same, who we hear are to be fined (to) conform to Law. The Penalty for wearing Damasks and Chinces (sic) is £200 sterling; and for wearing printed calicoes, £5 sterling for each offence."
However, the Acts were repealed in 1774 and, in the larger Scottish cities, big cotton spinning mills became the norm. Powered by water, they took raw cotton which was imported by major merchants and cleaned and spun the cotton bolls to make cotton yarn. Such yarns went to be bleached in the hank and then to the weavers to weave into lengths. At that point dyers and pencillers of cloth took over and the finished products for dresses and for the popular handkerchiefs (very large and printed with pictures) began to be freely available. Demand was constant and new innovations, such as the spinning jenny, improved the consistent quality of the yarn and thus the finished product. When Queen Victoria came to the Throne the cotton industry was in full swing and all looked rosy.
Rothiemay – a small parish with a complex manufacturing past
Flax was grown in Rothiemay from very early times. In the eighteenth century and among the principal producers, in 1774, was the
Honourable Arthur Duff
of Rothiemay Castle who grew considerable amounts of flax. He was noted in the
Caledonian Mercury
(11th September 1775) as gaining the sixth class of premium, for flax growing, from the Commissioners & Trustees for Fisheries, Manufactures and Improvements in Scotland for the 1774 crop. His production, at Mains of Mayen, Rothiemay was only beaten by
James Thurburn
of Drum, Keith.
Alexander Gray
, took over production at Mayen and in both 1793 and again in 1797 (
Caledonian Mercury
) is noted as producing first class flax. On the opposite side of the River Deveron, at Woodfold,
Robert Scott
was also producing first class flax – and just a little more of the crop than Mr Gray.
The
Reverend James Simmie
(1763-1826), Minster of Rothiemay, commented in the Old Statistical Account for Scotland in 1797  that "in the parish there are 1 Lint mill, 3 lint millers, 3 flax dressers, 2 Waulkmills, 3 dyers and 27 Weavers".  
Many of those who were handloom weavers were also
crofters
, farming small acreages of 4 to 5 acres apiece. In 1841 there were eight people who were all noted as weaving both wool and flax on their handlooms to produce cloth.
Arthur Sharp/Sharpe
, at Mannoch Hill was one such gentleman. Arthur, born and baptised at Mannoch Hill in Rothiemay in 1775, was married to
Elizabeth Riddoch
of Cauldhame (Coldhome), Rothiemay in 1814. The couple had a small croft at Mossside and Arthur managed that - with the help of his wife and his daughter, prior to the latter's marriage to
Robert Milne
from Banff - alongside his weaving. Unfortunately, weaving didn't pay well and in this particular period it paid even less. The cost of living began to rise sharply and Arthur would have been hard put to feed and clothe his family. His cousin,
William Sharp/Sharpe
, born and baptised in Rothiemay in 1772, lived at Parroch. William too had a small croft and, like his cousin, was a flax and wool handloom weaver. He and his wife
Margaret Redford
had two sons –
Alexander
, a journeyman wright, and
James Simmie Sharpe
, who would become a schoolteacher and on retirement would return to live in Rothiemay at Whitestones with his sister
Catherine
.
Charles Stuart
, a gentleman born in 1757 at Inschcorsie, was still weaving at the age of 94. His wife,
Margaret Milne
, was from Milltories, on the edge of the River Deveron across from the village and the couple were married there in 1786. Charles only thought of himself as retired in 1851 when he lived with his son
George
and his family at Milltories. He died between 1851 and 1855. Another elderly handloom weaver and crofter of 4 acres was
Alexander Leslie
. Born and baptised in Rothiemay in 1791 he married
Margaret Riddoch
in 1819 in Rothiemay. Capable, like many of the others, of both wool and flax weaving, he appears to have been continuing to work up until his death in 1863. Forgue man,
William Cruickshank
born in 1776, lived at
The Lossat
. He had a small croft there and also worked as a handloom weaver. Married to
Margaret Spence
, from Forgue, he died in 1854.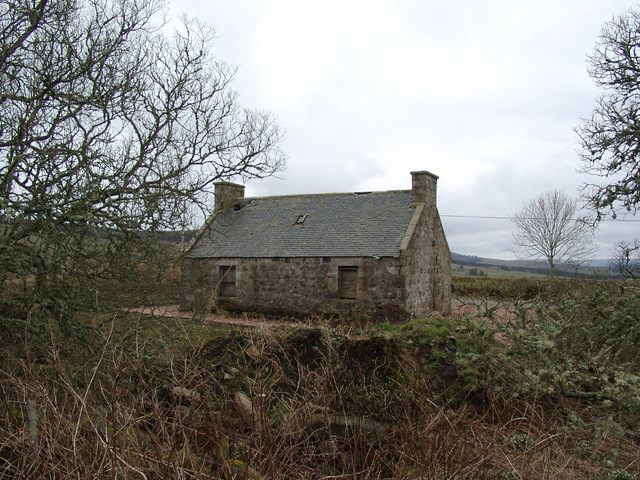 Rothiemay Poorhouse
© W A Reid
Flax spinning, preparing the fibre for weaving, may well have been a means of obtaining 'outdoor relief' under the provisions of the 1845 Poor Law Amendment (Scotland) Act. Rothiemay had a poorhouse at Moss of Rothiemay, but it was very small and intended for short stays only under the 'indoor relief' system. The heritors, Kirk Session and the newly developing  parochial board preferred, if at all possible, to keep folk in their own homes and provide a little money or support in kind. Where local manufacturers with a social conscience could be involved – as in the case of the
Spence
family and others – enabling paupers to do some work, while tending to their crofts – became a preferred means of support.
Isobel Ord
, born and baptised in Ordiquhill in 1770, lived at Ternemny, Rothiemay. The daughter of
John Ord
and
Elizabeth Ingram
, in 1841 Isobel was noted as a pauper in the Rothiemay Poor Register and was also a flax spinner. A single lady, who had in better times, been a house servant, she spun flax to thread to supply the handloom weavers. She remained at Ternemny until her death in 1868.
Another Rothiemay lady who was eventually listed as a pauper was
Jane Brodie (nee Stuart)
. Born and baptised in Grange in 1797, Jane married
William Brodie
in Rothiemay in 1822. They lived at Cauldhame (Coldhome) and had three children:
Ann, William and Christina
. Unfortunately, Jane's husband died suddenly in 1840 and this left Jane with three young children to care for and support. Initially she had a small croft at Coldhome to help feed the family and she worked as a house servant too, but by 1851, she was noted as a pauper. In 1861 she was supporting herself as a stocking knitter – as was her daughter
Ann
. Son William worked at Poolside in Rothiemay on the farm, and
Christina
had married
Alexander Wilson
of Marnoch. Jane soldiered on supporting herself as much as she could, but she succumbed to acute bronchitis, at Coldhome on 20th January 1878.  
Another brave lady, in the face of similar adversity, was
Susan Smith (neé Chapman)
. Susan was baptised in Bridge of Marnoch in 1799. She married
Charles Smith
of Rothiemay on 18th December 1834 and the couple had a small 8-acre farm at Ramsburn, Rothiemay; Mr Smith was also a shoemaker. The couple had three children. Charles died in 1859 leaving Susan to manage the farm alone. She continued with the farm and supplemented her income by becoming a stocking knitter for Spence & Son of Huntly and she is noted thus on the 1871 census. Susan died on 27th June 1889 at Ramsburn.
Jane Watt
, the third stocking knitter in Rothiemay, was born in the parish in about 1805 to parents
Robert Watt
and
Elspet Watt (neé Watt)
. She lived in Rothiemay most of her life at The Cots (Gallowhill) and Scraibside. At one point Jane decided to increase her income, as well as working on the croft, by taking up stocking knitting (1871 census). Jane died in 1893 in Rothiemay.
William Spence & Son
of Huntly, who we will see more of in the Huntly portion of these articles, were cotton and worsted yarn stocking manufacturers in the middle of the 19th century. Originally, before 1800, the family established themselves in Huntly as linen weavers (Obituary,
Aberdeen Journal, 1899
death of
Alexander Spence
JP; Police Commissioner). However, through family connections with the importers of American cotton, they were able to establish a vibrant hosiery and semmit (vest) and spencer (short finely knitted jacket that stopped above the waist rather similar, but not the same, as 'shrugs' and 'boleros') manufacturing business. Much of their work was done by what we call today, outworkers. And many of these ladies lived in Huntly itself. Some, as we've seen, also worked from home in Rothiemay. These ladies undertook hand knitting and also hand linking and finishing of machine-knitted hose as well.
In 1861, Messrs William Spence & Son advertised:
"STOCKING KNITTERS IN ABERDEEN AND BANFF SHIRES
Abundance of knitting, for which the HIGHEST PRICES going will be paid, can continually be had in the following Towns and Villages:" (There follows a long list encompassing Macduff, Portsoy, Keith, Fife-Keith, Newmill Keith, Huntly, Insch, Kinnethmont, Auchleven, Towie, Aberchirder, Cornhill, Mintlaw and Rothiemay."

At Rothiemay, the advertisement states: "Rothiemay and District at Mr Robert Bain's, Merchant, Ramsburn, Rothiemay. Daily."
(Mr Bain, who lived at Knauchland, but operated his grocery and shoemaking business over at Ramsburn was one of the Spence Agents who took, from Spence's, spun cotton and spun wool and partially finished hose, gave these raw materials out to the knitters, who then returned the finished goods to Mr Bain. It seems that this business went on daily – as the advertisement states – and the carters of the day must have been busy conveying raw materials, finished goods and cash – back and forth between Huntly and, in this case, Rothiemay.)
The advertisement concludes:
"N.B. These KNITTING STATIONS and AGENCIES have all been established for a considerable time. In other Districts Station are to be opened immediately; and an additional list will be Advertised as soon as the arrangements have been completed. Country Merchants and Others who would like Knitting into their Districts, and who would as Agents secure good work are requested to communicate with:
Messrs. Wm. Spence & Son
Stocking Cotton Manufacturers,
HUNTLY"

Banffshire Journal and General Advertiser - Tuesday 12th November 1861
(and 26th November 1861)
Another lady in the parish, who was engaged in wool and flax spinning or weaving, included
Ann Randle
(refer to Walk No. 1 on this site) was both a flax and wool spinner, who in 1841 lodged with
George Stewart MRCVS
and his family and then moved to live further up the Main Street of Rothiemay.
Margaret Laing
, from Alford,
Mary Cobbett
of Edinburgh,
Mary McNamara
from Ireland and
James Paterson
were among those who, in the 1860's and 1870's worked at the Bridge of Isla Wool Mill, Rothiemay. Margaret, and both Marys were wool spinners, but
James Paterson
was a wool weaver and worked in Rothiemay across the 1861 census period. Born in Morayshire in 1818, he began his working life as a shoemaker, although his father,
Hugh
, was a woollen manufacturer in Dallas, Moray. James married
Jane Scott
in 1837 and the couple lived with his parents at their woollen mill. In 1871 he and his wife and family lived at Port Tannachy, by Port Gordon and at their small mill there he was a wool spinner in his own right. Sadly his wife died in October 1871 and James died just four years later.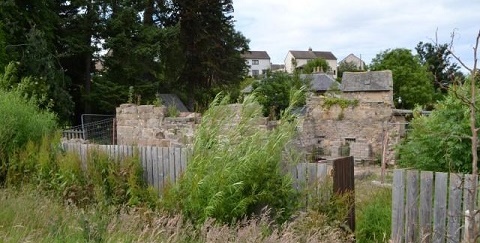 The bridge over the River Isla, a river which runs between Duncan's Stripe at Towiemore and its flow into the River Deveron at Rothiemay, was first erected near Rothiemay in 1783. The bridge gave its name to the small mill and croft, which utilised the Isla's flow for power to run carding and spinning machinery. Initially the mill was one of the Lint (linen) mills noted by Reverend Simmie in his report on the parish. However, by 1810 one,
Benjamin Fearnside
, had moved to Rothiemay and set up in business at the mill.
Mr Fearnside hailed from Ossett, Yorkshire, then a small town which lay between Wakefield and Dewsbury. He moved to Scotland around 1800 in order to work for
Alexander Johnston
, a young Elgin man who started at Deanshaugh Mill (known then as Newmill, Elgin) in 1797.
That business, of course, grew and grew and is now famous across the world for very high quality knitwear, cashmere, tweeds, accessories, home furnishings etc. However, at the time Benjamin and Alexander worked together, the firm was in its infancy and, without modern equipment, the hours would have been long and the work hard. How long Benjamin remained with Mr Johnston we don't precisely know, but four of his children:
John, Jane, Benjamin and Carolina
(named for his wife) were born at Newmill and baptised at the Episcopal Church there.
At some point, he went into business with
Robert Esson
of Aberdeen. Mr Esson, who we shall meet again, had a number of activities in the Aberdeenshire and Banffshire textile industry including bleaching of linen, weaving of both linen and wool, dyeing of linen and wool and the sale of manufactured cloth. He was in partnership with a number of people, among them
Robert Catto
of Aberdeen.
"NOTICE TO DEBTORS AND CREDITORS
Notice to debtors and creditors of Robert Catto and Robert Esson of Keith and Aberdeen.
Robert Esson has acquired the rights to the debts from the Partnership of Catto & Esson."
Aberdeen Press & Journal 26th October 1808:
Benjamin was in Keith by 1807 as daughters
Maria
and
Sarah
were baptised there – again in an Episcopal congregation - as were his son
Henry
and another daughter
Mary Ann
; but in 1810:
"NOTICE TO DEBTORS AND CREDITORS
Notice to debtors and creditors of Esson & Fearnside of Keith. The Partnership has been dissolved, by mutual agreement, on 29th June 1810 in Keith. Mr Esson is to be the recipient of all outstanding debts."
Aberdeen Press & Journal 1st and 8th August 1810
"WOOL MILL ROTHIEMAY
Benjamin Fearnside (lately one of the Partners of the Company of Esson And Fearnside, Manufacturers in Keith) begs to inform his friends and the Public that he intends commencing business by himself about the beginning of  October next at the Lint Mill of Rothiemay where he is to carry on Weaving and manufacturing of cloth, blankets, flannels, duffles, Seys (linseys) and also the carding of wool; and he has erected excellent new Machinery and has always practised several branches of the business above."
Aberdeen Press & Journal 5th September 1810
Almost ten months later: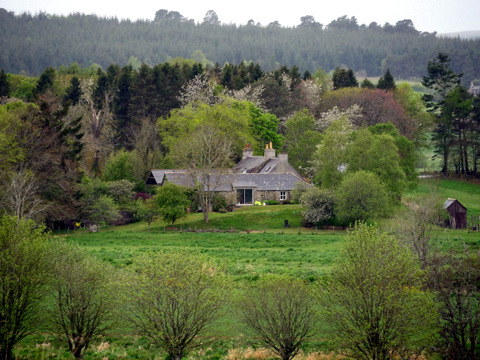 The site of Bridge of Isla mill
© W A Reid
"WOOL WOOL WOOL
"Benjamin Fearnside, Manufacturer begs to inform his friends and the Public that he has commenced business at the Bridgetown of Isla, Rothiemay on the road from Banff and Portsoy to Huntly.
Attendance will be given at a shop in The Square of Huntly for receiving country orders upon Thursdays and taking in wool;
Wool is also taken in by John Imray, saddler, Huntly; James Alexander, Dyer, Huntly and
George Christie, Dyer, Waulkmill, Boyndie and returned carded in to rows or manufactured according to orders to the above places"
(a list follows)
Aberdeen Press & Journal 31st July 1811
and on the front page of the same newspaper on 7th August 1811
There followed a settled period for Benjamin and his wife and their family, with four more children now baptised in Rothiemay: 
Martha, James, Thomas and Grace
. However, business dipped and in 1830:
"NOTICE TO DEBTORS AND CREDITORS
Notice to debtors and creditors: The Trustees of Benjamin Fearnside, Manufacturer and Farmer, Bridgeton of Isla, Rothiemay request a meeting of his creditors at Mrs Conn's Inn, Milltown of Rothiemay on Monday 28th June at 3 o'clock."
Aberdeen Press & Journal  23rd June 1830
And then:
"TO LET
Windshole Farm, Woollen Manufactory and Croft to be let on a lease of sixteen years from Whit Sunday last.
Sale of farm stocking, labouring utensils (machinery) and manufactured goods etc.
The farm of Windshole will be let separately, or together with the manufactory and croft,  as there is a dwelling house and offices on the farm. The farm and manufactory will be let at 9 o'clock; sale of all farm stocking will begin at 10 o'clock. (Mares, cows, calves, pigs etc plus farm deadstock).
Also sale of 580 yards of plaiding, 50 yards of overleg, large assortment of stocking worsted and several pairs of blankets."
Aberdeen Press & Journal 28th July 1830
Much of the stock was auctioned off but bills were not readily paid, so:
"NOTICE TO CREDITORS
Notice to creditors of Benjamin Fearnside, Bridgetown of Isla, Rothiemay and payment of roup bills (from sale of live and dead stock, woollen effects etc). All those creditors who have not already lodged their claims, with affidavits thereon, upon the Bankrupt Estate of  B. Fearnside, will please lodge them with John Smith, Messenger-at-Arms, Huntly on or before 24th February 1831.
Roup bills, granted at Bridgetown of Isla on 13th August and 3rd September last now fall due upon 13th February and lie with said John Smith who will receive payment.
It is requested that said bills be paid upon 24th February to prevent prosecution."
Aberdeen Press & Journal 9th February 1831
It appears that the proceeds, from sale of stock and animals, allowed Benjamin to continue to live and work, in a small way.  In 1841 the family were re-established in both the mill and the house and croft there.  His son
Thomas
and his Grandson
Benjamin
(John's son by
Isobel Smith
of Coldhome, Rothiemay) were working for their Grandfather at the mill handling wool from farms and markets around about. In the 1851 census, we see
Benjamin
and wife
Carolina
with their youngest child,
Grace
, and their grandchildren:
Sarah, Maria and Georgina
, the children of daughter
Carolina
and her husband
Charles Stuart
. Mr Stuart was the son of
Charles Stuart
of Inchscorsie and then Milltories (mentioned above) and
Margaret Milne
. So, a few years of calm followed but by 1855 it seems that the couple had decided on retirement and
James Fearnside
, son of Benjamin's brother
Thomas
(who had had the carding mill at Gollachy, Rathven on the Farneuchty Estate and whose own son,
Nathan
had another mill at Burn of Rathven) took over at Bridge of Isla. (1855 valuation rolls refer).
Both Benjamin and his wife had only a short retirement as they died within seven months of one another in Huntly. Their attachment to Rothiemay and their enjoyment of some happy times there, was marked by their wish to be buried in the old kirkyard of the parish church.
James Fearnside
, born in Yorkshire like his uncle, was married to
Ann Christie
of Forres, for almost thirty years. The couple had met when father,
Thomas Fearnside
(mentioned earlier) had moved to Scotland and married
Helen Robertson
of the parish of Rathven. James and Ann's family included son
Thomas
, (born in New York when Ann and James took brother Thomas's two children -
Thomas and Martha
- out to their parents in America and stayed for two years. (Reference: Passenger lists for the "
Orozimbo
" from Liverpool to New York.) Other siblings were
John, William, Margaret, Martha and James
.  In 1861 son Thomas was working with his father as a wool spinner at Bridge of Isla. Thomas' children
Ann, Martha and James
, from his marriage to
Jane Martin
, who died of puerperal fever following their son's birth in Inverbervie, Kincardineshire, are with him and Ann and Martha are attending Rothiemay School.
The mill remained in the hands of the Fearnside family through the 1871 census and seemed to be doing well.
Alexander Butterfield
, from Dewsbury, is employed as a weaver, so the business was moving well beyond simply carding and spinning wool. James was noted as proprietor, tenant and occupier in the 1875 valuation rolls. In 1881
Ann Christie
, Mrs Fearnside, died at the mill and her death was reported in the
Aberdeen Press & Journal
of both 14th and 19th March. Son Thomas's death followed in the next year and it seems that, at that point, James decided to retire. He gave the
Fife Estate
notice of his intention to quit and the property was advertised in the newspapers.
By the end of 1882
Robert Laidlaw
had taken over the Mill. He advertised in the Aberdeen Press & Journal and in the Banffshire and Moray papers:
"BRIDGE OF ISLA MILLS, ROTHIEMAY
From 30th December 1882  Robert Laidlaw has acquired the manufacturing business at Bridge of Isla Mills, formerly conducted by Mr J Fearnside, and is now carrying on the manufacturing of blankets, plaidings, flannels, tweeds, crumbcloth, winceys and stocking worsted etc.
Wool growers and farmers can have their own wool manufactured into any of the above or have their wool carded into rows ready for home spinning."
Mr Laidlaw's background was that he was born in 1828 in Selkirkshire. His father
Robert
, who died shortly before his son was born, had a small farm by Gala Water.   Baby Robert, his mother
Helen Stewart
and his siblings
John
and
Elizabeth
all moved to Yarrow Feus, Selkirkshire.
Initially, like many youngsters of his time, he went in to farm service, but by the time of the 1841 census he was lodging in Darling's Haugh and working as a journeyman hand loom weaver. This early start in hand loom weaving stood him in good stead for how his career would develop. With his mother and sister he moved to Melrose and continued working as a hand loom weaver.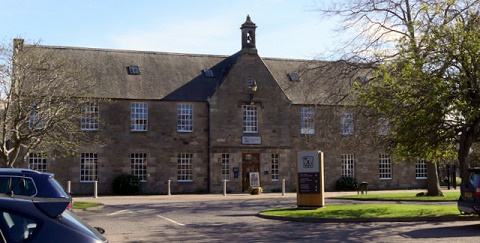 On 13th December 1861 he married
Mary Wilson
of Kirkhope and by 1871 the couple, and their four children, were living in a schoolhouse in Innerleithen and Robert had progressed to working as a designer in a woollen factory. Remaining with the firm of
Messrs. James Dalziel & Co
he was the mill manager by the time of the 1881 census. Shortly after this he, and the family, moved north to Elgin where he worked for two years for
Johnston's of Elgin
. Looking around for an opportunity to start his own firm he came upon the vacancy to let of the Bridge of Isla Mill, Rothiemay. He was an abstainer from alcohol throughout his life and, having originally been brought up in the Cameronian church, he joined and supported the United Presbyterian church for over 40 years.
In March 1883 a weaver was needed,
Alexander Butterfield
having moved on. As trade was down in the jute mills in Dundee, Mr Laidlaw advertised there for a "good steady weaver for country work (
Dundee Advertiser
10th March 1883). Later that month a dressing machine was sought. Presumably Mr Laidlaw was working in flax for the back of the crumbcloths –
"Dressing machine (second hand) wanted, apply stating price, to Robert Laidlaw, Bridge of Isla Mills, Rothiemay."
Dundee Advertiser 31 March 1883
And, for his daughter,
Nell (Helen Stewart Laidlaw)
:
"Donkey wanted for invalid. Must be quiet.
Apply to Robert Laidlaw, Bridge of Isla, Rothiemay."
Dundee Advertiser 7th July 1883
Either the good steady weaver didn't stay, or was hard to come by because the 10th March advertisement was repeated in the same newspaper on 21st July 1883. The 1885 Valuation Rolls for Bridge of Isla Woollen Factory, Whitestone and Windshole lands (part) in Rothiemay show the tenant/occupier as Robert Laidlaw.
An opportunity arose in 1889 to acquire the business and premises of the
Fife Mills
in Dufftown.
(More information on these mills appears under the Dufftown part of these articles, but their owner/manager Peter Thompson died in 1886 and his widow carried on the business for some time. Her son, William, being too young at that time to accept the responsibility –– notice that Mrs Thompson will carry on the business.
Banffshire Journal & General Advertiser 16th March 1886
).
In 1889 Robert Laidlaw placed an advertisement in the
Huntly Express
for farmers and wool growers to bring wool to Bridge of Isla Mills to be manufactured into a wide range of cloths. The firm's agents were given as
John McKenzie
, Bogie Street, Huntly and
Mr J Chalmers
, Cornhill –
Huntly Express
. And by 1891 the census shows son
Adam Laidlaw
as manager of the Fife Mills, Dufftown boarding with Mrs
Ann Baillie
in Fife Street. Meanwhile, Mr & Mrs Laidlaw remained at Bridge of Isla with children
Elizabeth
and
John
, their sister
Nell
having died in December 1890. Workers at the Bridge of Isla Mill are
Alexander Dean
from Elgin, who is foreman spinner;
Mary Barclay
from Huntly and
Elizabeth Milne
from Marnoch.
A change in Proprietorship is evident in the 1895 Valuation Rolls. Now called a Woollen Factory at Bridge of Isla, Rothiemay, the proprietor is
James Simmie Sharpe
, son of William Sharp of Parrock and the tenant/occupier is still Robert Laidlaw. The weaver was one
John Smith
who was from Innerleithen. He and his wife and family were at the Mill in Rothiemay until February 1901 when they moved to Galasheils. He was replaced by
William McPherson
, from Dufftown. Mr McPherson worked initially at Fife Mills, then moved to Rothiemay Mill and then moved over to Seafield Mills when the new factory was opened. He died in Land Street, Keith in 1922 having married his landlady's daughter,
Isabella Grant
.
"Fashionable tweeds for winter
Also blankets, travelling rugs, plaidings, crumbcloths, worsteds, winceys etc. All pure wool.
Robert Laidlaw, Bridge of Isla Mills, Rothiemay"
Banffshire Journal & General Advertiser 31 December 1895
The above advertisement repeated on 1 December 1896 in the same publication.
Sadness hit the family again with the death of their eldest son
Robert Laidlaw
who died after contracting influenza in Hawick, Roxburghshire in 1899 where he was a wool manufacturing company warehouse manager. He left a widow,
Agnes Scott Conacher
. They had no children.
If the business was to grow, then changes needed to be made. Mrs Thompson, mentioned earlier, was selling off land that she owned in Dufftown and it seemed the right time to set up new mills and new machinery in Keith. So:
"WOOLLEN FACTORY TO BE SOLD OR LET
The Fife Mills at Dufftown, with water rights and ground."
Banffshire Journal & General Advertiser 29th January 1901
At this time Mr and Mrs Laidlaw still lived, with
Elizabeth
&
John
, at Woodside Cottage, Rothiemay.
Alexander Dean
, who was boarding with the Laidlaws, was still the wool spinner at the Mill; but Adam was preparing to move over to Keith, from Dufftown, to manage the new "Seafield Mills" there. There was an editorial mention of a
"presentation, to Adam W Laidlaw of a teacher's bible, by the United Free Church Sunday School where he taught. He was also given a gift by the Dufftown Tennis Club which he had helped to form".
Aberdeen Press & Journal 25th May 1901
By July of the same year the move to Keith was complete and an announcement was made that
"Messrs. Robert Laidlaw & Sons have removed from the Fife Mills at Dufftown and now conduct their business at Seafield Mills, Keith. The Bridge of Isla branch continues in operation, but all bales of wool should be sent to the Keith address.
Banffshire Journal & General Advertiser 9th July 1901
This advertisement, with the addition of an explanation of the new oil-driven Crossley engine, was then repeated in the
Northern Times and Weekly Journal for Sutherland and the North
on 3rd October and 12th December 1901. It was repeated again in the Northern Times and Weekly Journal for Sutherland and the North on 13th March 1902 and again in the same publication 24th April 1902.  Agents for the deposition of raw wool, to be sent to Keith factory, were: 
Mr Chalmers
in Cornhill,
Watt Brothers
in Dufftown and in Brora, Sutherland
Mr D Grant
.
On Whit Sunday, 18th May 1902  Mr and Mrs Robert and Mary Laidlaw and family left Bridge of Isla Mill in Rothiemay for the last time. On  25th August 1906 at his home "Gowanlea", Drum Road, Keith Mr Laidlaw died. There was editorial coverage: Aberdeen Journal – 28th August 1906 and Banffshire Journal & General Advertiser of the same date. His two sons - and their sons  - continued the business at Seafield Mills in Keith for well on into the 20th century.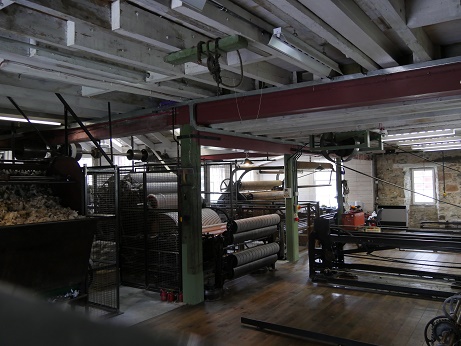 At Rothiemay, however, on that Whit Sunday 1902 a new woollen manufacturer moved into Bridge of Isla Mill –
Mr John Smith
, of the
Knockando Mill
Smith family:
"BRIDGE OF ISLA MILL, ROTHIEMAY
THIS MILL has been established as a woollen factory for over a century. John Smith, having secured the lease, is now ready to receive wool to be manufactured into cloth. Also blankets, travelling rugs, plaidings, crumbcloths, worsteds, winceys etc.
The Mill has been fitted with new and modern machinery, specially adapted for the manufacture of customer's own wool.
John Smith has over twenty years' experience in this district."
Banffshire Journal & General Advertiser – 19th May 1902
Mr Smith, had a great deal of experience of a small country mill, having worked for his family at Knockando . On New Year's Eve 1891 he had married
Elizabeth J Forbes
of Inveravon near Ballindalloch. 
Frank WL Stephen
, of Bogie Bridge Mills, Huntly was his 'Best Man'. Their first child,
Arthur Forbes Smith
was born in July 1893 at Knockando, his sister
Elizabeth Frances Harriett
followed when John and his wife lived in Huntly.
On the 3rd June 1905 baby
William George Smith
was born at Bridge of Isla Woollen Mill, Rothiemay and the future looked settled and bright for Mr Smith.  His reputation – and that of his family – supported this new endeavour and the folk of Rothiemay must have been pleased that wool was still part of their small manufacturing history. However, John's wife had not been well for some time during 1906 and 1907 and on 31 May 1907 she died of cancer. John would have been devastated and the children lost and frightened without their mother. Worse was to come. On 4th November 1907 fire broke out at about 6.00pm at the mill while Mr Smith was in the house at his evening meal.
"Machinery oil and wool fibres allowed the fire to take hold very quickly and it spread so that within forty minutes the entire roof fell in and the two wings of the mill were not saveable. Several hundred people, from the surrounding farms and from Rothiemay village ran to to try to save the house, the byres and other buildings and confine the fire to the mill buildings only. The new self-acting machinery, put in by Mr Smith to the Mill at considerable cost, was seriously damaged and little or nothing salvaged."
Aberdeen Press & Journal   6th November 1907
John had nothing left of bright hopes and Rothiemay lost its mill. Mrs J Morison commented in a letter to her daughter Mrs J White "Try we might but nothing would staunch the flames and John lost everything. Now we haven't the handiness of getting our sheep wool spun and our blankets made. Those that you have are the last".
John Smith left Rothiemay and took a post with his erstwhile Huntly employers – Stephen's at Bogie Bridge Mills, Huntly. He re-married to a Miss Mary Ann Morrison, who was slightly older than himself and he, his wife and his children lived in Huntly where Mr Smith was the manager of the wool mill there. However, he worked hard and enabled Bogie Bridge Mills to develop further and meet the demands of military contract for the 1914-18  War. He saw his son, Arthur marry in Aberdeen and hoped that soon he'd see his other son and daughter marry too. Sadly he died very suddenly on 4th April 1919 at Bogie Bridge Mill Cottage, Drumblade.

Rothiemay was, and is now, a small place in a rural setting and not readily associated with 'industry'. However, as we've seen, over the years it has played its part in the Scottish textile industry and, as will be seen in other parts of this series of articles, was the launch pad for some large endeavours in the area.
© Copyright Diana C-S
reconstructingthepast@gmail.com
---
Source:
"Huntly: Capital of Strathbogie" by Barnes, C.A. published by Scottish Cultural Press of Edinburgh 1998

"Images of Scotland – Huntly", Scott, PW

"Old Huntly", Cooper, A;

"Scottish Countryside" by Professor Fenton, A published by Tuckwell Press, East Lothian

Burke's Landed Gentry of Ireland

Cases Decided in the Court of Session from November 12th 1834 to September 30th 1835

Debrett's Peerage

Description of the East Coast of Scotland by Douglas, F 1780 edition

General Registers of Poor (Rothiemay) 1845-1930

Grace's Guide

GRO England & Wales

GRO Scotland

Records of Poor Applications (Rothiemay) 1855-1930

Register of Poor (Rothiemay) 1845-1864

ScotlandsPlaces

Scottish Post Office Directories

Scottish Valuation Records 1855-1930

The British Newspaper Archive

The George MacDonald Society
Credits:
I am very grateful for the kind help of the following people:
Roz at
Cluny Estate Agents, Elgin
; Stuart Donald, Honorary Archivist for the Episcopalian Diocese of Aberdeen and Orkney; Mrs E Munro, Alford; Jean Leader, Archivist for The Lace Guild, BJ Chapman, Sharon Slater, Moray Heritage; Barbara Bruce, Ruthven; The National Museums Scotland; Mr Charles Seper of
The George MacDonald Society
.
.