Features:
Fines, Fulling and Furbelows - Part 2
* Quick Beremeal Farls
Ingredients:
4oz plain wholemeal flour
4oz beremeal
1 level teaspoon cream of tartar
1  level teaspoon baking powder
6 fluid ounces buttermilk or natural live yoghurt thinned with milk or water

Method:
1.    Mix dry ingredients in a bowl and make a well in the centre.
2.    Add milk and mix until a soft, somewhat stretchy dough is formed.
3.    Roll lightly into a rough circle about ½ inch thick and cut into six-eight portions.
4.    Place in a hot, heavy, non-stick frying pan and cook for 4-5 minutes on each side on top of the stove on a medium heat.
5.    Cool on a baking rack covered with a clean tea towel.
Serve with soft or mature cheese for lunch with soup or a side salad.

FINES, FULLING AND FURBELOWS - Part Two
In this second part of this series of articles about the textile industries of this part of north-east Scotland the focus shifts to Dufftown. Today, Dufftown is most readily associated with the whisky distilleries and some of the brand names reflect the geography of the area.
However, the linen and wool business of the village was particularly important from before the village's inception up to shortly after World War Two. Dufftown is one of approximately one hundred such planned villages in the north-east. Most, including this one, were based in, or near, an existing settlement – in this case – Kirkton of Mortlach.
The parish of Mortlach had a fulling mill, or waulkmill as it's known, before Dufftown was built. In 1628 the waulkmill at Haugh of Edinglassie is mentioned as being the property of John Gordon of Invermarkie who held feu barony of Balvenie. A Mr Alexander Williamson had the property at one point and then the farm horse tax rolls show that a Mr William King occupied the premises, but by 1814 it was in the possession of Mr James Gauld. It was occupied by Charles and Ann Phinn in 1841 and it was Ann who is noted as the 'wool miller'; and in 1851 as a wool manufacturer. By 1871 William Norrie took over the mill and for some years was manufacturing. He was from a wool manufacturing family – his father having been the weaver at Garlogie Mill.
Flax was also a profitable crop, although demand was falling as the quality of home-grown flax fell and the quantity of imported flax rose. In the Old Statistical Account in 1792, the Mortlach Minister, Reverend George Gordon, commented that there were twenty-two weavers in the parish, two dyers and one lint (linen) mill.
Dufftown's – and thus the woollen industry's – story begins, effectively, on 22nd January 1817 when James Duff, 4th Earl of Fife, announced in the Aberdeen Press and Journal that a situation had been identified for a planned development at both Keith and at Mortlach:-
"in the Lordship of Balveny in Mortlach'.  'Plans and regulations are now made out'. 'Those for Keith will be seen in the hands of Mr Stronach at Knock or George Thomson at Bridgend; those for Mortlach with Mr Watt at Mether Cluny.' 'It is intended to grant, either in feu or under long lease, certain portions of ground proper for buildings and gardens and to accommodate each with some acres of land at a fair rent and mostly of excellent quality."
Allowing six months for interest to be piqued, another advertisement in the
Aberdeen Press and Journal
on 4th June 1817 outlined how lots of land would be made available:-
NEW VILLAGE OF BALVENY IN MORTLACH AND FARMS TO LET
"The plan of the Earl of Fife's new village in Mortlach, as formerly advertised, being now completed, attendance on the ground will be given on Tuesday tenth of June when feus or stances for houses and yards will be given off and candidates are requested to attend at 10 o'clock forenoon."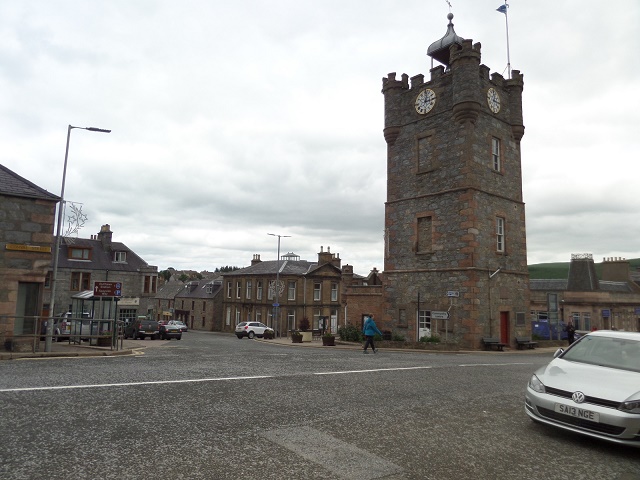 The clocktower, dating from 1839, is the focal point of the square.
The pink stone dressings of Ben Rinnes granite are a feature of Dufftown.
© E Munro
Interest seems to have been good, but not as much as perhaps the Earl would have liked for these 999 year feus. So, on 25th March 1818 this notice was carried by the
Aberdeen Press and Journal
:-
"With reference to the former advertisements regarding the new villages of Balvenytown and Fife-Keith – notice is hereby given having been made for giving off additional feus in these villages – Wednesday eighth day of April is fixed for giving off those at Balvenytown. ….. 'Every reasonable encouragement will be given to industrious Mechanics and to Manufacturers – for many branches of which, the above villages are particularly well situated."
The village was to be situated by the remains of the tiny hamlet of Kirkton of Mortlach near the junction of the Dullan Water and the River Fiddich. This is now the outskirts of this planned village called Dufftown but it has been variously Laichie, Balveny, Milltown/Milton of Balvenie and Balvenietown. By 1851 over twenty-eight people are listed as feuars in the village. At the time no-one liked these place names and the suggestion, among some of the feuars, some of whom were ladies of independent means who were single or widowed, was that the new village could be called "Waterloo". The Earl's reply was that "everything in the Kingdom would be called Waterloo – even fisher's creels" – and thus he would call the village by his family name "Duff". Thus Dufftown became the name.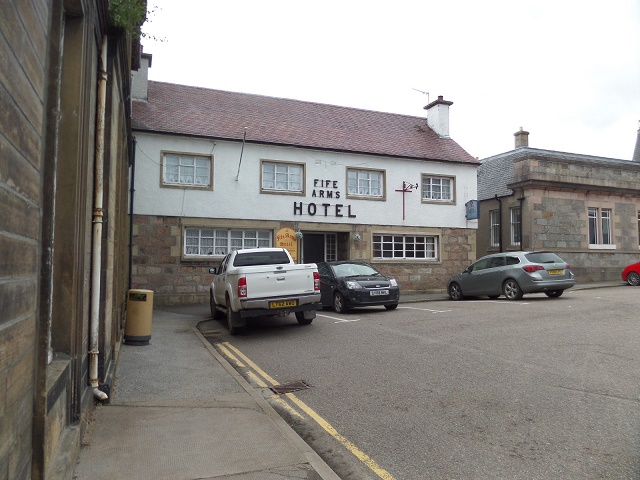 The advertisement refers to The Fife Arms shown right today.
© E Munro
FOR SALE BY PRIVATE BARGAIN
The feu No. IV, in the now and thriving village of Dufftown, in the parish of Mortlach, as presently possessed by William Gordon, Inn-keeper there, consisting of 50 feet of front and extending backwards 200 feet. There is a Dwelling house upon the premises 20 feet wide and 45 long, new and Substantially built, with slated roof and containing two storeys and garrets, Together with a stable, barn, byre, washing house &c. There is also A garden stocked with Berry-bushes and some Fruit Trees. Aberdeen Press and Journal 24th November 1819
Encouragement was sought for increased agricultural production in many of these planned villages to make them a success and improve their investment potential. The (Royal) Highland Society advertised in the Inverness Courier on 14th February 1822 that it would give
"plate up to fifteen guineas for the tenant farm in the area of Mortlach, which produces the greatest quantity of barley for the 1822 harvest".
Ten guineas would be the prize for the next weight in the same cereal and crop year.
The barley was useful both as producing meal (bere) a foodstuff for human consumption as bere meal scones or farls*, for animal straw and feed and – of course – for the production of
uisge beatha
(whisky). At this time there were many farm stills across Scotland and they still used this type of barley associated with whisky production. Today we use more modern, sturdier strains of barley for the distilling industry.
However, these farm distilleries, which today we view as "illegal", were about to have their freedoms curtailed. The landowners, on whose lands such distilling practices were conducted, had for some time lobbied Parliament for regulation – and thus income – that would ultimately benefit their pockets and the Exchequer. Such regulation, although it sounds hard on the farmer/distiller, did in fact improve standards and raise the quality of the liquor, some of which had been of dubious manufacture. Prior to the implementation of the 1823 Excise Act, which regulated manufacture, there had been two previous Statutory regulating instruments – the Wash Act of 1784, which lowered duties paid in England and the Scottish Lowlands under "the Highland line" and the 1786 Scotch Distillery Act which imposed extra duty on spirits exported to England.
1823 saw the introduction of the Licence to Distil and farm distilleries had the opportunity to regularise their production. The one to be set up at the north end of Dufftown by
John Gordon
and overseen by the Duke of Fife's factor
James Findlater
JP, (who lived at Balvenie Castle and farmed 480 acres) purchased such a licence at the cost of £163. 10s. A set payment per gallon of proof spirit, was also levied  and the annual manufacture was assessed and publicised under the eye of the Excise officers normally stationed in or very near the distillery premises.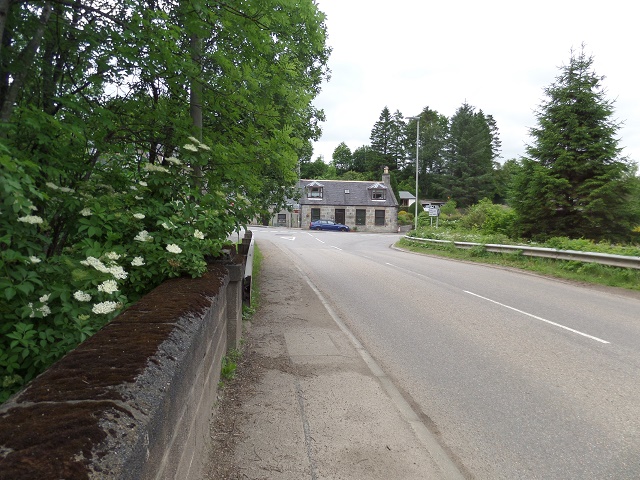 Craichie with Fife Street junction on left.
© E Munro
In a small way, Dufftown was becoming a rather industrious and developing place. In 1827 Gordon, McIntosh & Co. of Mortlach are noted as having produced 4,893 gallons of proof spirit, from 2,298 bushels of malt only, between 5th January 1826 and 5th July 1826 and the allowance of 1s 2d per gallon was paid to the Treasury. (Ref:
Inverness Courier 14th March 1827
). The distillery drew upon spring water from the 'Highlandman's Well', noted as "an ordinary spring well of rushing water situate (sic) at the foot of Mast Hill and south of Earnfold Farm steading."
John Gordon
, who was a feuar, remained in Mortlach, when the distillery changed into a brewery and he became the brewer, but
Mr McIntosh
moved away.
Peter Stewart
, born in the parish of Mortlach in 1779, was also among the first to take up a feu. He made his home at Priestwell, Dufftown with his wife
Elizabeth
and their two daughters
Ann
and
Elizabeth
and managed his various properties there to provide an income. When the Great North of Scotland Railway was to come to Dufftown, Mr Stewart was one of the shareholders.
His brother,
Alexander Stewart
and his wife
Margaret McConachie
, also lived in Mortlach. Alexander Stewart, who operated Mill of Ruthrie, the meal and saw mill, with his brother,
James
, was also a feuar and owner of several houses in the Dufftown village too. Alexander's son,
Peter
, was born in Aberlour in 1793, and with backing from his father and uncle Peter, took a feu on the land at Craichie upon which the Mill, built by the Earl of Fife as a wool-carding mill, was erected. Named as Fife's Mill the business employed Peter himself and one or two others; and there were dwelling houses around the Mill for several families.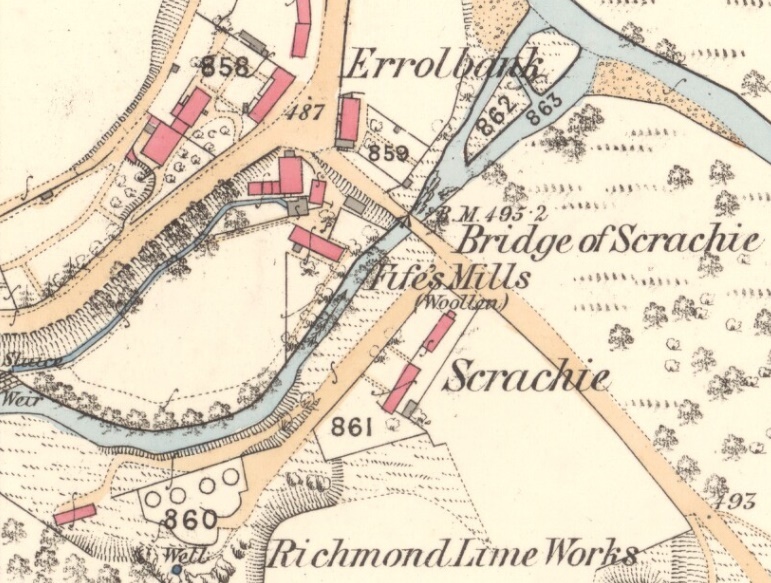 The Fife Mill is not noted in Pigot's 1825 Directory, so it hadn't much of a 'presence' at that time, but the Mill dyer –
Alexander Smith
– is in the Directory.  Originally there was just the one small mill building but another was erected in 1866 – an equally small building but affording the name of Fife's Mills.  In the 1851 census for Mortlach, Mr Smith is shown as living at the Mill between the dwellings of the Stewart's and the Thompson's there. What does show in the Directory, though, is the Post Office in Fife Street where feuar
Mr Alexander Wragg
stated that he was the official "tax gatherer" Postmaster and "stamp distributor" - in preparation for Rowland Hill's great Post Office reform.
Peter Stewart
listed his occupation, in the 1841 census as a wool carder and he was also a handloom weaver. The business took in wool from farmers aroundabout, cleaned and sorted the fleeces, carded and spun, dyed and produced finished goods for sale at markets and return to some of those who'd supplied raw wool in the first instance. The Stewart family's neighbours were the Thompson family.
Peter Thompson
(senior) was from Foggieloan (Aberchirder) and was married to
Elspet McKenzie
of Knockando. He was the clerk and book keeper for Peter Stewart. His son, also
Peter Thompson
, began working for Peter Stewart when he was just a lad of 12 years old, which gave him an excellent grounding in the wool industry.
A decade later, Peter Stewart was still at the Mill, and living with him was his daughter
Mary
and her husband
John Walker
. Mary's brother, William Stewart, had died on 4th February 1845. Another loss had been that of Peter Thompson (senior) who lived in the cottage next door at Fife Mills with his wife
Elspet
. Their son,
Peter Thompson
, was now a wool carder alongside his boss, Peter Stewart. Mr Stewart was still the proprietor/tenant and occupier at Fife's Mills in 1855 (valuation rolls). The dyer, Alexander Smith died in 1855 and a new dyer was sought. Two years later James Duff, 4th Earl of Fife died; and
Peter Stewart of Priestwell
– uncle of Peter Stewart of Fife Mills - died in the year following. The old order was undergoing change. In the Elgin Courier of 9th April 1858 there was a notice to debtors and creditors, in respect of Mr Stewart's death, that claims on the estate should be referred to either nephew Peter Stewart or to John Walker, Accountant, Dufftown.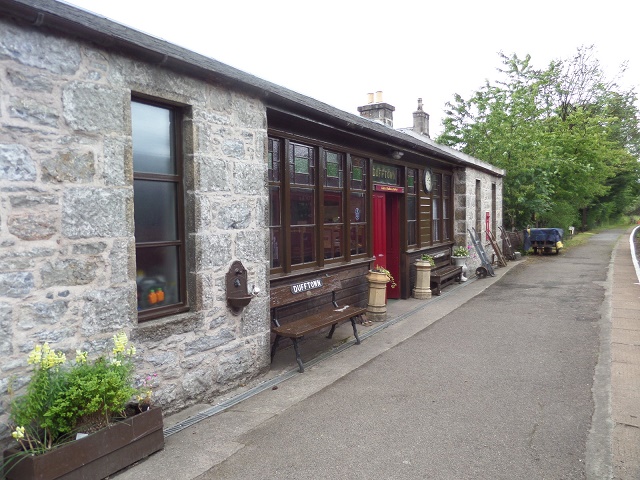 In the 1861 census the Fife Mills address is given as "Woollen Mills, Distillery, Craichies Street – south side, Dufftown." While Peter Stewart was still at the Mill and noted as a woollen manufacturer, Peter Thompson was the wool carder and he was married to
Jane Symon
(daughter of feuar and saddler,
John Symon
) and his three children are
Elizabeth
,
John
and
Patrick
. The workforce was described as two men and one boy; one of the two men was Aberdonian
James Ingram
, the dyer. In the following year the Elgin Courant and Morayshire Advertiser carried an article on the Great North of Scotland railway and its effect on the area of Dufftown prosperity and, further, that
G&G Kynoch
were to build manure stores at the Dufftown railway station.
The valuation rolls, five years later, show that
Peter Stewart
was still the occupier of the Fife's Woollen Mills. And in the Elgin and Morayshire Courier in November that year, he was advertising for a weaver – "one who is accustomed to country work". In 1866 a feu was issued to Peter Stewart on Fife's Mills, Dufftown by the Trustees of the Earl of Fife. In the OS name books for 1867 Fife's Mills is described as "two small mills, worked by water power for the production of woollen fabrics. Held in lease by a company and is the property of the Earl of Fife."
In the same year The Morning Post reported that
Queen Victoria
had visited Fife's Mills, Dufftown. The newspaper recounted how Mr Peter Thompson had two flags flying, one on his house and one on the Mill buildings. However, by 1871 Mr Stewart had decided to retire and had moved to Fife Street in Dufftown. His staff were
Margaret Stuart
from Rothiemay and housemaid
Margaret Innes
. Two people lodged with Mr Stewart –
George M Dey
, age 9, who was a local lad who would, in time, emigrate to America and the
Doctor James McInnes
, who had replaced
Dr George Menzies
.
Peter Thompson
was now noted as the Woollen Manufacturer, living at Fife's Mills and employing two men, one woman and two boys.  In 1872 a plot of ground at Errolbank, Dufftown was feued to
Peter Thompson
, Manufacturer, Fife Mills and it was here that he built himself a house away from his place of work and called it 'Rose Cottage' as he was a very keen gardener – having once grown a cabbage that weighed 29lbs.
Peter Stewart died on 29th August 1873 at his daughter's home in Old Deer. By 1881 Peter Thompson, Woollen Manufacturer, was settled at "Rose Cottage" with his wife and family. His son,
John
, now age twenty-three, was noted as a woollen manufacturer also, while
Robert Niven
and
James Anderson
were the firm's two dyers. Robert was Peter's nephew. In later life he became a stillman for one of the distilleries. In 1875 Mr Stewart feued some lotted lands adjacent to his old factory and beside the railway. By 1885 the postal address for the factory was Fife Woollen Mills, 55 Fife Street, Dufftown, Banffshire.
In the following year, on 9th February, Peter Thompson died at home, leaving his wife and daughter
Margaret
. His son John had married
Margaret Lindsay Sherrifs
and they lived, initially, in Sherbrooke, Quebec and then moved on to Boston, USA by 1900. The other Thompson boys –
William
and
George
– followed John to Canada and the USA. (Sister Margaret, who was an invalid, outlived her siblings dying at Rose Cottage in 1964 age 101 years.)  A newspaper notice in the Banffshire Journal and General Advertiser on the 16th March 1886, stated that Mrs Thompson would be carrying on the woollen manufacture business at Fife Mills, Dufftown. However, in 1886 Mrs Thompson advertised in the Banffshire Journal and General Advertiser:-
DYE WORKS TO LET
The old-established dye and scouring works at Fife Mills, Dufftown where a good business has been done for many years, will be Let for such a term as may be agreed on. The Works are in full operation, and Entry can be had at once. To a thoroughly practical man this is an excellent opening.
Apply to Mrs Thompson, Fife Mills, Dufftown.
                21 September 1886
Subsequently Mrs Thompson sold some of the 'lotted lands', which had come with the Mill, and the Mill itself, in 1875 to the Railway Company who required more land for industrial purposes. When Mrs Thompson died on 15th September 1919 at Rose Cottage the Aberdeen Press and Journal commented that she "was the daughter of the late John Symon, saddler and one of the original feuars of the town; and a sister of the late
Provost Symon
. She is survived by three sons in America and a daughter". Her niece was the Dufftown poet,
Mary Symon
(1863-1938).
By 1890
Robert Laidlaw
, of the Bridge of Isla Mill at Rothiemay, was advertising in the Banffshire Journal and General Advertiser of 13th May 1890 "WOOL! Home-Grown WOOL!! - Important to Farmers and all Growers of Wool". There followed an explanation that Laidlaws had taken over the "Fife Woollen Mills at Dufftown" lately long and successfully carried on by Mr Peter Thompson and then by his son" (John - before he left for Canada in 1888).  By 1900 Mr Laidlaw had his sights set on further expansion advertising in the Banffshire Journal and General Advertiser for masons, carpenters, slaters and plasterers to tender for the work involved in a new woollen mill at Keith. By 1901 the firm had moved out of the Dufftown premises and moved to Keith to the manufacturing building that they named Seafield Mills. However production at Dufftown didn't cease immediately. It was not until February 1904 that the Banffshire Journal and General Advertiser carried:-
"Wool Mills – The Fife Wool Mills at Craichie, which have been vacant for more than a year, have just been bought from the Railway Company, by Messrs. A & J Fraser, Wool Mills, Huntly. A good trade was carried on here for many years by the late Mr Peter Thompson, and latterly by Messrs. Laidlaw & Son, now of Seafield Mills, Keith. Messrs. Fraser propose clearing out all the old machinery and fitting up the works with the latest appliances for the manufacture of cloth."
Such investment must have paid off because in New Year 1906 the Aberdeen Press and Journal reported that "Messrs. Fraser who own the Fife Mills at Craichie, were very busy during the year in the manufacture of woollen goods. They have had to work late and early in order to accomplish the orders in hand. A and J Fraser were
Alexander
and
James Fraser
, two brothers, the sons of
James Fraser
and
Elizabeth (Elspet) Duncan
.
Mr Fraser, their father, was born in Rosemarkie and met his wife, who was from Gartly, when she was working as a domestic servant in Keith. They married there and their sons
Alexander
,
James
and then
William Duncan Fraser
were born in Keith. Mr Fraser (senior) was a school board officer, but a shoemaker by profession. The school boards took over the schools, previously under the supervision of the Kirk, when the 1872 Education (Scotland) Act came into force. Schools were to feel the input of the School Boards in a positive way by the increase in the number of specifically and professionally trained teachers, of both sexes, coming into even quite small schools. Mr Fraser sat on his local school board and also engaged with schools in his area, to help them to give children the very best of Scottish education.
The two brothers –
Alexander Lawson Fraser
and his brother
James
– both served apprenticeships with G&G Kynoch in Keith, who added woollen manufacturing to their other interests. Alexander married
Helen Anderson
of Huntly and they had two girls –
Mary Anderson Fraser
and
Helen Gordon Fraser
. Unfortunately, Alexander died at their home "Balallan", Dufftown at the close of the year in 1911 from pneumonia leaving his brother to carry on the business. James had married
Agnes Masson
, from Keith (a granddaughter of the Rothiemay
Brander
family) and the couple had six children, one of whom was
William Alexander Fraser
.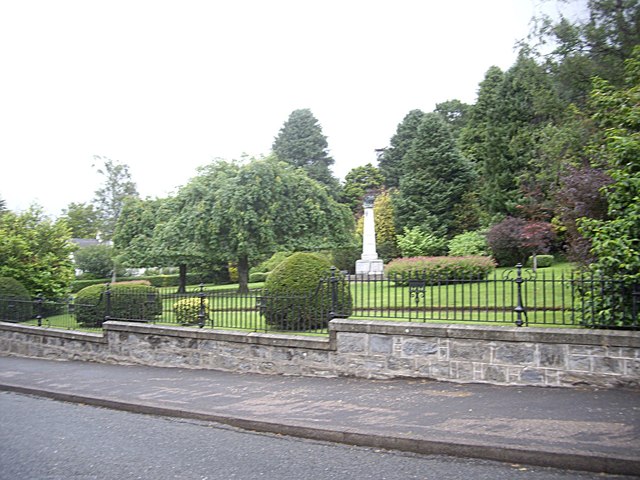 Dufftown War Memorial Garden
© S. Howe
After service during World War One, William joined his father in the Fife Mills business. After the war, Frasers were among those listed as a company registered with the Ministry of Labour in support of The King's Roll. This was an employment initiative to ensure that ex-servicemen from the war would gain employment with firms who were sympathetic to their needs and could accommodate particular physical, or in some cases, mental requirements. Employers across the UK were asked to support the King's National Roll Scheme and inscribe their names to the Roll as "a duty of honour" to those who had been injured and maimed in Service to their country. Fife Mills, Dufftown was noted as one of such companies in a list published in the Aberdeen Press and Journal on 13th May 1920.
In April 1939, Alexander's daughter married
George Leslie Reid
at the Craichie house. It was a quiet affair as her grandmother had died earlier in that month. William, now a JP and married to
Constance Niven
from Rayne, Aberdeenshire was running the Fife Mills and with war breaking out again, employed local women in the production of cloth – most of which was for War Ministry contracts. The mill produced knitting wools and yarn for Harris Tweed also. At one point, a court case had been brought by the weavers of Harris and Lewis to prevent anyone, other than those in the island, using the term 'Harris'. Although Frasers were called, among other woollen manufacturers to give evidence, they were not specifically named as culprits. However, they did reach an agreement to be one of four mills providing the Harris and Lewis weavers with Harris yarn for tweed woven in the island.
William's father, James, who had retired when World War Two broke out, died at the age of 73 in 1942 at his daughter's home in Alness, Ross-shire. As Britain picked up the pieces from the war and amidst severe rationing, the Government provided subsidies for the farming and farm production industry. Unfortunately they also raised Purchase Tax and the result was that Fife Mills (trading as A & J Fraser (Woollens) Limited) felt the pinch very hard. The Mills closed in 1947 and were left standing. There was some small interest, from the Harris weavers, in purchasing the Mill, but it didn't come to much other than a Stornoway man purchasing the property. However, in May 1950, the property was put up for sale: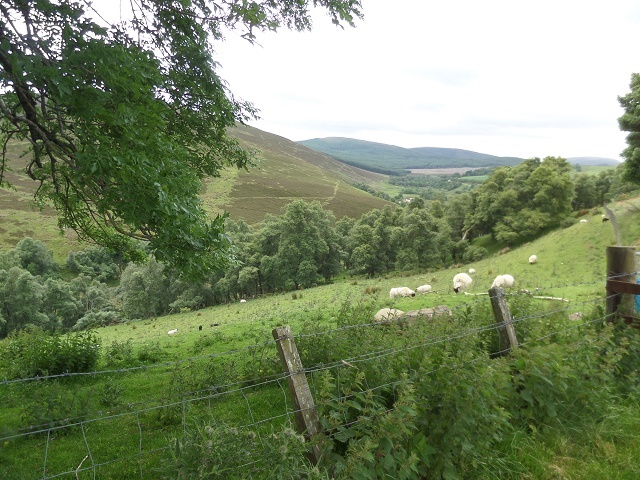 Dufftown countryside.
© E Munro
SCOTTISH WOOLLEN MILL for Sale – Dyeing, teasing, carding and spinning mill at Dufftown, North Scotland; capacity 1200lbs weekly; buildings and machinery in good order; price £4,500. Apply R. Gillies, Sandwick, Stornoway.
                            The Scotsman 22nd May 1950
There seems to have been no interest because in November:-
DYEING, CARDING and SPINNING MILLS for Sale at DUFFTOWN, SCOTLAND. The plant is idle meantime. Would sell same for £3,500 or would consider partnership or sell machinery separate. For further particulars, apply R. GILLIES, Seaforth Villa, Sandwick, Stornoway.
                Aberdeen Press and Journal 18th November 1950
There was no interest whatsoever and eventually after the roof fell in in 1951, the Mills were pulled down to make way for development. William Alexander Fraser JP, the last owner and woollen manufacturer, died in 1973 and was buried in the Old Mortlach Kirkyard, Dufftown. Thus the last link with woollen manufacturing in Dufftown was ended.
© Copyright Diana C-S
reconstructingthepast@gmail.com
---
Source:
"The history of the troubles and memorable transactions in Scotland, from the year 1624-1645" by Spalding, J

 "Huntly: Capital of Strathbogie" by Barnes, C.A. published by Scottish Cultural Press of Edinburgh 1998

"Images of Scotland – Huntly", Scott, PW

"Old Huntly", Cooper, A;

"Scottish Countryside" by Professor Fenton, A published by Tuckwell Press, East Lothian

Burke's Landed Gentry of Ireland

Cases Decided in the Court of Session from November 12th 1834 to September 30th 1835

Debrett's Peerage

Description of the East Coast of Scotland by Douglas, F 1780 edition

General Registers of Poor (Rothiemay) 1845-1930

Grace's Guide

GRO England & Wales

GRO Scotland

Records of Poor Applications (Rothiemay) 1855-1930

Register of Poor (Rothiemay) 1845-1864

ScotlandsPlaces

Scottish Post Office Directories

Scottish Valuation Records 1855-1930

The British Newspaper Archive

The George MacDonald Society (www.george-macdonald.com)

The New Statistical Account of Scotland

The Old Statistical Account of Scotland

The Third Statistical Account of Scotland

University of Edinburgh
Credits:
I am very grateful for the kind help of the following people: Mr W A Reid; Cluny Estate Agents, Elgin; Stuart Donald, Honorary Archivist for the Episcopalian Diocese of Aberdeen and Orkney; Alan W Norrie; Mrs E Munro; Jean Leader, Archivist for The Lace Guild,; B J Chapman; Alastair McIntyre FSA Scot; Sharon Slater, Moray Heritage; Barbara Bruce; The National Museums Scotland; Mr Charles Seper of The George MacDonald Society.
.