Local Heroes (and Villains)
Banffshire/Aberdeenshire
Tam O' Riven
James Gibbs
George MacDonald
Frank Troup
William Cramond
* Daugh (Daach) or Davoch - an ancient Scottish measure for land, roughly equivalent to 416 acres, but varying according to the quality of the land. Strathbogie consisted of 48 daachs.
"The Monks of Grange have corn and wine,
Great stores of wealth and fatten'd kine;
Their barns teem with the yellow grain,
And far and wide spreads their domain."
John Alexander Cameron

Thomas Gordon (14/15th century)
Thomas Gordon, also known as Tam O' Riven (Ruthven), is a shadowy figure existing both in history and in legend. Much of the information written about him and his brother John (Jock O' Scurdargue) is contradictory so care needs to be taken to sort out fact from fiction.
Thomas and his brother were cousins of Elizabeth, heiress to the Gordon estates, and while Elizabeth and her husband, Sir Alexander de Seton were busy in the south of Scotland, Thomas and John defended the more recently acquired estate in the north [Strathbogie], John inhabited the south west of the estate near Rhynie, and Thomas occupied the Daugh*,on the north east boundary, near Ruthven.
The Gordon lands seen from the Balloch Hill at The Monk's Cairn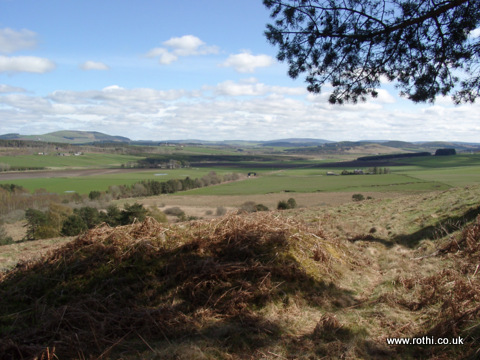 The 14th century the inhabitants of Strathbogie, descendants of the
Picts
, were probably not at all inclined to lose their loyalty to their former chief, the Earl of Athol, and accept the rule of these newcomers from the south. Wilder neighbours from the Highlands also had to be driven off.
In 1423 Thomas appears as one of the squires to Sir Walter Lindsay of Glenesk when the latter resigned the lands of Coclarachy and Garie (near Huntly) and again twenty five years later as Thomas of Gordon, 'armiger' and lord of Auchinrath, with his son John as witnesses to a charter of Sir Lawrence Abernethy of Rothiemay confirming his grant of Auchanachy.
The Monks "Castle" at Grange (erected after Tam O'Riven's time)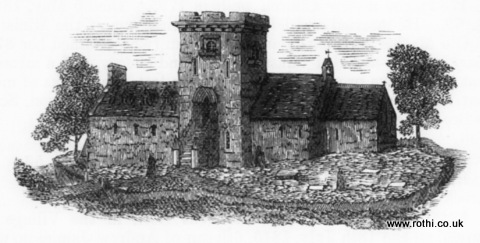 There is a tradition that a feud existed between Thomas Gordon and his neighbours in the Davoch* of Grange, an offshoot of the Abbey of Kinloss. This is commemorated in an epic ballad by John Alexander Cameron published in 1849
"The Monks of Grange and Tam of Ruthven"
which tells of the confrontation that occurred on the side of the Balloch Hill, which is said to have led to demise of both Tam and the Abbot.
Today the Daugh* can be identified by a natural mound north of the farm of Little Daugh. Tam's castle was probably a timber structure and has disappeared, but the access road remains and there are some traces of a garden enclosure. The castle of Auchanachie appears to have replaced the Daugh* as the main habitation in the 16th century.
Daugh* and Auchanachie came to be identified with Gordon of
Avochie
, and were held by their descendants till a comparatively late period, merging into the Gordon estates.
Tam O'Riven had four wives and about 22 children, and from him and his brother sprang the largest branches of all the Gordons
Effigy of a Knight in full armour (probably Thomas Gordon) lying in St. Carol's Church, Ruthven